I continue to believe that Mondelez International (NASDAQ:MDLZ) remains a good long-term investment option. The company owns a strong product portfolio and holds a dominant market position in key product categories. MDLZ has attractive margin expansion opportunities, which are likely to drive bottom line growth for the company. Also, the company's significant emerging market exposure is likely to bode well for its bottom line growth. Moreover, the company's strong cash flow position allows MDLZ to accelerate its share buybacks, which will boost its future earnings per share. Therefore, I reaffirm my "buy" rating on the stock.
Financial Highlights 3Q2013
MDLZ is expected to experience robust growth in upcoming years due to its significant international and emerging market exposure. MDLZ's reported earnings for 3Q'13 were adversely affected by weak results in China. The company reported net revenue increase of almost 2% YoY to $8.47 billion, missing analyst estimates of 3%. Net revenues for the quarter were dented by double digit revenue decline in China and currency headwinds. As MDLZ has significant international market exposure, net revenues for 3Q'13 had an impact of 3% due to currency movements. Despite the top line miss for the quarter, the company was able to post an earnings beat. MDLZ reported adjusted earnings per share of $0.41, beating analyst expectations by 2.5%. Adjusted EPS for 3Q'13 also increased by 13.9% YoY, primarily due to a lower tax rate.
China remains one of the leading emerging markets for MDLZ, which offers robust growth potential. The company earns more than $1.1 billion in annual revenues from China, representing 3% of the company's total sales. MDLZ has been increasing its investment spending in China to tap available growth opportunities; it has doubled its business in China in the last three years. In China, the company holds dominant market positions in different product categories; it is the market leader in the biscuit category, number second in coffee and number 3 in gum in China. However, the company has lately been struggling to deliver solid results in China mainly because of an economic slowdown; China's GDP growth has slowed down to almost 7.5% this year in comparison to 9% in 2011. MDLZ experienced double digit decline in revenues in China because of a tough economic environment.
Key Stock Price Drivers
Despite the fact that the company experienced soft results in China in 3Q, the company's significant emerging market exposure offers robust future growth. MDLZ earns almost 45% of its total revenues from high-growth emerging markets. Also, despite the fact that the company experienced a slowdown in China in 3Q'13, it still managed to expand its revenues by 11% in emerging markets, led by strong results in Brazil, Russia and India. Emerging markets offer attractive growth potential, mainly because of a rising middle class, which remains one of the key growth drivers for MDLZ. As MDLZ has a presence in several emerging markets, which are usually volatile, this reflects that short-term challenges may pop up in certain regions from time-to-time, but in the long term these emerging markets offer high growth. Among the leading emerging markets that offer growth potential to MDLZ are Brazil, Russia, China, Mexico and India. The following table shows the revenue contribution of the leading emerging markets and emerging market growth for the last four quarters.
| | | | | | |
| --- | --- | --- | --- | --- | --- |
| Countries | Brazil | Russia | China | Mexico | India |
| Revenues | $2.1 billion | $1 billion | $1.1 billion | $1 billion | $700 million |
Source: Company Reports
| | | | | |
| --- | --- | --- | --- | --- |
| | Q4'12 | Q1'13 | Q2'13 | Q3'13 |
| Emerging Market Growth - YoY | 8.4% | 9.3% | 9.7% | 11% |
Source: Quarterly Reports
MLDZ's robust free cash flow generation backs its expansion plans and share buyback initiatives. MDLZ generates $2-$3 billion in free cash flows annually. Also, the company was recently awarded $2.75 billion in the Starbucks dispute, which is likely to strengthen the company's balance sheet. Given the company's strong cash flow position, it can expand its current share buyback plan of $6 billion through 2016. If the company decides to use the post tax proceeds of the award of almost $2 billion, it can buy back 58 million shares at the current market price of $34.80, representing 3.3% of its current market cap. MDLZ's strong free cash flow position allows more financial flexibility, support its expansion plans and allows for share buyback acceleration, which will have a positive impact on the company's future bottom line results.
Another important stock price driver for MDLZ is the potential to increase its margins. The company currently has lower operating and net margins in comparison to its peers in the industry. MDLZ has been working to improve upon its productivity to expand its margins. As the company continues to develop its infrastructure and leveraging fixed in emerging markets, and improves upon its production lines in developed markets, we will see notable margin expansion for MDLZ in upcoming years. The following chart shows margins comparisons (based on 3Q'13 results) between MDLZ, The Hershey Company (NYSE:HSY), General Mills (NYSE:GIS) and Kellogg (NYSE:K).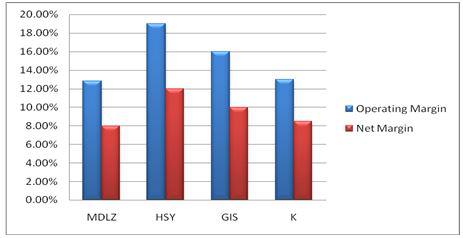 Source: Quarterly Reports and Yahoo Finance
Final Words
MDLZ's potential to expand margins, significant emerging market exposure and strong cash flow position bode well for the stock price and provide robust earnings growth opportunities. Also, the company's strong brand portfolio and dominant market positions are likely to have a positive impact on the stock price. Also, analysts have anticipated a high next 5 year growth rate of 12.1% per year for MDLZ. Therefore, I reaffirm a "buy" rating on the stock.
Disclosure: I have no positions in any stocks mentioned, and no plans to initiate any positions within the next 72 hours. I wrote this article myself, and it expresses my own opinions. I am not receiving compensation for it (other than from Seeking Alpha). I have no business relationship with any company whose stock is mentioned in this article.