Shares of Bank of America (NYSE:BAC) have surged over the past year on higher earnings and investor sentiment. While the net interest margin may improve slightly over the next year, investors may be surprised by weakness in areas they thought were improving. On weak revenue growth and unsustainable boosts to earnings, the shares are not worth the risk over the next year and investors may want to consider taking profits.
Earnings grow and shares surge over last year
Bank of America reported strong earnings in the third quarter with $2.5 billion in non-GAAP profits on a diluted share count of 11.5 billion, for almost $0.22 per share. Excluding one-time items, earnings came in at $0.20 beating estimates by more than 11%.
While Bank of America beat on bottom-line earnings, sales of $21.7 billion missed expectations for $22.03 billion. Revenue from consumer and business banking increased to $7.5 billion as average deposit balances rose to over $522 billion. Wealth management also helped to boost revenue while sales in the mortgage and global capital markets units were down over the quarter.
Shares were up more than 2% after the announcement on the 16th of October and are up more than 50% over the last year. While the shares trade relatively cheaply at 0.72 times book against an industry average of 1.4 times, I think many investors have missed the unsustainable nature of recent earnings.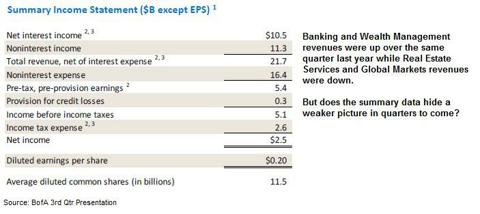 Looking for profits in all the wrong places
A large portion of earnings growth over the last year has been from cost-cutting with a reduction of more than 2,000 at the bank's mortgage division this quarter. The company has cut more than 24,000 full-time equivalent positions over the last year. These cuts helped to boost earnings by $200 million in the quarter but will not be sustainable without affecting revenue.
The provision for credit losses was reduced to $300 million, artificially adding $900 million to earnings in the quarter and $1.5 billion over the last year. I do not see this coming down much more and as talk of a new bubble in housing builds, will the bank need to raise its provision for losses in the quarters to come?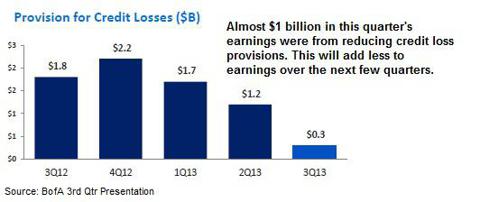 Net interest income has been basically flat over the last year at $10.5 billion per quarter with a net interest margin of just 2.4%. That margin, the difference between what banks pay on deposits and what they make in loans, has plummeted from almost 4% in 2010. As the Federal Reserve tapers its asset program next year, rates should come up slightly and improve the interest margin but will still stay historically low with the Fed's promise to keep rates low well into 2015.

Rising rates may be a double-edged sword for the bank as higher long-term rates weigh on the housing market and mortgage business. The bank will also need to increase the rate it pays on deposits or risk losing banking business.
The strong increase in revenue from consumer & business banking may not be sustainable for just that reason. While deposits have increased over the last year, they were down $300 million against the last quarter and how long are people going to keep money in the bank with an average rate on deposits of only 0.10%?
The bank's mortgage pipeline at the end of the third quarter was down 59% from the previous quarter and core production revenue dropped $395 million. Rates were fairly stable through the quarter but it seems the market for mortgages and refinancing has cooled significantly this year.
Wealth & investment management added $719 million on record highs in the stock market but how sustainable is this ahead of Fed tapering and into the fifth year of a bull market? Fixed-income products have been taking a beating this year as investors shun bonds for higher-yielding assets. Corporate revenue growth is not strong enough to carry higher stock prices without the massive liquidity program and low interest rates.
Bank of America also realized a gain of $753 million in the quarter on the sale of its stake in China Construction Bank. This is obviously not something that can be repeated and I see weakening in a lot of the other segments in the quarters to come.
Big brother continues to weigh but hope is in sight
One upside catalyst could be a resolution with the Consumer Financial Protection Bureau on allegations the company deceived clients on credit card add-on products. Bloomberg reports on two sources that Bank of America is negotiating a settlement with the agency though a final deal may be further off.
Capital One Financial (NYSE:COF) settled their own case for $210 million last year and agreed to restrictions on product marketing. Three other financial companies, including American Express (NYSE:AXP) and JP Morgan (NYSE:JPM) have also settled cases. Bank of America is claiming that it has already reimbursed some customers for most of the products. A resolution of the case, while probably involving a fine, could lift some legal and regulatory uncertainty around the shares.
U.S. prosecutors also made the case recently for Bank of America to pay as much as $863 million on loans its Countrywide unit sold to Fannie Mae and Freddie Mac in 2007. The government initially filed for a penalty of $848 million. Arguments in the case are scheduled for December 5th.
Valuation
Full year estimates for 2013 are for $0.89 per share earnings and a gain of more than three-fold over the $0.25 in earnings reported last year. According to Morningstar data, shares are trading at 19 times trailing earnings, well above the industry average of 14 times and the stock's five-year average of 9.1 times earnings.
Next years earnings are expected to surge 50% to $1.34 per share on a half percent increase in revenue to $89.4 billion. My own forecast is for a top-line miss with $88.6 billion in sales and earnings of $1.19 per share. Lower litigation expenses will help but the bank will not see the same expense reduction it has booked in other areas over the last few years. On a multiple of 15 times earnings, I am setting a target price of $15.47 and basically dead money over the next year.
With a beta of 2.3, meaning the shares are more than twice as risky as the general market, investors should require an approximate return of 12.6% on the shares. This assumes a 4.3% excess return on the market and 2.7% treasury yield. On a 12.6% required return, the shares would need to reach $16.75 next year to be worth the risk.
Disclosure: I have no positions in any stocks mentioned, and no plans to initiate any positions within the next 72 hours. I wrote this article myself, and it expresses my own opinions. I am not receiving compensation for it (other than from Seeking Alpha). I have no business relationship with any company whose stock is mentioned in this article.