While being a relatively "young" horizontal shale play, the Eagle Ford has been far ahead of many other resource plays - both oil and natural gas - in terms of drilling density. In full development mode, 10-12 wells per spacing unit have become fairly common in many areas of the Eagle Ford (which equates to horizontal laterals spaced by as little as 400 feet). Even greater densities are currently being tested, with as many as 15-16 horizontal wells drilled on a single unit in single horizon.
By comparison, the Bakken has trailed far behind: four wells per spacing unit have been considered a "dense" pattern even in the most productive parts of the play, at least until recently. However, the Bakken is rapidly catching up to the Eagle Ford, with several operators simultaneously testing aggressive density pilots. So far, results are highly encouraging.
Kodiak's New Density Pilot Includes 16 Wells Per Spacing Unit
In the most recent development, presenting at an industry conference last week, Kodiak Oil & Gas (NYSE:KOG) unveiled its third density pilot that will test substantially greater well densities than the company's first two pilots that were brought on production in the past three months. The "gun barrel" diagram below from Kodiak's presentation shows a "super-dense" configuration that will be tested on a single 1,280-acre drilling spacing unit (DSU) in the company's Polar area. Kodiak will drill 8 wells in the Middle Bakken interval, with wellbores separated by approximately 600 feet. An additional 6 wells will be placed in a single level between the Upper Three Forks and Middle Three Forks zones and are expected to stimulate both zones. Two more wells will test the productivity of the Lower Three Forks zone; Kodiak's analysis of core samples at the Polar pilot project did show high oil saturations in the Lower Three Forks that gave the company's technical team encouragement. (In Kodiak's nomenclature, the Upper Three Forks is approximately equivalent of the TF1 zone, the Middle Three Forks is approximately equivalent of the TF2 zone, and the Lower Three Forks is approximately equivalent of the TF3 zone.) The Upper/Middle Three Forks wells are spaced at 600 feet and 750 feet in an attempt to test both densities. The two Lower Three Forks wells are spaced 1,320 feet apart.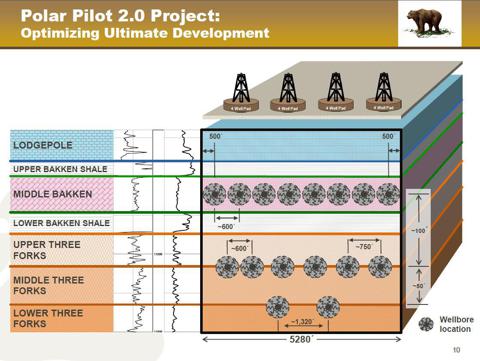 Click to enlarge
(Source: Kodiak Oil & Gas November 2013 Investor Presentation)
The new pilot has substantially higher density than Kodiak's first two pilots which are illustrated on the slide below: the company is moving from 12 wells per unit in the first two pilots to 16 wells per unit in the newly announced pilot. Drilling densities increase both in the Middle Bakken and Three Forks intervals.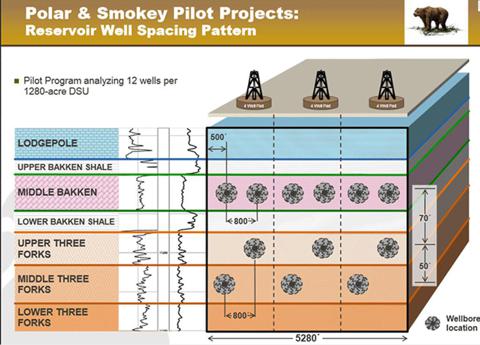 Click to enlarge
(Source: Kodiak Oil & Gas September 2013 Investor Presentation)
Most notably, the new pilot will test an important innovation: Kodiak is attempting to drain both the TF1 zone and TF2 zone with a single wellbore placed in the transition area between the two target zones. This is a radical departure from the staggered dual-lateral structure involving two separate laterals in each of the two zones as shown on the slide above (which has also been the prevailing design in pilots by other operators). If proven successful, Kodiak's new approach may be a true breakthrough for the Three Forks development: if two Three Forks zones can be effectively produced with a single well, the cost of developing the Three Forks may end up substantially lower than with a dual-lateral structure; productivity per well in the Three Forks should also show a step change.
Kodiak quoted another important factor driving its lateral placement choice within the Three Forks: Kodiak believes it can initiate fractures from the narrow window separating the Upper and Middle Three Forks target zones more effectively than from within those zones.
Kodiak's new density test is located in the Polar (sections 26 and 35 shown on the slide below) and is located immediately to the east from Kodiak's existing density pilot (sections 27 and 34). Kodiak expects to draw conclusions with regard to optimal development density in this area by comparing well performance in the new pilot versus its existing pilot as well as other producing wells in immediate vicinity. In addition, Kodiak disclosed results of the adjacent density pilot drilled by Exxon Mobil. Exxon's test includes three Middle Bakken wells that were placed 600-650 feet apart and offset Kodiak's unit immediately to the east (sections 25 and 36 on the slide below). Importantly, Kodiak commented that so far Exxon has not seen any performance deterioration relative to "normal" in its three-well test.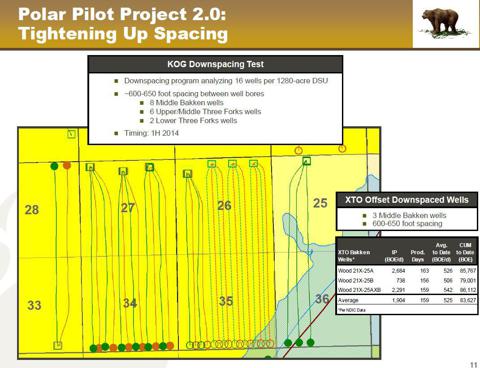 Click to enlarge
(Source: Kodiak Oil & Gas November 2013 Investor Presentation)
The new pilot unveiled by Kodiak is already underway. The company is currently drilling two Middle Bakken and two Three Forks wells spaced approximately 600 to 650 feet apart and has applied for additional permits in this spacing unit.
Kodiak Does Not See Lower Three Forks Benches As Separate Reservoirs
Kodiak does not believe that various benches within the Three Forks are separate intervals from a production standpoint.
We don't see necessarily separation between the upper and the middle benches. We don't expect to see separation with the lower one.
The company believes that there is significant communication between these intervals when wells are being stimulated. (Kodiak acknowledges Continental's [CLR] work and different opinion on the subject.) The company also expects resource potential to deteriorate as one goes deeper into the Three Forks, with the upper two intervals being the most prospective.
As a consequence, Kodiak's primary focus is on the Upper and Middle Three Forks zones and optimal wellbore placement, including positioning for the most effective initiation of the fracture stimulation.
Early Results from Kodiak's First Two Downspacing Pilots Are Highly Encouraging
As a reminder, Kodiak has so far tested downspacing programs in two areas: Polar and Smokey. In its first two pilots, Kodiak drilled the Middle Bakken wells approximately 800 feet apart, which allows for six wells to be drilled in a 1,280 acre drilling unit. An additional six wells were placed into the Three Forks, drilled on an alternating sequence between the upper and middle intervals.
Early in the third quarter, Kodiak brought on production all 12 wells in its Polar pilot program (two pictures below). Early performance indicators from the pilot have been positive. The average initial production rate for the 12 Polar wells was ~ 2,550 Boe/d, with 60-day rates averaging ~ 800 Boe/d, both of which are consistent with other Kodiak-operated wells in the area. Kodiak commented:
We continue to be pleased with the individual well performance in this DSU and still have not seen anything that would indicate that the increased well [density] has adversely impacted production from the individual wells. As we evaluate these wells after 90 to 120 days on production and compare to eight other wells in the immediate area that were completed in the similar manner, we find well results are very comparable.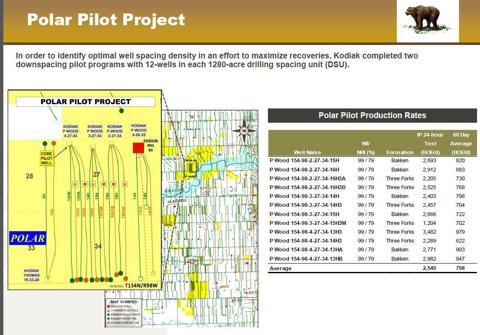 Click to enlarge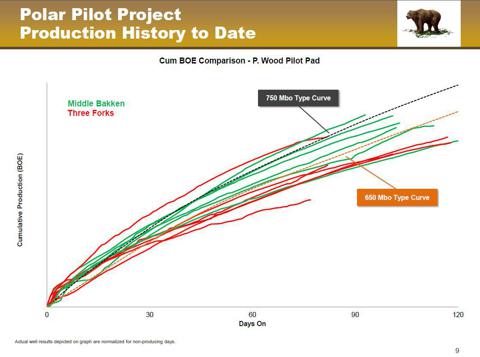 Click to enlarge
(Source: Kodiak Oil & Gas November 2013 Investor Presentation)
About 28 miles to the south, on its Smokey prospect, Kodiak recently brought on production the final seven wells of its 12-well pilot. Initial performance results were made public two weeks ago. The average initial production rate for the 12 Smokey wells was ~2,000 Boe/d, with 30 day rates averaging ~800 Boe/d, both of which are consistent with other Kodiak operated wells in the area, according to the company. Kodiak evaluated other wells drilled in the same area and completed in the same manner and did not see degradation of the production rates.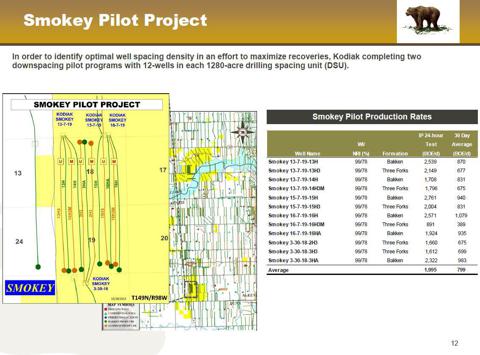 Click to enlarge
(Source: Kodiak Oil & Gas November 2013 Investor Presentation)
Clearly, the results from the two pilots are still very preliminary: twelve months or more of production data will be needed before definitive conclusions can be made. Still, the initial results for both projects and the company's positive commentary appear very encouraging.
Density Pilot In Dunn County May Be Imminent
While Kodiak's wells in Dunn County are the company's best performing, the Three Forks interval tends to be thicker in the central part of the basin where the company's Polar, Koala and Smokey areas are located. This may be one of the reasons why Kodiak chose Polar and Smokey areas for its first pilots as opposed to the Fort Berthold area. Infrastructure constraints in Dunn County may be the other reason.
Some recent remarks by Kodiak's management indicate that a density pilot on the company's Fort Berthold Indian Reservation acreage in Dunn County may be coming soon:
We are doing some work over there. We just moved a rig in, infrastructure has changed hands, we think we are going to see improvements in that. So we will be able to work in Dunn County more as we go through 2014 and into 2015. So that's really all we can say at this point.
Drill-out Program Optimization: Full Development Unit By Unit
Through its downspacing tests, Kodiak is also trying to evaluate how to optimize its overall development program in the Bakken. Kodiak's recent commentary has confirmed what several other operators have been saying: in full development mode, stimulation effectiveness can be gained by drilling out and completing the entire DSUs at the same time. In addition, operators can gain well cost efficiencies by fully drilling out each single spacing unit.
Completion Methods Continue To Evolve
Density pilots that many operators in the play are actively conducting cannot be viewed in isolation from completion techniques.
Kodiak's recent comments confirm a general theme that has emerged in the Bakken: operators in the play are aggressively experimenting with completion techniques.
There continues to be much advancement in completion technology in the basin. In our opinion, nobody has the one magic completion formula. Completion technology continues to advance and change with different methods used suited to different parts of the basin.
Kodiak's existing completion design appears to be working well: the company deserves credit for its consistently strong well performance across its core acreage. Kodiak's completion design is clearly a contributing factor and deserves a closer look.
Kodiak has always been a believer in the benefits of using ceramic proppant on its core acreage which is located within the deeper and higher pressure parts of the Williston Basin (on its acreage located closer to the edges of the play, where the Bakken Petroleum System is shallower and lower pressured, Kodiak uses a mix of white sand and resin-coated sand or, in some cases, just white sand).
In early 2012, Kodiak moved to cemented liners and started using all plug and perforation completion with each stage being approximately 325 feet. As the company transitioned to larger drilling pads and greater number of frac stages per well, they have utilized the zipper frac technique.
Kodiak does not appear in any rush to change its completion design and seems to be taking a "wait and see" approach.
Implications For The Stock and Industry
While still under monitoring, Kodiak's recently completed density pilots have already pretty much proven, alongside other industry tests, that seven or eight wells per unit "is not the answer anymore" in the Bakken. A substantially greater number of wells - possibly, twice as many - will be required to develop each single unit in the more productive areas of the play. Pilot evaluations by other operators - most notably, by Continental, Whiting Petroleum (NYSE:WLL) and Oasis Petroleum (NYSE:OAS) - point in the same direction.
Downspacing is going to vary depending on the location in the basin. In those areas where rocks are of better quality (more permeable) and more natural fracturing exists, less wells will generally be required. Prospectivity of the lower benches of the Three Forks will also play a significant role.
Kodiak's early effort to conduct detailed, systematic study of the optimal development spacing across all target zones should ultimately pay back. The company's pilot programs will help determine ultimate development plan for its nearly 200,000 net acres in the Bakken play.
Kodiak commented:
Because you only get one shot at development, we felt these tests are critical to the future of the company and must be done in the near term.
There appears to be great validity in such an approach.
Disclaimer: Opinions expressed herein by the author are not an investment recommendation and are not meant to be relied upon in investment decisions. The author is not acting in an investment advisor capacity. This is not an investment research report. The author's opinions expressed herein address only select aspects of potential investment in securities of the companies mentioned and cannot be a substitute for comprehensive investment analysis. Any analysis presented herein is illustrative in nature, limited in scope, based on an incomplete set of information, and has limitations to its accuracy. The author recommends that potential and existing investors conduct thorough investment research of their own, including detailed review of the companies' SEC filings, and consult a qualified investment advisor. The information upon which this material is based was obtained from sources believed to be reliable, but has not been independently verified. Therefore, the author cannot guarantee its accuracy. Any opinions or estimates constitute the author's best judgment as of the date of publication, and are subject to change without notice.
Disclosure: I have no positions in any stocks mentioned, and no plans to initiate any positions within the next 72 hours. I wrote this article myself, and it expresses my own opinions. I am not receiving compensation for it (other than from Seeking Alpha). I have no business relationship with any company whose stock is mentioned in this article.