Apple has a little gift coming that we won't be privy to see until well after the holiday quarter has ended -- that gift is going to be margins. Nary is there going to be a day when I don't recommend going long Apple (NASDAQ:AAPL) for long-term gains. There's a reason it's one of the most widely held stocks by hedge funds -- it's fundamentally sound, has major room to grow, pays a decent dividend, and is currently in the midst of the largest stock buyback in history.
Despite what sensationalistic headlines come out with regard to competition from Samsung (OTC:SSNLF) and Microsoft (NASDAQ:MSFT), most Apple bulls don't really even see these two companies as a threat; simply due to the panache that Apple products seem to carry with them. They are often categorized as the "luxury" technology brand. We've seen even further proof of this as the recent iPhone 5S/5C experiment was a success -- solely due to the higher-end phone.
Just like I pointed out in a previous article, the 5S is the preferred seller from a margins standpoint:
It means, that as long as Apple pays attention to and learns from this, that it's likely they're going to keep heading in the right direction with mobile. It also means that the 5S headlines offset the 5C headlines (hopefully with profit to spare, if the margins are that much better on the 5S).
So, once again, we're now heading into holiday season for Apple -- a quarter in which the company has traditionally posted its best revenue of the year. This year, there will be a focus not only on revenue, but on margins as well. Almost more than the actual results themselves, in the last few quarters that Apple has reported the major emphasis has been on its margin guidance, whether it can meet its expectations, and the slightest bit of margin movement going forward -- and what that means to the bottom line at the end of the day.
Me? I'll admit -- I don't immerse myself in the nitty-gritty details of every single Apple report. I feel the same way that I know many Apple investors or bulls feel. They look to see improvements in quarter-over-quarter and year-over-year numbers of phone and Mac sales. They look for basics, like meeting top-line and EPS guidance. They're encouraged, like I am, by Mac's ability to continue to grow in a declining PC market. And, they're confident in the fact that Apple has plenty of PC market share to go -- and with that, will come their residual ecosystem market share. Simply put, they trust in the Apple family of products, their ability to not cannibalize one another, and the strong foundation of Apple, which still has room to grow.
Even over the past week the focus has been on margins again, as investors start to run their own pro-formas at home on Apple's newest product, the iPad Air. The Air has a price tag of anywhere between $499 and $929. In addition, several sites have started to report that to build the Air, you're basically looking at what it takes to build a 5S -- with the addition of the large screen.
Click to enlarge image.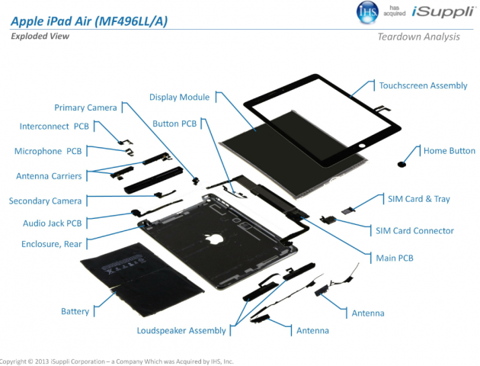 Source: IHS.
The cost estimates for building the iPad Air are between $274 and $361, depending on the model that's being built. So, you're potentially looking at margins between 45% to 61%. The display is being marked as the single most expensive part for the Air, coming in around $130. It's a bit pricier than it normally would be, because Apple has to pay for the thin design and the dropped weight. As ARS Technica says:
[F]ewer layers of glass are required to enable touch, and fewer LEDs are required to light the screen. iSuppli reports that 36 LEDs are used to light the new display rather than the 84 LED lights used in the earlier Retina iPads. Layers of optical film are used to dissipate the light from those LEDs, reducing the number of lights needed and enabling Apple to shrink the battery.
There's less LED lights necessary to light the display, due to the size. That shaves off both cost and weight. And, the A7 chip, which some would have estimated to be the hog cost-wise, costs Apple only (approximately) $16-$20.
IHS, a company that provided the above graphic, is a company that basically takes apart Apple products to try and find out what they're going to cost. They, too, seem to think the iPad Air's margins are going to be substantial:
'While the iPad Air slims down in size, the profit margins are getting fatter,' said Andrew Rassweiler, IHS's senior director of cost benchmarking services, in a statement.

Apple Inc. declined to comment Tuesday. But Chief Financial Officer Peter Oppenheimer assured analysts in a conference call last month that Apple 'is going to work really hard to get down the cost curves' of its products.
So for Apple, where the margins are closely scrutinized, we could start to see a bit of a sea change in the Q4 quarter, as the Air gets its first real chance to make an impact in Apple's financials. Risk exists, to a point, because Apple has really yet to confirm these margins themselves. With a few (notable, albeit) sources doing the dissecting, there's a chance that there is some type of cost that hasn't been accounted for in estimates -- though it's unlikely.
I'm bullish on Apple long term still, as I believe they're likely to have yet another impressive holiday quarter. But, I predict the margins could be the catalyst that's going to give the stock a major upward push to start the new year.
Disclosure: I have no positions in any stocks mentioned, and no plans to initiate any positions within the next 72 hours. I wrote this article myself, and it expresses my own opinions. I am not receiving compensation for it (other than from Seeking Alpha). I have no business relationship with any company whose stock is mentioned in this article.