The Conference Board, a private research group, said its index of consumer confidence increased to 55.9 in January from a revised 53.6 in December, which was originally reported as 52.9. The January reading was better than economists' projection of 54.0, according to a survey conducted by Dow Jones Newswires.
This takes consumer confidence to a new post march 2009 recovery high and we believe may counteract the negative Chinese lending restriction news, allowing markets to rally into our 'April Highs' time window. Please our 2010 market Outlook.
It is worth noting that while investor sentiment is at short term over optimistic levels, consumer confidence is still at levels of extreme pessimism. This could support further support higher market levels by April.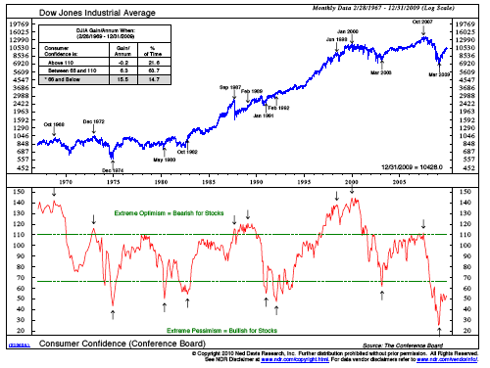 Source: Ned Davis Research
Disclosure: No positions, but long the market