(Editors' Note: This article covers a micro-cap stock. Please be aware of the risks associated with these stocks.)
The Teenage Mutant Ninja Turtles (TMNT) are back! As of October last year, Nickelodeon started broadcasting a new TMNT TV cartoon series. It has been a huge hit among kids and has had rave reviews. Investors who were around in the 1980s need no explanation of Turtle Power. They also need no reminder how popular the action figures were.
The new reboot has captured all of that and more. The new TMNT cartoon is the top TV series for young boys these days. Before the first season even ended in August, 2013, Nickelodeon renewed the series for not one but two more seasons.
Furthermore, there are three Michael Bay-produced TMNT movies on tap for the next several years, with the first due to be released August 8, 2014. I do not know if Michael Bay makes the best movies, but he certainly makes blockbusters (e.g. Armageddon, Pearl Harbor, Transformers), and his TMNT movies will be commercial hits that will drive demand for TMNT toys to very high levels.
So what is the investment opportunity here? It is Playmates Toys Limited. They have the exclusive license to make all the Ninja Turtle toy action figures, plus some other things like TMNT costumes. It is an American company with its design headquarters in Los Angeles, but trades as 0869 on the Hong Kong stock exchange (0869.HK). It also trades on the OTC markets as OTCPK:PMTYF, but the liquidity on the HK stock exchange is much higher (average daily volume of 8M shares).
This stock is not yet widely known in the US (see the low volume for PMTYF). The typical Hong Kong investor has never experienced the TMNT craziness of the 1980s and does not fully appreciate the extent to which TMNT was once a global phenomenon (this is simple cultural knowledge that I have as a Hong Kong citizen).
Playmates has gone from a loss of 2.6M USD for the first 9 months of 2012 to a profit of 48M USD for the first 9 months of 2013. Yet there is room for much further upside. I expect this stock to almost triple from here by the time the first TMNT movie is released in August, 2014. Personally, I am all in.
The current PE ratio is approximately 7, which is very low for a company whose revenue has jumped 10X in a single year. In comparison, Hasbro (NASDAQ:HAS) - a major competitor in the toy space - is trading at a PE ratio of 20 even though it is barely growing.
Further, Playmates has zero debt and its profit margin is impressive (and unique for a toy manufacturer) at around 33%. More importantly, that margin is sustainable for several reasons. First, Playmates has the exclusive license to manufacture and sell TMNT action figures, so it is not a generic OEM toy manufacturer competing with others on price. Second, Playmates is working in synergy with the entire TMNT corporate ecosystem. For instance, Playmates does not bear the burden of marketing TMNT toys alone. Instead, Viacom (NYSE:VIA), Nickelodeon, and Paramount support it (indirectly but powerfully) by promoting the TV series and upcoming movies worldwide.
The near-term catalyst is Christmas sales. Christmas season is the high season for toys. Visit Toys R Us, Walmart, and Target stores (as I have) and you will see that TMNT Playmates Toys are prominently displayed and selling briskly. Google Shopping Trends shows a very strong trend line indicating that we should expect very strong year-end results.

Based on last year's strong Q4 performance relative to the first three quarters, and extrapolating that to this year based on the results from the first three quarters of 2013, Playmates is likely trading at a forward PE ratio of approximately 5.
After the Christmas season is over, the massive, free marketing push in support of the first of three Michael Bay TMNT movies will kick into high gear. The summer blockbuster will certainly drive TMNT toy demand to stratospheric levels. To be sure, that is a strong prediction, but that is based on some good reasons, as follows.
Currently, demand for TMNT toys is being supported by the new weekend cartoon series. This new series is great, but a weekend cartoon series obviously has limited reach and generates limited hype. In comparison, Michael Bay's summer blockbuster (with a $125 million budget) will really ramp up the hype and popularity of TMNT, which will of course result in a corresponding boost in TMNT toy sales. This is just common sense - a big movie is going to drive related toy sales.
My prediction is further supported by a closely analogous situation that unfolded in 2009 for Transformer toys. In 2008, there was already a Transformers cartoon TV series airing (just like there is a TMNT series currently airing). And there were already Transformer action figures on the market by manufacturer Hasbro (just like there are TMNT toys currently on the market by Playmates). When Michael Bay released his Transformers movie in mid-2009, the demand for Transformers toys soared. Similarly, when Michael Bay releases his TMNT movie, TMNT toy sales will also soar. Below is a Google Shopping Trends chart that shows the absolutely incredible spike in Transformers toy demand after the movie was released in mid 2009.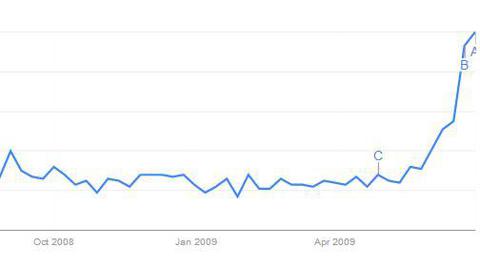 Additionally, it was widely reported that the Michael Bay Transformers movie had a big impact on Transformer toy sales and Hasbro's profits and earnings. This had a big impact on Hasbro's stock price.
Here, we should see an even more pronounced lift in Playmates' stock because Ninja Turtles is Playmates' sole revenue generator (basically) whereas Hasbro had many other revenue streams. Some may see Playmates' narrow focus as a risk. But I see it has a benefit because TMNT toy sales are easy to track and that increase will not be offset by some other obscure, under-performing part of the company. It is a judgment call, but either way, any investment decision should account for the fact that Playmates is essentially a sole play on TMNT toys.
Finally, Nickelodeon just struck a deal to broadcast the new TMNT series in China via the nationally broadcast, official state channel CCTV. Read these two articles (article 1; article 2) using Google translate. There is no need to explain what the infusion of tens if not hundreds of millions of additional kid viewers means in terms of Playmates toy sales.
Potential risks: Playmates sells a number of different toy brands, but the main revenue contributor is TMNT toys. So one potential risk is if TMNT toy sales perform poorly, which would have a big, negative effect on this stock. For all the reasons above, however, I do not expect this to happen. The new TV series is not yet tired by any means - it just started its second season and is continuing to receive great reviews. And we have near, medium, and long term catalysts in the Christmas season, the Michael Bay movie, and TMNT's entrance into China. To help minimize this risk, one can roughly keep track of TMNT toy sales by using Google Shopping Trends.
For those who are unfamiliar with trading Hong Kong stocks, there is very little currency risk because the Hong Kong dollar is pegged to the US dollar and has been for decades with very little change. Any decent broker will allow you to trade HK stocks, including eTrade, which I have used in the past. You could, of course, also go with PMTYF on the OTC market but I would recommend the much more liquid HK market.
At a valuation of approximately 570 million USD, Playmates would not normally be considered a microcap, but sometimes its stock does see significant spread in the bid-ask prices. Normally, the spread is minimal at less than 0.6% or so. However, the spread occasionally exceeds 1%, which may be considered a risk that investors can avoid by properly tracking the bid/ask prices.
One final potential risk stems from the Fed eventually increasing interest rates. Since the Hong Kong dollar is pegged to the US dollar, Hong Kong interest rates follow US interest rates. Low interest rates in Hong Kong have allowed real estate property valuations to nearly double since 2009. If and when the Fed increases interest rates, this may have a negative effect on Hong Kong property prices, which may have a negative effect on the Hong Kong stock market as a whole. While this should not affect TMNT's worldwide toy sales, it could have a spill-over effect on Playmates' stock price. On the other hand, any rate increase will probably be gradual, and the increase should also mean that the US and global economies are doing well. Thus, any detrimental effect on the Hong Kong market (and Playmates' stock) may be muted.
Disclosure: I have no positions in any stocks mentioned, and no plans to initiate any positions within the next 72 hours. I wrote this article myself, and it expresses my own opinions. I am not receiving compensation for it (other than from Seeking Alpha). I have no business relationship with any company whose stock is mentioned in this article.
Additional disclosure: I am long 869.HK