Amazon (NASDAQ:AMZN) has announced that it will open its Kindle platform and invite software developers to create what it calls "active content" or, in other words, apps to help expand Kindle's usage. The success of Apple's (NASDAQ:AAPL) iPhone apps have spurred the creation of more open development platforms on devices like Nokia (NYSE:NOK) mobile phones, Blackberries (RIMM), Android (NASDAQ:GOOG) phones and now the Kindle. This move also helps Amazon to position the Kindle more competitively against the upcoming Apple tablet.
Below, we compare the growth of the iPhone as an app platform and, mindful of the Kindle's disadvantages against the iPhone, estimate the significance of Amazon's opportunity in the app market for Kindle.
3+ billion apps on 40+ million iPhones
iPhone apps have been a tremendous success with over 3 billion apps downloaded across the more than 40 million iPhones sold implying about 75 apps downloaded for per iPhone.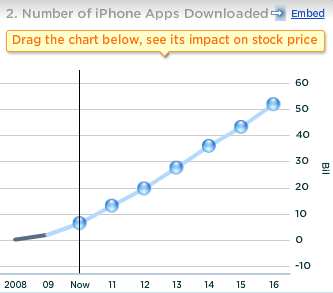 In comparison, Amazon has sold only about 1.5 million Kindles as of the end of 2009. Furthermore, the Kindle has a few disadvantages that will limit the size of its app universe compared to the number of apps available on the iPhone.
Kindle's Disadvantages
1. Black and white screen
Kindle uses a black and white screen with a low refresh rate which makes it unsuitable for motion and video graphics. Games and other fast moving interactive applications are an important segment of the apps downloaded on the iPhone and the Kindle, in its current state, will not be able to compete.
2. e-Book user market smaller than smartphone market
Kindle caters to avid book readers, an audience that is smaller than the number of mobile phone users. Apps that appeal to this relatively smaller consumer segment will be limited.
3. Some Kindle owners likely to own iPhones
A consumer owning a Kindle e-reader is likely to own a smartphone as well. Smartphones have already built an extensive store of apps, and it is unlikely that a user will buy an app for Kindle that is already available for his smartphone. In other words, apps that compete with smartphone apps are likely to lose out.
Sizing the Kindle App Opportunity
We forecast that Amazon will sell about 2 million Kindles in 2010 and that this figure will increase to 10 million by the end of the Trefis forecast period. In comparison, we forecast Apple to sell more than 40 million iPhones in 2010, increasing to 210 million by the end of the Trefis forecast period.
We believe that the per Kindle app demand will be a fraction of that of the iPhone. Assuming that there are a total of 3.5 million Kindles in use in 2010 and that the demand for Kindle apps is about 5 per app, there could be nearly 18 million Kindle apps downloaded in 2010. This is a tiny fraction of the 3+ billion iPhone apps that we expect will be downloaded in 2010 alone.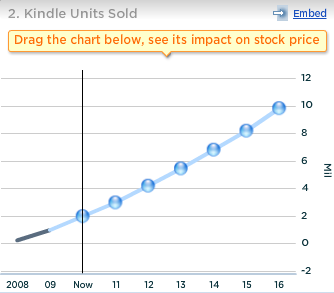 We estimate that only about 4% of the apps downloaded for the iPhone are paid. Even if we assume that 100% of Kindle apps are paid and priced around $2 per app, which is in line with our estimate of the average price for an iPhone app, the amount of revenue generated in 2010 is only about $35 million. Based on what Amazon has disclosed, it will only keep about 30% of the proceeds from the sale of apps with the remainder going to the app creator.
With only about $10 million of possible earnings from Kindle apps in 2010, the earnings are not significant for Amazon as a whole and provide a small boost to its Kindle business which we expect to generate about $70 million in cash flows in 2010.
You can see all of our forecasts for Amazon's Kindle business here.
Disclosure: No positions