General Electric (NYSE:GE) has finally decided to spin-off its US retail financial services (Retail Finance) unit in order to focus on its core industrial businesses.
The move would see GE floating 20% of the unit's equity in an IPO during 2014. Cash proceeds will be used to increase the capital of the new company.
Once the division is spun-off as a separate company, GE intends to complete its exit from Retail Finance in 2015 by making a tax-free distribution of its remaining interest to electing GE stockholders in exchange for shares of GE's common stock.
GE did not give guidance on the value of the business to be spun off. However, Thomson Reuters made a rough estimate of $16 billion to $18 billion for the new company, equal to about 6% of GE's overall market value.
Since I've started to develop a keen interest in both public and private companies' valuation models, I've decided to take a stab at valuing the new company IPO offer.
Putting a dollar value on a stock is a complicated exercise, however, an easy way to get to a ballpark figure is to compare the company to one, or several, of its peers and use price-earnings ratio as a yardstick. Since the company does not even exist, yet, I will opt for the easy way.
GE Retail Finance
GE Retail Finance offers private-label credit cards to leading US retailers. It also backs their programs that finance sales to consumers. Retailers participating in the program include Wal-Mart (NYSE:WMT), J.C. Penney (NYSE:JCP) Pep Boys (NYSE:PBY) and La-Z-Boy (NYSE:LZB).
US Credit Card Industry
| Company | Ticker | P/E | Mkt Cap |
| --- | --- | --- | --- |
| American Express | AXP | 19.7 | $ 89 billion |
| Discover | DFS | 10.2 | $ 25 billion |
| MasterCard | MA | 29.8 | $ 91 billion |
| Visa | V | 38 | $129 billion |
American Express, Discover, MasterCard, and Visa are the leading US credit card companies. American Express and Discover are both issuers and payment processors, while MasterCard and Visa offer mainly payment processing services.
Issuers extend lines of credit to individuals and make money when they receive interest on the loan. Payment processors simply verify the card being used, transfer money to merchants and make their money from fees for performing the service.
Quick & Simple Valuation
Since GE Retail Finance both issues private-label credit cards and finances the credit lines linked to them, it will be competing in the same space as American Express and Discover.
Since American Express is a premium brand credit card issuer, more like a private club, and GE Retail Finance is a private-label credit card issuer for retailers, I would tend to compare it more to Discover which acts as general consumer credit card issuer.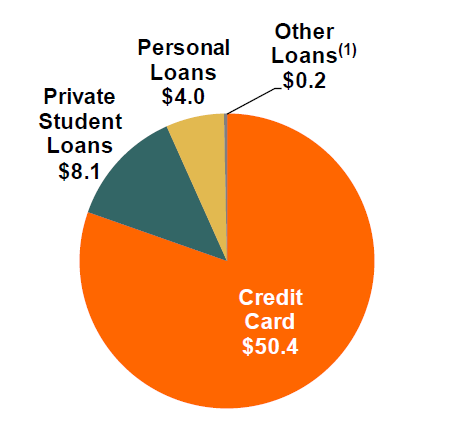 Discover: Total Loan Mix $62.7 Billion
At the end of Q3-2013, GE Retail finance had assets of $53 billion and was expected to have a net income of about $2.2 billion for the full year which puts it in the same bracket, in terms of size, as Discover which currently has an outstanding loan mix of $62.7 billion and made $593 million for the 3rd quarter, or $2.3 billion annualized.
Discover is currently trading at a P/E ratio of 10.2. If we apply the same ratio to GE Retail Finance we can be looking at a valuation of over $22 billion for the IPO.
Impact On GE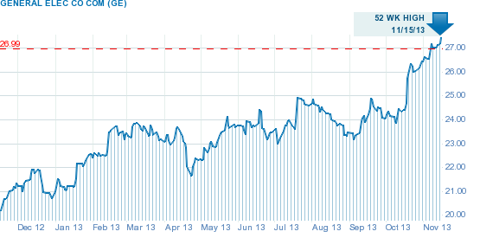 GE financial division was squeezed during the 2008 financial crisis and the company had to reduce dividend for the first time since the Great Depression and tap government debt guarantee programs to contain the damage.
GE, which is already 30% up for the year, had been moving in the IPO direction for the unit since May. The spin-off, which does not include the commercial lending division, should help GE to focus more on its core aviation, locomotive and healthcare divisions; positive news for GE shareholders.
Disclosure: I have no positions in any stocks mentioned, and no plans to initiate any positions within the next 72 hours. I wrote this article myself, and it expresses my own opinions. I am not receiving compensation for it (other than from Seeking Alpha). I have no business relationship with any company whose stock is mentioned in this article.