Editors' Note: This article covers one or more micro-cap stocks. Please be aware of the risks associated with these stocks.
I deliver sandwiches for the local Jimmy John's, a fairly typical college job. There are many hospitals in the area that are frequent late night customers. The other day I walked into the university hospital emergency room and while waiting, I overheard a conversation between nurses. They were discussing a patient with sickle cell anemia and how there is little that can be done when a victim of the disease is having a crisis. This reminded me of a company I had discovered a few months before by the name of Adventrx Pharmaceuticals. In the meantime, the company has changed its name to Mast Therapeutics (NYSEMKT:MSTX). Mast is small-cap pharmaceutical company traded on the NYSE MKT.
Sickle cell disease (also referred to as SCD) is an inherited disease which causes red blood cells to be sickle shaped, instead of circular. It is characterized by vaso-occlusive crises. The sickle shaped cells do not flow easily and have a tendency to adhere to each other and the walls of blood vessels. When this occurs, organs are deprived of oxygen. This causes permanent internal damage and is very painful. SCD is a deadly disease. Accumulation of organ damage often results in victims dying in mid-adulthood. There is currently no effective treatment for a patient having a sickle cell crisis. The average duration of a crisis is 3-5 days, but can last longer than a week. Current treatment involves opioid and anti-inflammatory drugs. In severe cases, a blood transfusion is necessary.
Mast Therapeutics' lead product candidate is named MST-188 and is currently in Phase 3 FDA trials. The main application being targeted by Mast for this drug is treatment of SCD crises. Clustering of red blood cells in a crisis causes vessel membrane damage. Damaged membrane tissue is rough and adhesive, which results in further aggregation of red blood cells. MST-188 binds to cell membranes and provides a hydrated, non-adhesive surface, thereby increasing blood flow.

Click to enlarge
Source: Mast Therapeutics
A study published by the Journal of Investigative Medicine published in 2004, showed MST-188 approximately doubled red blood cell velocity, compared to a placebo. Another study, published by Blood Journal of Hematology in 1997, showed MST-188, on average, decreased the duration of a sickle cell crisis by 32% resulting in 2 days shorter time of hospitalization and 71% less analgesic use. Despite these positive study results, a previous Phase 3 trial in 2001 concluded the MST-188 was suggestive of treatment effects but the results did not achieve statistical significance. However, Mast has pointed to numerous flaws in the original trial, such as subjectivity in the definition of a resolution to a vaso-occlusive crisis and a study observation period that was likely too short.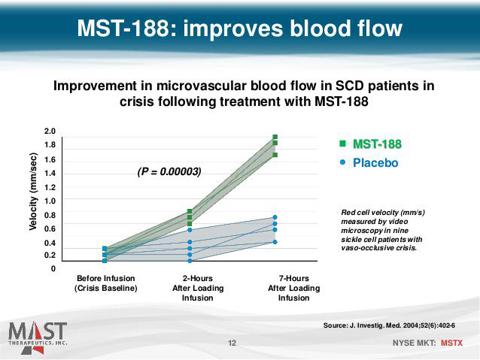 Click to enlarge
Source: Mast Therapeutics
The current and redesigned Phase 3 trial entitled EPIC (Evaluation of Purified Polaxamer 188 In Children) for MST-188 is ongoing. The expected trial completion date is December 2015. Ad-hoc analysis of the failed 2001 trial showed a statistically significant improvement in the length of vaso-occlusive crises in children. The EPIC trial is specifically focused on children, a requirement being participants must be between 8 and 17 years of age. This bodes very well for a successful outcome.
Mast is also conducting overlapping studies with the EPIC trial to further determine the efficacy of MST-188. The first of these studies demonstrated MST-188 did not have an effect on cardiac repolarization. This improves the drug's risk/benefit profile and displays limited serious adverse side-effects concerning the use of MST-188. Investors should pay attention to these overlapping studies to help gauge the probability of success of the EPIC Phase 3 trial.
As a company, Mast is completely reliant on the success of the EPIC trial and FDA approval of MST-188 for use in treatment of sickle cell vaso-occlusive crises. The company has no debt and $49.4 million in cash or cash equivalent securities, as of September 2013. Mast anticipates this cash balance as being adequate to fund operations for at least the next 12 months.
Although Mast's pipeline is small there are many opportunities for its drug candidates, in addition to treatment of SCD. A Phase 2 trial regarding the use of MST-188 in treatment of acute limb ischemia is in progress. The FDA has granted orphan drug status for MST-188 in this use, which could give Mast market exclusivity for a period of time and provide tax benefits. The chief executive officer of Mast, Brian Culley, has hinted at the use of MST-188 for increased safety and positive outcomes of blood transfusions. Studies involving over 400,000 patients have shown an increased risk of death in blood transfusions involving older red blood cells. Since older red blood cells tend to aggregate more than younger ones, there is a possibility this aggregation is the cause of negative outcomes in transfusions involving older red blood cells. If this is true, MST-188 could provide improved treatment for the 4.5 million people who receive blood transfusions in the United States every year.
Mast also has a drug in its pipeline called Exelbine, a branded formulation of the currently approved generic chemotherapy drug, Vinorelbine. Vinorelbine is a common, anti-mitotic drug, used to treat metastic breast cancer and non-small cell lung cancer. Vinorelbine often causes reactions at the site of injection, such as vein inflammation and blood clotting, known as phlebitis and thrombosis respectively. This occurs in approximately 33% of patients using Vinorelbine. While most of the time, these reactions are innocuous, there can be severe reactions, such as deep-vein thrombosis and embolisms. Severe reactions occur in approximately 5% of patients using Vinorelbine. These reactions are caused by negative interaction between the drug and venous endothelium. Exelbine has been specifically designed to reduce drug-vein interaction. MST-188, as I covered previously, binds to endothelial membranes and provides a smooth, hydrated surface for increasing blood flow. It is possible and I am purely speculating at this point, that Mast envisions synergies between the two drugs, MST-188 and Exelbine. MST-188 could be used to reduce the severity and probability of reactions in patients using Exelbine or similar drugs.
Increasing blood flow is key to treating SCD and many other medical crises, including stroke and heart attack. There is significant interest from major pharmaceutical companies in this market. A similar company to Mast, named GlycoMimetics, has entered into a $340 million licensing agreement with Pfizer (NYSE:PFE) for their GMI-1070 compound. Novartis (NYSE:NVS) has agreed to acquire Selexys Pharmaceuticals for up to $665 million following the successful completion of a Phase 2 trial for its drug candidate in this segment. Both of the above companies are currently private, although Glycomimetics has plans to go public.
Mast is the furthest advanced in this market and if the EPIC trial for MST-188 is successful, it is a prime target to be acquired. There is significant hedge fund interest in Mast as well according to Yahoo Finance Major Holders information. Numerous analysts have shown bullish sentiment and placed $2 to $4 price targets on Mast, pending the outcome of the EPIC trial. MSTX is currently trading around $0.45.
Disclosure: I have no positions in any stocks mentioned, and no plans to initiate any positions within the next 72 hours. I wrote this article myself, and it expresses my own opinions. I am not receiving compensation for it (other than from Seeking Alpha). I have no business relationship with any company whose stock is mentioned in this article.