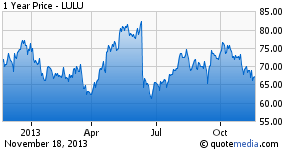 Lululemon Athletica (NASDAQ:LULU) shares have been terribly volatile over the last few months, and awfully weak over the last few weeks. The apparel maker's problems stem from its recent quality control issues, as well as some recent problematic statements made by the company's co-founder, Chip Wilson, while being interviewed on Bloomberg Television. These issues present a golden opportunity for new and longstanding apparel brands to capture market share in the female yoga, running, dancing and stylish casual compression pant segments.
Lululemon was early to recognize the growth of yoga in North America, and the need for a retailer to focus on and serve the predominantly female practitioners. The company also realized that yoga was not just a mode of exercise, but part of a broader lifestyle that includes fashion choices both on and off the yoga mat. Moreover, several of its products doubled as shapewear, which is a separate but often-overlapping apparel segment, to the extent that so many buyers of LULU pants do so for their shaping effect.
Since LULU established itself as the market leader in these segments, many larger apparel makers, such as Nike (NYSE:NKE) and the Gap (NYSE:GPS), have focused their attention on taking market share. Another potentially formidable competitor may be Under Armour (NYSE:UA), which previously focused on the male athletic apparel market, but which has begun to broaden its focus, and brings with it some well respected expertise in performance synthetic fabrics. From the very opposite side of the spectrum, L Brands (LTD) and its flagship Victoria's Secret stores already have tremendous credibility with female consumers, as America's largest retailer of lingerie, and hope to use that status to expand into sports apparel.
It appears likely that both Victoria's Secret and Under Armour will expand their share of this young and growing market, and that entrenched sports apparel leaders like Nike and Adidas, which also owns Reebok, will also take a fair share of the market. Other potential competitors may also emerge from the compression shapewear segment, where companies like Spanx have built credibility with female consumers. Like Victoria's Secret, many shapewear and lingerie companies may have a suitable brand presence to expand into the market.
Nonetheless, the Gap should be seen as a particularly formidable competitor in this arena, as it now competes in the compression pant and broader related female sports apparel market across virtually all price points through several of its retail outlets, such as Old Navy and Atheleta, as well as the Gap itself through its GapFit line. This multi-tiered approach should help the company grab share by offering a plethora of options, with many well below the cost of LULU apparel. Any substantial success Old Navy may have at establishing itself as a sports apparel and compression pant retailer could also substantially benefit consumers by helping to lower the price of competing products, including LULU's.
Despite all of this coming competition and recent errors in execution, LULU could have a decent 2014, at least on a relative basis. Retail stores are predominantly evaluated on comparisons, or 'comps,' of quarterly overall sales, same store sales and overall margins on a year over year and quarter over quarter basis. With such a problematic 2013, including defective products that required LULU to offer replacements that it had to quickly produce, the company incurred significant unanticipated expenses, and many would be consumers were prompted to delay LULU purchases or to buy products from a competing brand.
Lululemon was fortunate to be in a strong enough financial position to react to its problems. It last reported having about $610 million in cash and equivalents, as of the end of June, and no debt. Moreover, despite its problems, the company still managed to increase revenue by over 20 percent through the first half of the year, to about $690 million, and make a profit of just over $103 million, or $0.71 per share. But for the defects and bad press, it is likely that LULU's revenue and earnings would have been even stronger.
Much like some of LULU's competition, such as Under Armour, is expanding into its territory, LULU also hopes to gain some traction in its pursuit of the men's athletic apparel market. The company may not find such cross-over success an easy task. The men's sports apparel market is already quite mature and full of strong brands. Few have had substantial success at taking share from the entrenched leaders, with Under Armour being by far the most successful. A more probable source of growth for LULU should be its budding expansion outside of North America, where it can continue to market to its core female customer base.
Given the coming onslaught of competition and the probable price decline to LULU's core products due to that competition, the company should have a substantial degree of difficulty maintaining its prior growth rate over the next several years. Nonetheless, it is probable that in 2014, LULU will perform well on a relative basis due to its favorable 2013 comps. Because of this, it is likely that LULU shares will strengthen in the coming quarters, and that it may be a good allocation in the short to mid-term. Over the longer term, though, its market share and valuation will face tough headwinds, making any near-term strength a selling opportunity.
Disclosure: I have no positions in any stocks mentioned, and no plans to initiate any positions within the next 72 hours. I wrote this article myself, and it expresses my own opinions. I am not receiving compensation for it (other than from Seeking Alpha). I have no business relationship with any company whose stock is mentioned in this article.