Introduction
Chinese interbank lending rates (SHIBOR) have been rising sharply over the past few days, coupled with declining government bond prices.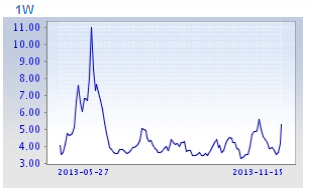 Source: 1-week SHIBOR(Shanghai Interbank Offered Rate), similar movements have been seen in other terms
A repeat of the bank liquidity crunch seen in June appears to be possible if not probable. The author believes this will have a large impact that will catch most market participants off their guard. This article will attempt to delve into the reasons of the crunch and anticipate its effects.
How a liquidity crunch is formed
The reserve requirement ratio has become a historical anachronism in the U.S. and the historical function played by bank reserves has been replaced and expanded by the notion of "bank capital" instead.
However, reserve requirement ratios are high and alive in developing countries like China.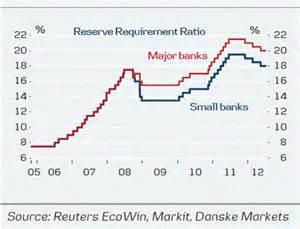 Source: Chinese reserve requirement ratios
Since bank lending has been growing rapidly in China, this requires an ever-growing amount of reserves, which the central bank has usually supplied through open market operations (which somewhat validates the endogenous theory of money).
But what if the central bank refuses to supply reserves? This would normally be unthinkable as it would choke off credit and adversely impact economic growth. Yet that's what happened in June, creating a tremendous shock for the markets. This was amplified by rumors of an interbank default, which increased the demand for extra reserves from each bank (so they could avoid potential default and the stigma associated with such). The widespread association that we saw in June with "economic crisis", "bubble bursting" and "going to hell in a handbasket" does not explain the phenomenon very well. Essentially, the phenomenon boils down to a central bank unwilling to provide the amount of reserves the banking system needs.
Why the liquidity crunch formed
More important than how is why. Why would policymakers deliberately choke banks of reserves?
Normally they wouldn't, as economic and credit growth are highly sought after by policymakers all over the world these days. But it is becoming ever more evident that something needs to be done to reform China's financial system because anyone with some foresight can see the cliff is close ahead. The problem is, how do you shape market expectations in a way that gets people to go along with the reform program?
This is actually a very difficult issue. Issue a strongly-worded communique? People might debate the actual meaning and miss the point. Put limits on borrowing and/or order banks to slow down credit growth? While this might work, it'll take some time to filter through the economy and people will debate what the recent drop in bank lending was caused by or whether it was a random fluctuation. It also puts the onus of turbulence directly on the shoulders of policymakers. Moreover, if markets shrug off the actions and continue chugging along, policymakers lose credibility and prestige.
Interbank liquidity is on the other hand, the perfect tool to shape market expectations. The interbank loan rate could climb precipitous amounts in a matter of days, sending out a sharp signal that something is wrong and drastically changing market expectations. It also puts the onus of the turbulence on the banks ("they're the ones running out of money and defaulting") since few people really understand what's going on. Yet the feeling that something is wrong with the financial system and something needs to be done can be spread far and wide.
Interbank liquidity is also a valuable channel because it is deeply integrated into a banking system with high reserve requirement ratios. It is an accepted convention: no one can easily change it, no one knows what to change it into and it'll take years of lobbying and discussion to mold it into something else. So for the foreseeable future, policymakers can use this tool to leverage their position with banks.
Summary and Forecast
To sum up, a liquidity crunch in Chinese banks is caused by the central bank not supplying enough base money to meet banks' demands. The central bank does this to drastically shift market expectations in a manner that is conducive for reforms (which are desperately needed), yet affords it "plausible deniability". It is a powerful instrument in the central bank's toolkit.
Shibor rates are on the rise again after China's most recent pledge to reform. I believe a repeat of the June liquidity crunch will be seen and market participants are vastly underestimating the odds of such an event occurring. If the above analyses are correct though, another liquidity crunch is likely to be used to (1) shape market expectations that the old way of doing things is not working, (2) foster an environment conducive to reforms and (3) get banks to get on with the program.
Internationally, it will dampen optimism for emerging markets and provide yet another, if not decisive, headwind for currencies of weaker emerging markets (NYSEARCA:EEM). This will also have a ripple effect across different asset classes (NYSEARCA:SPY), which is beyond the scope of this article.
If Japan prints money on the 20th at the next Bank of Japan meeting, another wave of euphoria may take over the markets and smooth over any worries over Chinese interbank liquidity. But this is likely to strike soon, so at least some attention should be paid to the Shibor and Chinese stock indices (NYSEARCA:FXI).
Disclosure: I have no positions in any stocks mentioned, and no plans to initiate any positions within the next 72 hours. I wrote this article myself, and it expresses my own opinions. I am not receiving compensation for it (other than from Seeking Alpha). I have no business relationship with any company whose stock is mentioned in this article. Long USDZAR. Looking to establish more long dollar short EM currency positions with the right catalysts.