MFRI Inc. (MFRI) is a company that I have initiated a position in recently. I try and study companies that have been showing massive growth and record earnings. When these 2 parameters are met with insider buying, I tend to follow and in the past this has helped my portfolio grow.
In late 2012 I wrote this article on Fonar Corporation (FONR) that can be read here. The stock has gone up around 150% since then. Here is a chart showing FONR's action in 2013.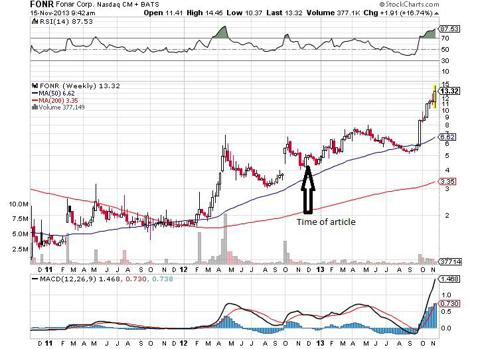 I believe that MFRI is a stock that has the same potential for 2014.
This article will explain why I like MFRI and why I think investors should take a position going forward. As always, I only risk 1% of my portfolio in every position I buy thus being able to manage risk. The aim is always to ride the winners and sell the losers as soon as our stops are hit.
MFRI: The company
MFRI produces specialty piping systems, custom design filtration elements and energy-efficient heating, ventilation and air-conditioning.
Their piping systems known as Perma-Pipe have been showing strong demand. Perma-Pipe is one of the largest manufacturer of specially piping systems and is used in heating and cooling together with secondary containment and oil and gas gathering flowlines. Perma-Pipe's systems are sold as part of many of their piping systems or as a stand-alone basis. Their job is to monitor areas where fluid may contaminate the environment or damage property.
The main piping business thus includes:
(I) industrial and secondary containment piping systems for transporting chemicals, hazardous fluids and petroleum products,
(ii) insulated and jacketed district heating and cooling ("DHC") piping systems for efficient energy distribution to multiple locations from central energy plants and
(III) oil and gas gathering flow and long lines for oil and mineral transportation.

MFRI also produces filtration systems. The filter elements are used for cartridge collectors and baghouse air filtration and particulate collection systems. This equipment is used to eliminate particulates from the air by passing particulate laden gases through fabric filters (filter bags) or pleated media filter elements, in the case of baghouses or cartridge collectors, between electrically charged collector plates, in the case of electrostatic precipitators and contact with liquid reagents (scrubbers).
Record Earnings in 2013
The company has turned a corner in 2013. In their last quarter, the company had record earnings. The numbers were spectacular to say the least. Let's have a detailed look.
1. Sales increased 44% from $43 million compared to last year's quarter to $62 million. Piping systems sales were very strong and increased 90%. Filtration products decreased by around $2 million.
2. Gross profit doubled to $14 million compared to $8 million as seen in last year's quarter. Filtration products' gross profit increased by 11.4%.
3. Operating expenses decreased to 14.5% compared to 19.1% in last year's quarter.
4. Net income was $4.4 million compared to a net loss of $1.4 million in 2012.
5. 0.62c per diluted share compared to a loss of 0.20c in 2012.
These are stellar numbers and shows that the company is finally turning a corner.
MFRI's CEO stated: "The record second quarter results were led by the terrific performance of the Piping systems business as the team continued delivery of products for the large-scale projects in Saudi Arabia and the U.A.E".
Backlog
The company has quite a large backlog that will continue to drive the revenues in 2014 forwards. I believe that the opportunity for MFRI are endless, and once they start completing this backlog, the profits will continue to grow going forward.
The table below shows the backlog since 2012.

Fundamental analysis
The company is currently valued at around $79 million. The float is very small at around 5.9 million shares. What is interesting is that 23% of the float is owned by insiders, whilst over 40% of the float is owned by institutions. That leaves only around 2 million shares that can be publicly traded.
The company has $6 million in cash and $41 million in debt. Although the debt is rather high, I would not be concerned as the backlog and big revenue numbers should be enough for MFRI to keep raising their cash balance.
The book value per share is an impressive $9.91, so at the current price of $11, the company is definitely very cheap.
Insiders buy
On October 8th, 2013 CEO Bradley Mautner did a massive buy in MFRI's stock. He bought 75,000 shares at $11.37, equivalent to $852,750. Mr. Mautner owns 337,655 shares and he has been holding his shares and adding more.
Mr. Mautner has become MFRI's CEO in February 2013 and since his appointment, the numbers have been stellar. I believe in the management of the company. No insiders have sold any of their stock in 2012 or 2013, and that is once again a big positive going forward.
Technical analysis
The daily chart is now very oversold with stochastics below 10. Here is a daily chart.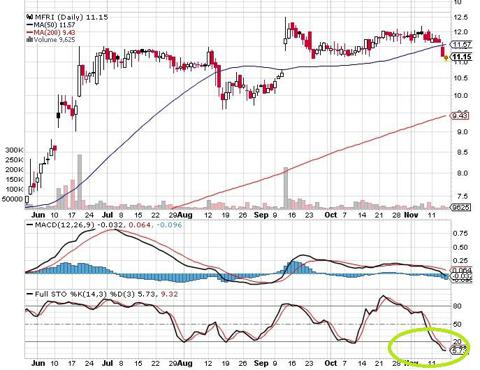 The weekly chart looks very strong. All moving averages are trending up on the monthly chart, with the 10 day, 20 day and 50 day moving averages trending up. Volume is also rising in the last few months showing that institutions have been increasing their positions.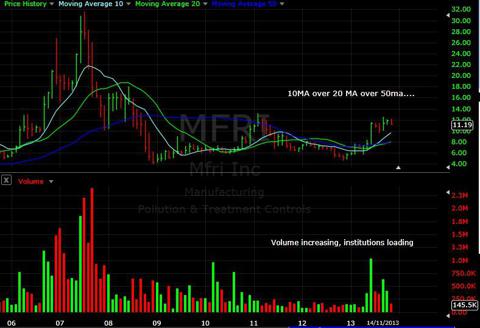 Competitors
MFRI has a number of competitors in the piping and filters field. Donaldson Co is their biggest competitor (DCI). DCI is massive as it is valued at $5.8 billion. After doing some research on DCI, estimates seem to be decreasing for 2014 so that caught my eye. DCI also has over $300 million in cash, so they might consider buying other competitors.
The other big competitor is TYCO International Ltd. (TYC). TYC has recently bought another small company, as can be seen here. With over $600 million in cash, TYC might be interested in smaller companies.
Pall Corporation (PLL) has a huge market share in the filtration industry.The company is valued at $9.25 billion, and has $1 billion in cash. They have beaten estimates in their last 4 quarters, however their estimates are decreasing for 2014 and beyond.
Conclusion
The trend technically is up and I don't fight the trend.
Furthermore,the market capital of MFRI currently only stands at around $79 million. The float is less than $6 million so if MFRI continues to show this growth, I expect new highs shortly. One has to remember the massive backlog of $120 million, plus revenues of around $250 million per year, so if they manage to cut down on their expenses and continue their growth both in the piping and more importantly in the filter services, I expect that they can easily add another $30 million to their current market capital, meaning a possible valuation of at least $16 per share in 2014 (Current price of $11 + 5$ share price increase X 6m shares in the float).
I believe that once the demand for the shares starts to increase, provided the earnings remain strong, the price can continue rising to new highs. I expect a rise that we saw in FONR in 2013 and thus MFRI is my favorite pick for next year going forward. With earnings coming out in early December, I will not want to miss the potential of new highs, hence why I initiated a long position last week at $11.25.
Disclosure: I am long MFRI. I wrote this article myself, and it expresses my own opinions. I am not receiving compensation for it (other than from Seeking Alpha). I have no business relationship with any company whose stock is mentioned in this article.