Embeda makes a comeback
Back in 2011, Pfizer (NYSE:PFE) recalled its opioid painkiller drug, Embeda (morphine sulfate and naltrexone hydrochloride), from the market due to the stability requirements that were not met during routine testing. Embeda has been viewed as a drug with potential. It has made a comeback. The company announced last week that the drug had been approved by the U.S. Food and Drug Administration (FDA).
Usage of the drug
Opioids such as morphine are used to treat moderate and severe pain. Over the past few decades, drug makers have developed extended release opioid formulas to treat people in pain over a long period.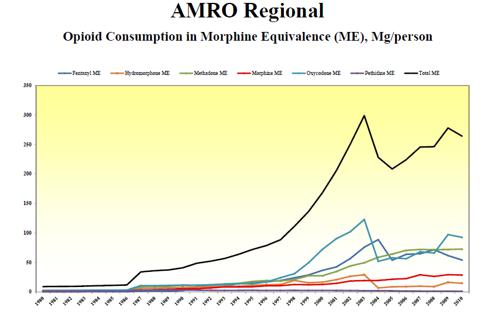 Source: International Narcotics Control Board
In US, the consumption of opioids that contain morphine has taken on a slow and steady rising trend. However, fentanyl-based drugs have been the most popular category in the region of America for the treatment of pain.
Importance for Pfizer
The company had captured $67 million in its revenue from Embeda in 2010. The company had not tapped a huge market back then and before it could, things went quite the other way round.
However, receiving the recent FDA approval may not be that a big news for Pfizer. Staying conservative and assuming the same revenue level to resume, the addition may not mean much for a company that is generating approximately $59 billion in annual sales.
The company has also collaborated with Eli Lilly to develop a new category of pain relief drug, Tanezumab. This can be a potential substitute for opioids if approved but safety concerns continue to prop up.
Another hit on the way - Celebrax
The company will see another patent expire in the coming year. Celebrax is used to treat arthritis pain and inflammation and generated nearly $2.7 billion in revenue in the fiscal year 2012. This can be a serious hit for the company's primary care operating segment as it is likely to see more hefty items being deleted from its drug portfolio compared to the additions.
Pipeline productivity
Innovation through the research and development activity is very important for the survival and success of Pfizer in the drug manufacturing industry. The company's aim is to discover, develop and bring to market innovative products that address major untapped medical needs.
Following the loss of exclusivity of its major drug, Lipitor, the company has experienced a sharp downward movement in its top line in 2012. Although Pfizer is putting in efforts to replace its cholesterol drug, Amgen and a partnership of Regeneron and Sanofi are also undertaking late stage trials to introduce injectable drugs in this area which analysts think could capture a large portion of the market if approved. As of now, the company was able to drastically increase its net profit margin from 15.3% in 2011 to 24.7% in 2012 by cutting down on its expenses.

Source: Pfizer SEC Filings
Along with other operational expenses, the company is also cutting down on its research. On the face of it, this seems to be quite detrimental as research and development conducted today is the passport for the future growth of the company. The company had also discontinued four projects in its pipeline, as of August 9, 2013.
Oncology - the growth stimulator
The oncology drug sales have come out positively with the launch of Xalkori for lung cancer in 2011, Inlyta for kidney cancer in 2012 and Bosulif in this fiscal year for chronic myelogenous leukemia. The company has witnessed a growth of 24% in its oncology segment in the third quarter of fiscal year 2013. Specifically, the revenue collected from the sales of Xalkori has nearly doubled to $73 million in the most recent quarter of 2013. Similarly, sales of Inlyta had also nearly tripled to $83 million in the same quarter.
Although the company may be spending less, it is spending effectively. The majority of the company's research is centered on its oncology segment with a total of eight promising drugs in phase III stage and four drugs in phase II stage. The company is currently in the process of developing more oncology blockbuster drugs. Out of these eight drugs, Palbociclib is being researched by the company for the treatment of advanced breast cancer and is expected to be the next block buster drug by the industry analysts. It has also been awarded the status of breakthrough drug by US FDA. Analysts expect the drug to add in between $1-5 billion to the company's top line.
Realizing the return potential, Novartis (NYSE:NVS) is trying to move in and has begun its research on coming up with the oral inhibitor of cyclin-dependent kinases. Eli Lilly (NYSE:LLY) also has a similar drug in its research pipeline. The first mover is expected to benefit the most in this area.
Conclusion
The company is trying to make up for the fall in its other segments by leveraging on its oncology department where it sees its ability to deliver maximum value for shareholders. Not only is the company undervalued based on its PE, it also offers a higher dividend yield of 2.98% in an industry where 1.8% is the normal level. With the launch of its blockbuster drugs and increase in the sales of its patented oncology drugs, the company may continue to sustain its earnings level and pose to be an attractive investment.
Disclosure: I have no positions in any stocks mentioned, and no plans to initiate any positions within the next 72 hours. I wrote this article myself, and it expresses my own opinions. I am not receiving compensation for it (other than from Seeking Alpha). I have no business relationship with any company whose stock is mentioned in this article.