Great Plains Energy (NYSE:GXP) is the parent company of Kansas City Power and Light, and Greater Missouri Operations. As the name suggests, GXP regulates electricity provision in Kansas and Missouri. The small-cap stock has a market capitalization of $3.8 billion but has shown impressive growth since 2005. In the 8-year period, it has increased its base load generation capacity by 56% and introduced an 850-megawatt coal fired power plant to its grid called 'Iatan 2.' Iatan 2 is recognized as the most energy efficient power plant in the U.S. by GP Strategies. The company's achievements don't just stop there; it also successfully added itself to the energy transmission market under the name of Transource.
Based on the latest data made available by the U.S. Energy Information Administration, there was an increase of 10% in the average retail price of electricity to ultimate customers in the summer of 2013. Despite this, Great Plains Energy's income statement does not show an upturn in revenue primarily due to lower than normal summer temperatures, which brought about a lesser usage of air conditioners.
Come winters, and the forecast looks to be in favor of GXP. Winter temperatures are expected to be colder than normal, with the coldest periods expected from mid-December to early March. A colder winter means higher electricity consumption, which would not only boost revenues but bridge the gap between GXP's production capacity and demand. The company's latest investor presentation shows a generation capacity of 27,953 MWhs while retail sales stand at $22,992 MWhs (Investor Slides). Undoubtedly, the weather conditions are in GXP's favor.
Fundamentals
GXP's net income has shown volatility in the last 5 years despite having marginal changes in its revenues due to development expenses of new projects. The company's operating margin currently stands at 23.3%, higher than it has ever been in the last 10 years. In the long run, demand for electricity is dependent on the expansion of commercial and industrial sector, and Missouri/Kansas has been no exception to the investment slowdown, which continues to plague the U.S. economy. Despite this limitation, three-year averages of revenue and net income growth are above industry average.
| | | | |
| --- | --- | --- | --- |
| Indicator | | | |
| Market Cap | $3.8 billion | $50.5 billion | $23.2 billion |
| Price/Earnings TTM | 15.9 | 21.1 | 20.0 |
| PEG Ratio | 1.8 | 2.4 | 1.5 |
| Price/Book | 1.1 | 1.2 | 1.5 |
| Net Income Growth (3 Yr Avg.) | 10.0 | 18.0 | -2.5 |
| Revenue Growth (3 Yr Avg. | 5.5 | 15.5 | 3.5 |
| Dividend Yield, % | 3.55% | 4.32% | 4.10% |
| Return on Equity | 6.9 | 5.9 | 7.4 |
| Current Price | $24.24 | $71.07 | $47.46 |
Great Plains Energy's numbers look grim when compared to a $50 billion utility company like Duke Energy (NYSE:DUK). Compared to the industry average P/E of 23.8, GXP is the most undervalued option in comparison to utility heavyweights. Its PEG ratio shows an earnings growth rate faster than majority of the industry and only eclipsed by its joint partner in Transource - American Electric Power (NYSE:AEP). Besides growth, GXP promises a consistent dividend payout despite not having the best yield being offered in the utility sector. The company's payout ratio has been hovering close to 60% for the past 3 years, in line with the company's releases about wanting to keep the ratio between 55-70%.
Financial Health

Debt/Equity

Current Ratio

Quick Ratio

Q1 2013

1.14

0.54

0.33

Q2 2013

1.16

0.61

0.39

Q3 2013

1.07

1.10

0.76
GXP's liquidity is in much better shape today than it was earlier in the year or in 2012. Improvement in financial health is mirrored by positive free cash flow in the last two quarters of 2013. For Q4 2013 and Q1 2014, I expect GXP's cash flow to show positive signs and hit a purple patch as cash flow from operations rises. The company's visibly decreasing debt/equity is a sign of growing confidence in the revenue generation capability of Kansas City Power and Light, and Greater Missouri Operations.
Winter Prospects
The graph below illustrates performance of Great Plains Energy, Duke Energy and American Electric Power in comparison with Dow Jones Utility Average Total Return Index. As mentioned earlier, less than anticipated temperature in the summer called on for a lesser use of the air conditioners. In the graph, this is represented by the sharp dip in share prices for all utility companies in the month of July. A year on from 2012 and Great Plains Energy's share price has appreciated by 21%, higher than the Utility Average index and peers.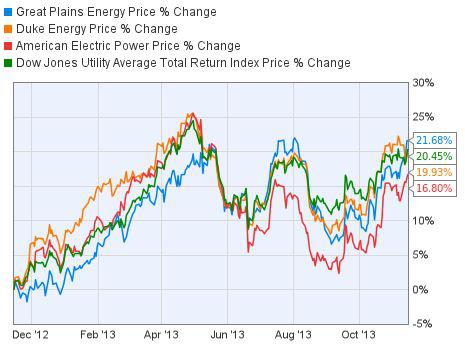 I expect GXP's bull-run to continue all throughout the winter since electricity consumption is a cyclical function. GXP has also paired up with American Electric Power for Transource's Iatan-Nashua and Sibley-Nebraska city projects, which are expected to be completed in 2015 and 2017, respectively. Benefits include increased system reliability and decreased production costs, which will positively affect GXP's margins.
The company's existing fleet performance is deemed satisfactory and no extraordinary expenses need to be made to maintain current output. Furthermore, the ongoing economic growth of the region will also increase demand for electricity. Completion of Ford Motor Company's Kansas City assembly plant, BNSF Railway's new inter-modal facility and a sharp increase in housing permits for 2013 are stacking the cards in favor of GXP.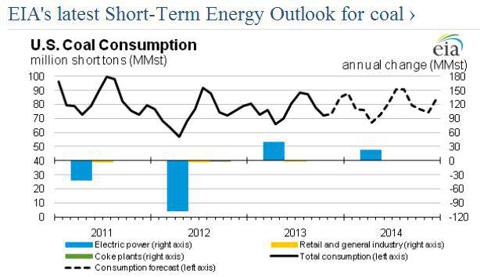 83% of GXP's electricity generation is done via coal. 63% of the coal power plants are already equipped with emission-reducing scrubbers - furthermore, the addition of La Cygne power plant in Kansas will take this number up to 72%. Since majority of electricity is produced from coal, installation of scrubbers has shielded the company from future legislation against the use of potentially polluting fuels. Forecasted electric power generation from coal shows a negative annual change for 2014, which should keep the coal prices lower and economically feasible.
Expectation
Great Plains Energy's improved liquidity over the last two quarters and introduction of transmission lines is fast changing the company's fortunes. Bundled up with favorable weather, the stock has tremendous amounts of untapped potential. The stock is currently undervalued and has brilliant prospects for future growth. I believe Great Plains Energy is a diamond in the rough, which will shine by the end of winter. Buy Great Plains Energy, before it is too cold.
Disclosure: I have no positions in any stocks mentioned, and no plans to initiate any positions within the next 72 hours. I wrote this article myself, and it expresses my own opinions. I am not receiving compensation for it (other than from Seeking Alpha). I have no business relationship with any company whose stock is mentioned in this article.