By Sumit Roy
U.S. oil production will grow again next month, led by shale plays in six regions. "These six regions accounted for nearly 90% of domestic oil production growth and virtually all domestic natural gas production growth during 2011-12," according to the Energy Information Administration's Drilling Productivity Report.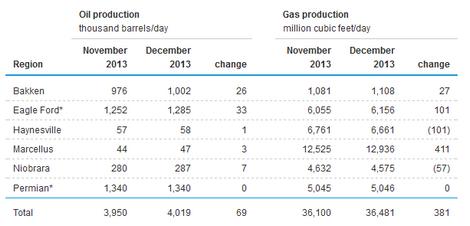 Notably, North Dakota's Bakken is expected to surpass 1 million barrels per day in oil production in December, up 26,000 barrels per day from November. Only the sizzling Eagle Ford play in South Texas will see more growth, as can be seen from the table above. The furious drilling for oil in these plays has the consequence of increasing natural gas output as well (see "Natural Gas Now A Byproduct Of Oil Drilling; Output To Climb As Long As Oil Prices Stay High"). The Bakken and Eagle Ford will see a month-over-month increase of 27 mmcf/d and 101 mmcf/d, respectively.
However, the Marcellus shale is the predominant driver of natural gas production growth. It alone is anticipated to add a whopping 411 million cubic feet per day to the nation's output in a single month. The gas-heavy play is considered economic even with prices trading below $4/mmbtu.