In a 13G filed with the SEC, Chase Coleman's hedge fund Tiger Global has disclosed a brand new position in Apollo Group (NASDAQ:APOL). The filing was made due to activity on January 15th, 2010 and it now shows an 8% ownership stake with 12,402,876 shares. This is a new holding for Tiger Global as it did not own APOL when we last looked at its portfolio.

Tiger was one of the many funds mentioned in our recent post about how hedge funds have been bullish on tower stocks. We could definitely say the same about education stocks as many of the 'Tiger Cub' funds are now long APOL and/or Strayer Education (NASDAQ:STRA). David Stemerman's Conatus Capital had a large APOL stake when last we looked, and Lee Ainslie's Maverick Capital also owned lots of Apollo Group, amongst many other hedge funds. We'll continue to watch this trend and will see if hedgies were out adding to this play in the fourth quarter of 2009 or not.

Chase Coleman is a 'Tiger Cub' because he previously plied his trade under mentor Julian Robertson at Tiger Management. Coleman is also considered a 'Tiger Seed' because he is one of the few managers that Robertson actually seeded himself in an effort to recognize talented up and coming managers.
Those of you wanting to see the specifics of Tiger's specific position can view the extracted screenshot from the SEC filing below:
(Click to enlarge)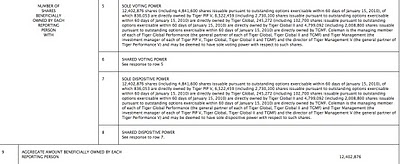 Taken from Google Finance:
Apollo Group is "is a private education provider. The Company offers educational programs and services both online and on-campus at the undergraduate, graduate and doctoral levels through its wholly-owned subsidiaries, The University of Phoenix, Inc. (University of Phoenix), Western International University, Inc. (Western International University), Institute for Professional Development (NYSEARCA:IPD), The College for Financial Planning Institutes Corporation (CFFP), and Meritus University, Inc. (Meritus)."