Over the past few months, General Electric (NYSE:GE) has been on my radar for several reasons. The company is undertaking many initiatives which I believe will unlock shareholder value. The largest and most significant of these moves has to be its plans to divest itself of GE Capital. By doing so, GE's remaining industrial segments are likely to command higher price multiples, more inline with its growth focused industrial peers such as Siemens (SI) and Emerson Electric (NYSE:EMR).
Besides its plans for GE Capital, GE also has other major catalysts. The company is likely to see large amounts of orders for its jet engines due to record jetliner investments announced at the Dubai Air Show.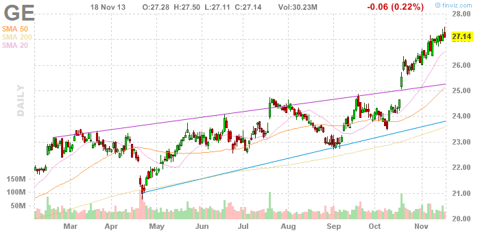 GE is set to book large sales at the Dubai Air Show
At the Dubai Air show, Boeing (NYSE:BA) received massive orders for its new next generation 777X Jetliner. In total, four customers from the Middle East and Europe have made commitments of $95B for 259 jets.
As a result of these deals, GE is likely to receive quite the windfall in orders as it is supplying the engines for these jets. It is estimated that GE will supply jet engines in deals worth nearly $26B for the company.
This news should be considered another positive development for the company. GE's various industrial segments had a total order backlog of about $229B as of Q3 2013, of which more than half was already from its aviation segment.
GE plans to IPO Finance unit in 2014
On November 15, GE announced that it intended IPO is North American retail finance division sometime in Q1 2014. This should not come as much surprise as the company made it clear that it was seeking to exit this business segment back in August.
According to the 8-K filing, GE plans to issue as much as 20% of the equity in exchange for cash that will be used to capitalize the new company. Furthermore, GE intends to fully exit retail finance by 2015 through a split-off transaction.
This should be considered good news for GE shareholders. The company seems to have finally realized that GE Capital may be weighing down the valuation for the entire company. While the retail finance business is only a part of GE Capital's operations, it is one of the largest sources of "credit risk" for the company.
As I argued in an earlier October article -- dollar for dollar, earnings from GE Capital are simply not valued as highly as earnings from industrial segments. By TTM enterprise multiple (EV/EBITDA) GE trades at a discount to many of its peers, most likely due to the fact that about 30% of its earnings coming from GE Capital. This discount is frankly unwarranted as GE has solid growth potential in various segments along with a massive order backlog, securing revenue tailwinds for many future quarters.
Looking forward to a likely dividend boost in the coming weeks
Back in 2008, GE was forced to lower its dividend due to the financial crisis. However, since 2010, GE has been attempting rebuild its quarterly dividend rate by slowly increasing its payout.
While dividends are never set in stone, GE seems to be more than able to fund an increase as it is still flush with cash due to various asset dispositions earlier in the year. Over the past few years, GE has tended to boost its quarterly dividend by at least $0.02 per share during Q4. Last year, GE's dividend increase was announced in mid-December and was coupled with an increase in the share buyback program. I suspect that GE may announce a similar increase during the next few weeks.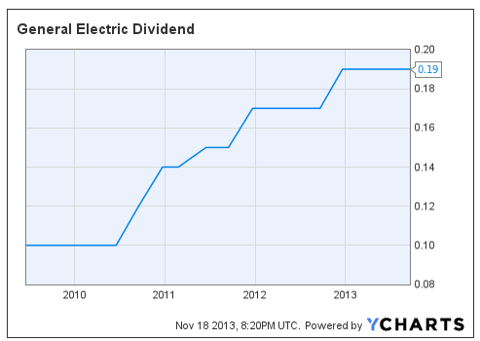 Final Thoughts and Conclusion
The jet engine deals and the retail finance IPO are both positive catalysts for GE's stock. When coupled with the likely dividend boost coming in December, it is easy to see why the company is up nearly 15% this quarter.
For those seeking reliable dividend income with moderate growth potential, GE seems like a solid choice. While others, including myself, are hesitant to invest due to GE Capital, the company is likely to offer steady returns for the foreseeable future.
Disclaimer: The opinions in this article are for informational purposes only and should not be construed as a recommendation to buy or sell the stocks mentioned. Please do your own due diligence before making any investment decision.
Disclosure: I have no positions in any stocks mentioned, and no plans to initiate any positions within the next 72 hours. I wrote this article myself, and it expresses my own opinions. I am not receiving compensation for it (other than from Seeking Alpha). I have no business relationship with any company whose stock is mentioned in this article.