Introduction
In this article, I'll have a closer look at Primero Mining's (NYSE:PPP) recently released Q3 results. I'll provide my opinion on the company's financial results and its updated balance sheet. As Primero has -once again- updated its guidance, I will briefly discuss the influence of the new guidance on the company's cash flow profile. This will result in my investment thesis at the end of this article.
My view on the financial results
In the third quarter of this year, Primero Mining recorded a production of just shy of 42,000 gold-equivalent ounces (of which 31,800 ounces were pure gold). This allowed the company to generate a revenue of $53.8M, which is an impressive 41% increase compared to the same period last year as the 60% gold-equivalent output increase compensated for the lower metal prices.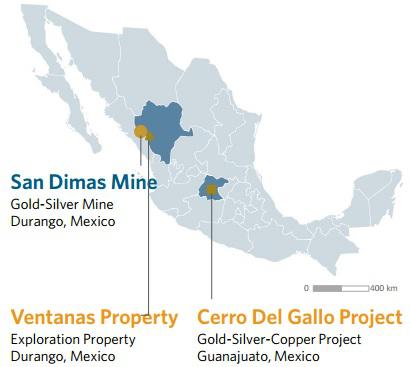 This resulted in earnings from mining operations of $22.9M and a net profit of $10.1M or $0.09 per share. But as I repeatedly said in previous articles, the cash flow statement of a mining company usually gives a much better indication about the health of the underlying business. So when glancing over the cash flow statements, you see the company recorded a $20.9M operational cash flow, which was fully spent on capex ($21.5M). This isn't unexpected as the company is still in the process to upgrade its plant towards a capacity of 2,500 tonnes per day. On top of that, Primero is also spending money on its Cerro de Gallo gold project in Mexico and plans to spend approximately $15M on the project this year.
I'm happy with the developments in Q3, as Primero Mining has once again proven it still is a very low cash cost gold and silver producer, despite the silver stream agreement with Silver Wheaton (NYSE:SLW) whereby SLW has the rights to buy the majority of the silver output for the next 15 years at a price of approximately $4.25/oz.
My view on the balance sheet
As Primero Mining wants to grow and expects to spend a fair amount on the development of the Cerro del Gallo project, it's extremely important to look at the company's balance sheet to see if it would be able to develop the project with its internally generated cash flow.
At the end of September, Primero had a working capital position of $122.8M, of which $125.7M was being held in cash. The current ratio is an extremely healthy 4.20. Keep in mind a ratio higher than one means the company has sufficient current assets to cover its current liabilities.
Looking at the debt situation, Primero still has to pay Goldcorp (NYSE:GG) $32.2M in consideration for the acquisition of the San Dimas gold-silver project. As Primero has sufficient cash on its balance sheet, I don't expect any difficulties to pay down this promissory note to Goldcorp. And as Goldcorp is Primero's largest shareholder, I would think that Goldcorp would be open to re-negotiate the balloon payment.
I consider Primero's balance sheet to be very healthy, and that's probably also the reason why the company is in the final stages of closing a $75M credit agreement, which will very likely be tapped to fund the construction works at Cerro de Gallo. I expect to hear more details about this credit line in this quarter.
The updated production guidance
Primero has once again increased its official production guidance and now plans to produce 135-140,000 oz AuEq at a total cash cost of $620-640/oz AuEq. This is much better than the original outlook of 120-130,000 ounces, and investors can expect an operational cash flow of approximately $85-95M for this year and approximately $105M for 2014 if Primero is able to keep its cash costs quite stable.

Investment Thesis
As such, I'm still in awe of Primero Mining as it continues to generate a substantial amount of cash flow (which it reinvests in its projects) thanks to its low-cost San Dimas gold-silver mine in Mexico. As the company is also negotiating a $75M credit line, I have the impression Primero is fully funded to construct the Cerro del Gallo project and to repay Goldcorp when the balloon payment is due.
As I'm expecting a further production increase at San Dimas for 2014 (as the company should have its 2,500 tpd facility up and running in Q1 2014, compared to the average throughput of 2,172 tpd in Q3).
As Primero is currently trading at just 7 times its expected operating cash flow (on a normalized basis, as the current all-in sustaining cost is heavily influenced by the sustaining capex at San Dimas to upgrade the mill) and will very likely drop below $650/oz once this expansion will have been completed. This is remarkable, given that Primero has to sell the vast majority of its silver output to Silver Wheaton at just $4.2/oz.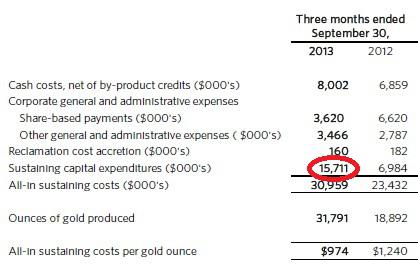 As most of my readers know, I prefer to write put options instead of just acquiring the common shares. I'm looking at the P5 April 2014 for an option premium of around $0.50, but the spread between bid and ask is huge, and one should always use a limit order to avoid any negative surprises.
Disclosure: I have no positions in any stocks mentioned, and no plans to initiate any positions within the next 72 hours. I wrote this article myself, and it expresses my own opinions. I am not receiving compensation for it (other than from Seeking Alpha). I have no business relationship with any company whose stock is mentioned in this article.
Additional disclosure: I currently have no position in Primero but might write put options if the spread tightens.