With a household full of kids I am constantly in tune with the latest music and entertainment. It's great to be able to connect with the younger generation and get a first hand glimpse of what's trending - what's hot and what's not. My second oldest daughter has been my greatest ally when it comes to Hip Hop. For those who don't know, I actually wrote a Hip Hop column for my high school newspaper many, many moons ago.
Recently I was taking my daughter to school and she started singing along with the well known rapper, Jay-Z. I know a little about Jay as most know him for his charismatic beats, hard school lyrics, and his successful ventures in the business world (his Reebok line and Roc-A-Wear). As I pulled into my daughter's school I heard Jay-Z sing:
Numbers don't lie, check the score board.
Then a light went off. I remember playing in a college basketball game a while ago (no I didn't wear Chuck Taylor shoes) and my team was winning by a wide margin. I was shooting a three and I got fouled, hard. The guy guarding me was fouled out and I limped over to the free throw line. The other guy made an unsportsmanlike comment and just as I sank the free throw (the three-pointer went in) I yelled over to the bench, "Check the score board". Of course, the basket then went Swiiiiiisssssh. Now you know why I like "nothing but net".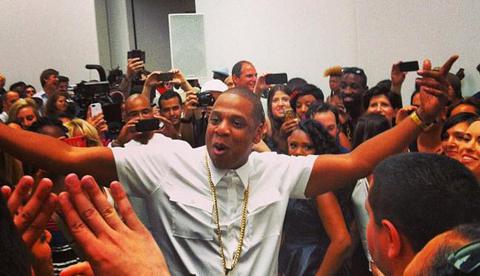 The Myth of REIT Interest Rate Sensitivity
Now when it comes to REITs - and especially the Triple Net REITs - Mr. Market has been calling out fouls left and right. In fact, the entire Equity REIT sector has been hit hard and even punished on the Federal Reserve fears regarding the potential for rising interest rates. It seems that REITs have been labeled "bad guys" - like bonds - both have outperformed for most periods in the past 20 years with low correlations; however, since May 2013, REITs have unperformed the stock market. The same fears about Fed tapering and interest rate increases that sparked the bear market in bonds have hit sentiment on REITs.
The REIT score board seems to be lit up with fouls and based upon the number of whistles (by Mr. Market) it seems that REITs are close to fouling out of the game. After all, financial media and market participants frequently assert REITs sensitivity to interest rates, but there is relatively little factual substance that correlates rising rates and REIT underperformance. Earlier this year, Diana Olick with CNBC wrote an article (Rising Rates Hit REITs Hard) and she explained:
REITs are questioning how they will have to change their strategies should rates suddenly soar.
In another article (REIT Share Slump Deepens in U.S. on Rising Interest-Rate Concern), Brian Louis with Bloomberg Businessweek wrote:
This sector is going to woefully underperform in a rising rate environment.
Robbie Whelan with The Wall Street Journal added (Investors Turn From Once-Hot REITs):
REITs, which pay little or no corporate income tax and usually pay steep dividends, are sensitive to rising interest rates because they depend on borrowed money to expand their businesses. As a result, when borrowing costs rise, REITs get dinged twice: their cost of capital goes up, and their dividend payments become less appealing compared with other high-yielding investments.
Let's Check the Score Board
It's clear. Analysis of interest rate increases since 1995 fails to show a relationship with REIT underperformance. In fact, REIT returns performed well in 12 out of 16 cases. The shaded green area illustrates episodes of rising interest gains and the shaded red area represents periods in which REITs underperformed.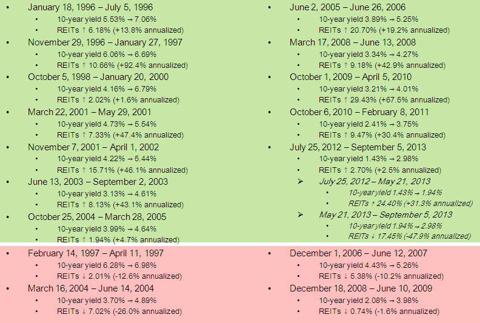 One of the biggest myths today is that REITs are "fixed income" instruments; however, that's far from the truth. Data shows that economic growth, demand for commercial real estate and fundamentals like occupancy rates, Funds from Operations (or FFO), and rental income ARE strongly linked to REIT performance.
A case in point: Economic growth and rising REIT cash flows and dividends drove a 99% REIT total return performance from Q4 2003 to Q4 2006, a period when the Fed raised interest rates dramatically. During that period, the Fed Funds Rate rose five-fold, from 1% to 5.2% from Q4-03 to Q4-06 while Nominal GDP increased 6% per year or 19% for the three-year period.
Conversely, REIT dividends increased 6% per year or 18% for the same period, in line with GDP. As a solid indicator of performance, REIT FFO increased 12% per year or 41% for the period and REITs delivered total returns of 26% per year or 99% for the period. The score board: An initial $10,000 investment in the FTSE-NAREIT ALL US Equity REIT Index doubled to nearly $20,000 over the same period.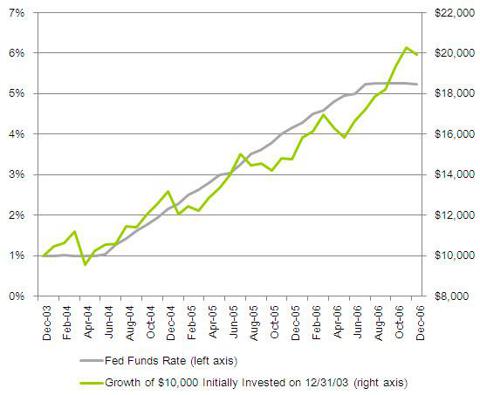 Another classic example is the chart below that illustrates the 20-year dividend growth history for Equity REITs. As seen below, REIT dividend payouts increased more than four-fold over the 20-year period and for every $100 of dividends in 1992, REITs paid out $432 in dividends in 2012. As evidenced by the $29 billion of REIT dividends paid out in 2012, REIT Income is clearly not "Fixed Income".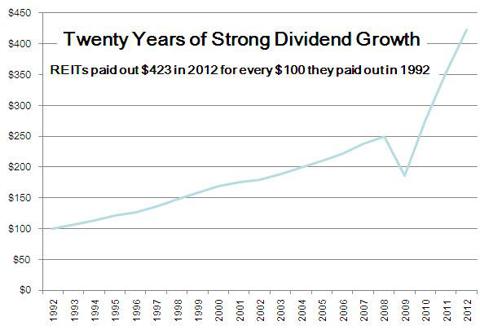 Without a doubt, REITs are putting up solid numbers and although Mr. Market believes REITs have only one foul remaining, they don't. In fact, based upon historical cycles, REITs are in the first quarter of a long real estate cycle - with supply of new properties near record lows. On average, commercial real estate cycles are around 18 years from peak to peak and considering the current cycle began in 2009, there are at least three more quarters to go.
For the 17-year real estate cycle from 1972-1989, an initial $10,000 investment in the FTSE-NAREIT ALL U.S. Equity REIT Index grew to more than $90,000. For the 17 ½ year real estate cycle from 1989-2007, an initial investment in the FTSE-NAREIT All U.S. Equity REIT Index grew to more than $100,000. As the snapshot illustrates (below) we are 6 years into the current cycle, which is off to a slower start than historical cycles.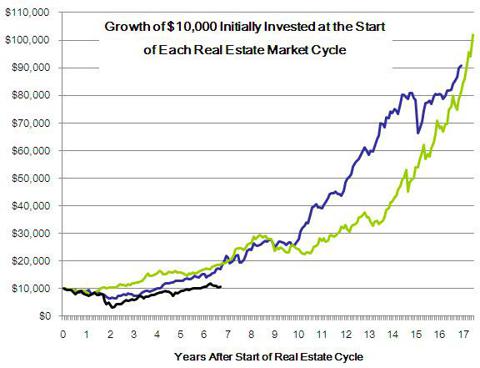 As evidenced by the snapshot below, a decline in completions signals decreased supply: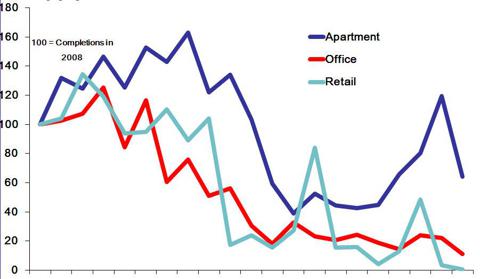 Furthermore, rent growth increases signal a rise in demand. As the economy improves (and interest rates increase) so does demand. In a recent interview at REITWorld, Dr. Brad Case, Senior VP with NAREIT, explains the "myth of REIT interest rate sensitivity" here (Source: The Street).
It's Time to Put Some Points on the Board
Contrary to the "urban legend", REIT interest rate sensitivity is a myth. There are five factors that will drive the next rally in REITs: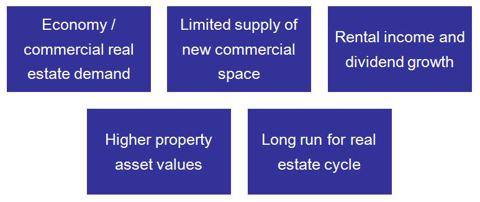 It's true, REITs did underperform in 2013 year-to-date and the cause for the selloff has been driven in large part by the fear of rising interest rates.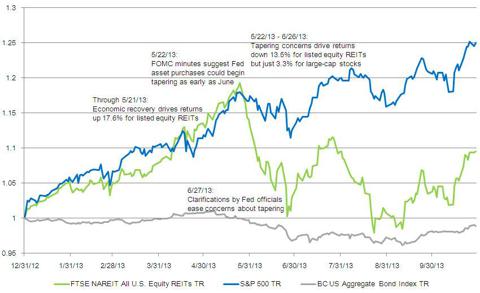 The score board speaks for itself. A rising economy supports commercial real estate demand and REIT returns. This snapshot (below) compares nominal GDP growth rates and US Equity REIT Total Returns: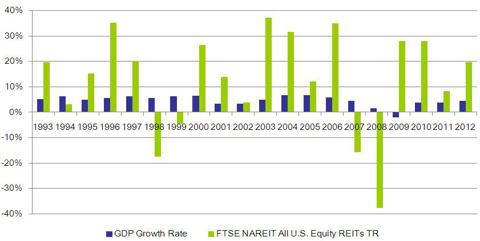 Not interested in REITs? Why not? REITs offer benefits of both stocks and bonds - and the power of diversification - to deliver returns with lower risk. This snapshot below provides ample evidence that an allocation of REITs provide increased income and capital appreciation: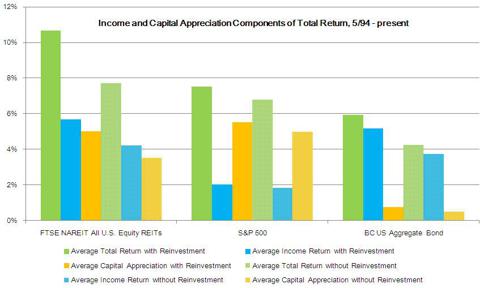 The ball is in your court. The portfolio on the left has no US Equity REIT exposure and the portfolio on the right has 10% in US Equity REIT exposure. The score board speaks: REITs deliver better returns and lower risk.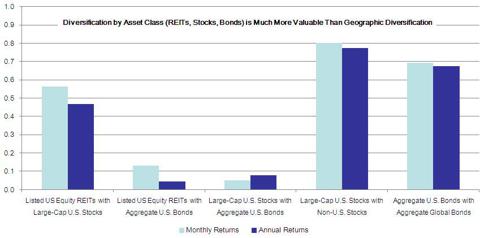 Three REITs That Know How to Score
As I conclude this bullish article on REIT investing, I want investors to know that nobody can "sleep well at night" without diversification. In other words, as much as I like REITs, I cannot advocate an investment strategy without acknowledging the broader importance of diversification. Although I maintain a prolific writing strategy, I would not recommend any more than 30% in REITs. There's a lot to be said for having plenty of dry powder and I believe there could be a few more dips coming sooner or later.
However, dry powder doesn't help my principal multiply and it's hard to sit on the sidelines when I know there are at least three more quarters in the game. In fact, most REITs are well-equipped for the game as they have, for the most part, de-leveraged, pruned-off, and extended debt maturities. In other words, REITs have had ample time to prepare for the risk and more so on the potential for loss.
After all, we all know that risk is inescapable. The most important element is to find the best opportunities and that means to invest in a REIT that is best prepared for risk. As in any sport, the player with the most durable competitive advantage is the most skilled athlete. Conversely, the REIT that is able to both control risk (defense) and generate strong returns (offense) is the greatest of all. Ben Graham summed it up as follows:
It is the consistency in the products that creates consistency in a company's profits. Consistency and durability are attributes for competitive advantage.
Realty Income (NYSE:O), Tanger Factory Outlets (NYSE:SKT), and Omega Healthcare Investors (NYSE:OHI) are three REITs that know how to score. That's not to say that I would recommend buying all of them today - these REITs are distinguished in large part for their ability to pay and increase dividends over a long period of time. In other words, these stalwart REITs have demonstrated a successful track record of consistency. Better said, these players have all built their strategies on vivid and hardy forms of differentiation.

All three REITs have demonstrated the necessary skill-set of risk control and their repeatable model lies in the defensive attributes that led to their initial success. It's obvious that the lasting differentiation has been the dominant characteristic and the common thread that runs through the jersey of all three champions - DIVIDENDS.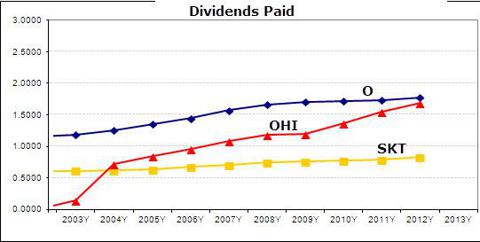 As Ben Graham wrote in The Intelligent Investor, the value investor's purpose is to capitalize upon "a favorable difference between price on the one hand and indicated or appraised value on the other." Thanks to Mr. Market's inability to recognize REIT fundamentals, investors have a better opportunity to capitalize on soundly valued REIT shares. Of course that means that REITs are paying some attractive dividends - As Jay-Z rhymed: "the numbers don't lie, just look at the score board".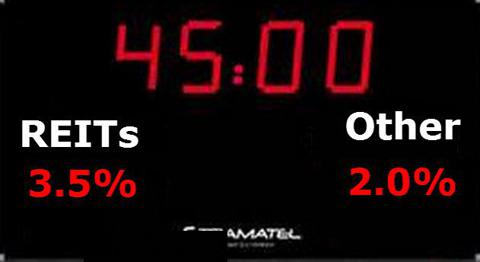 Check out my monthly newsletter, The Intelligent REIT Investor and my NEW 3D portfolio (coming in December).
Source: SNL Financial, FAST Graphs, and NAREIT Presentation.
Disclaimer: This article is intended to provide information to interested parties. As I have no knowledge of individual investor circumstances, goals, and/or portfolio concentration or diversification, readers are expected to complete their own due diligence before purchasing any stocks mentioned or recommended.
Disclosure: I am long O, ARCP, HTA, VTR, CBL, GPT, CSG, STAG, ROIC, DLR, UMH. I wrote this article myself, and it expresses my own opinions. I am not receiving compensation for it (other than from Seeking Alpha). I have no business relationship with any company whose stock is mentioned in this article.