Shares of 3D Systems (NYSE:DDD) have gone parabolic since the Q3 earnings report. The stock is up over 40% in the last three weeks, and is highly vulnerable at the moment, and we could see the stock pull back and consolidate its recent gains, and Monday's selloff may be a starting point of an intermediate correction. While there are short-term headwinds, as the price and valuation are getting too high, the long-term prospects for the company and the 3D printing industry remain intact.
Abundance of good news and investor optimism propel the shares higher
There was no shortage of good news surrounding the 3D printing industry. After the earnings report, which I thought was better than it looked at a first glance (the stock sold off in the first couple of hours of trading after the earnings announcement), the company announced that it had expanded its partnership with Japan's Cannon Marketing to distribute its advanced 3D manufacturing 3D printers. The deal expands Cannon's offerings to include all of 3D Systems' advanced manufacturing portfolio. Under the terms of the agreement, Cannon will market and sell all of 3D Systems' advanced manufacturing 3D printers, including its direct metal printers. This is in accordance with the company's expansion plans, and is especially important for further penetration of its direct metal printing business, which the company is expanding after the Phenix acquisition earlier this year. The direct metal printing is one of the segments where the company sees significant demand.
On November 8, 3D Systems launched Sense, a $399 3D scanner, designed and optimized for 3D printing. The scanner is meant to work with 3D Systems' Cube printers, and its Cubify.com cloud printing platform. This was 3D Systems' answer to Stratasys' (NASDAQ:SSYS) Makerbot Digitizer scanner, which costs $1,400. 3D Systems claims Sense has "the most diverse scan range in its class," and can scan objects as large as 10' x 10', while Digitizer supports a maximum size of just 8" by 8". Both 3D Systems and Stratasys are following each other's moves this year, as they fight for market share in the consumer and the industrial segment.
Peers also up significantly and vulnerable to a pullback
3D Systems was not alone, as most of its peers surged higher in November. Voxeljet (NYSE:VJET) is up almost 100% for the month, as it went higher with its peers, and after a favorable earnings report. Voxeljet's venue increased 77% year-over-year in Q3 and as gross margin expanded from 38.2% in Q3 2012 to 45.6% in Q3 2013.
Stratasys and ExOne (NASDAQ:XONE) were the worst performers in the group, and both rose around 20% in November. There was no news from Stratasys to push the shares higher, but Stratasys went along higher with other 3D printing companies. ExOne managed to overcome another poor earnings report, with earnings and revenue below analyst estimates, and the full-year revenue guidance at the low point of the range.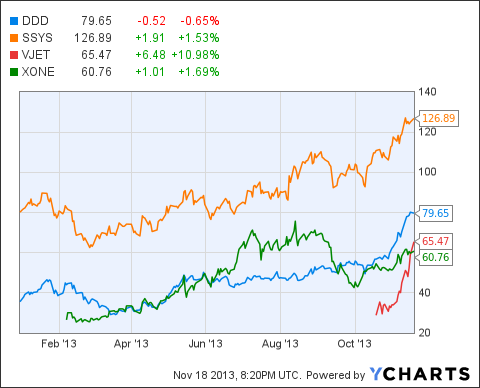 Valuation disparity
3D Systems and Stratasys have traded at a similar price to sales ratio for most of the time this year. This is not the case as of early November, since 3D Systems' P/S ratio now stands at 17.9, while Stratasys' P/S ratio is 15.2. There might be an explanation for 3D Systems' premium, and that is the recent rumors that IBM (NYSE:IBM) might buy 3D Systems for $90. If the buyout rumor is the only reason for 3D Systems' 40% rise in November, the upside seems limited, since the price is near $90, and the downside risks are increasing. There is also a possibility that Stratasys goes up to match 3D Systems' elevated P/S ratio. With the abundance of good news and media hype, I would not be surprised if all the stocks in the group go up in the next couple of weeks, but I believe it is prudent to be careful at this juncture, and at least take some profits off the table, or protect the downside.
Conclusion
I tend to be careful when investors get overly confident, and when the price of a stock makes a parabolic move. Such is the case with 3D Systems, and other stocks in the group might also suffer if the leader of the group goes down. The abundance of good news caused the market to become overly optimistic about the prospects for 3D printing stocks, and they are vulnerable to an intermediate pullback and/or a consolidation of recent gains. There is just one reason to be optimistic about the short-term prospects of 3D Systems - the IBM buyout rumor. If it turns out to nothing, 3D Systems' price might pull back up to 30% in the next couple of weeks or months.
Disclosure: I have no positions in any stocks mentioned, and no plans to initiate any positions within the next 72 hours. I wrote this article myself, and it expresses my own opinions. I am not receiving compensation for it (other than from Seeking Alpha). I have no business relationship with any company whose stock is mentioned in this article.