Microsoft's (NASDAQ:MSFT) soon to be acquired Nokia (NYSE:NOK) handset division embarked on a decisive and risky strategy in 2011 when Stephen Elop took over the world's largest cell phone company and embarked on the conversion from is Symbian operating system to Windows phone. Elop could just as easily have switched to Android or tried to make a go of it with Nokia's own OS but instead saw the vast Windows ecosystem as the risk he faced as he saw Apple's iPhone gaining market share.
Time will tell whether this was a great decision or a terrible one, but one thing is pretty certain. Apple (NASDAQ:AAPL) was not the threat, Android was. The immediate aftermath was a collapse of Nokia sales and profits.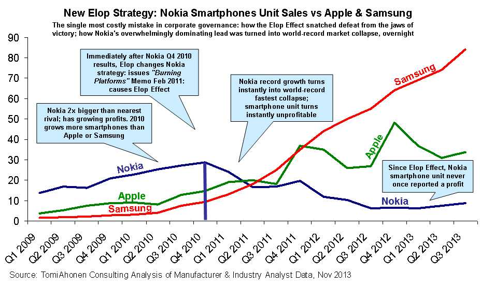 Nokia's massive loss of market share did not arise at the hands of Apple. It was Android that ate Nokia's lunch and had some Apple for desert.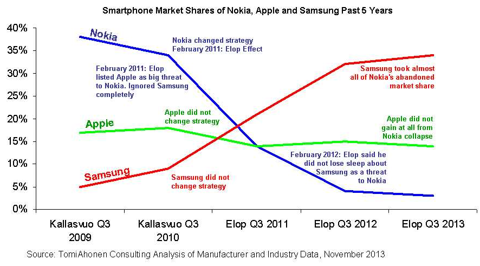 Fast forward to Q3 2013, however, and Nokia is starting to look like it might emerge a survivor and potentially a winner after all. Despite the carnage in the past 3 years, Nokia has held on to second place in the world phone market in terms of units sold.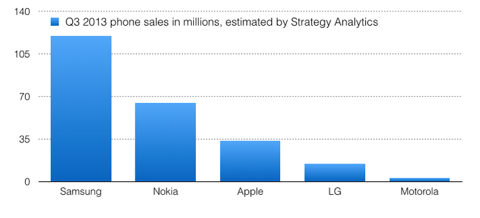 Moreover, Nokia's Lumia line of Windows phones is finally getting some respect. Market shares in several European countries are growing and growing very quickly with share figures reaching double digit levels in the United Kingdom, Italy and France.

In fact, Nokia market share trend has had an upward slope in many world markets since the fall of 2012.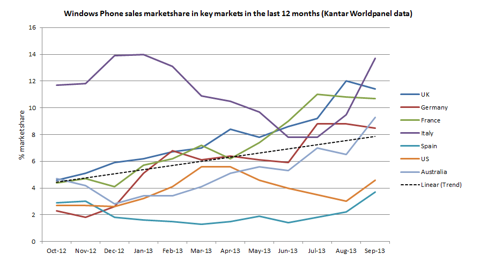 Even with this progress, Nokia's smartphone market share pales beside Samsung and Apple on a total world basis although it is reaching a point where it is in the ballpark of comparability to Huawei, Lenovo, LG, ZTE, Sony, Coolpad and HTC, all serious contenders in Asian markets..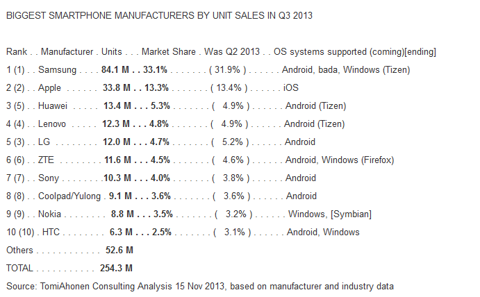 The challenge for Nokia, soon to be Microsoft, is to grow the installed base to a level where it can attract developers, something larger BlackBerry failed to do.

Nokia's choice of Windows OS made this task somewhat less daunting since the Windows phone OS shares application compatibility with many Windows 8 applications and Microsoft is moving aggressively to build one integrated user interface across all devices with an applications library able to run on all form factors. With over 1 billion Windows users worldwide, the success of this strategic thrust may bring the applications library for Lumia phones to a competitive level and make the developers' more interested in writing programs for the entire Windows platform. It is early days and too soon to tell if this will pan out, but it would be an error to discount the powerful Windows ecosystem.
Despite the slow and painful start, it is becoming clear that Lumia phones are gaining market acceptance and finally more than replacing lost Symbian OS phone sales.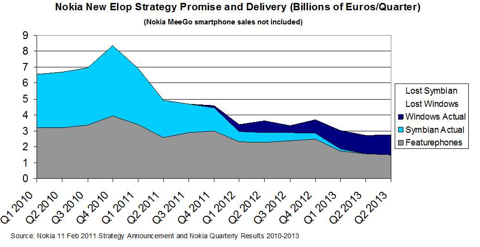 Part of the Nokia strategy, like Android and differentiated from Apple, is to provide highly featured smartphones at prices lower income users can afford. Both Windows and Android OS phones have average selling prices at half the level of Apple's iOS based iPhones. That pricing strategy is key to expanding market share in fast growing markets in India, Asia, Africa and Latin America.

Efforts to expand the Windows OS applications reach is having some success. By August 2013, fully 64% of the top iOS applications were available from the Windows store.
In addition, integration of Windows phone into the traditional Windows ecosystem is well underway with a high degree of functionality provided for Office 365, SkyDrive, Skype and Outlook.

Nokia's pace of product introduction has not abated. The recent launches of two larger screen sized "Phablets" and a Windows RT based tablet followed a number of innovative phones including the Lumia 1020 with its 41 Megapixel camera built in, heralded by some as one of the best camera phones ever.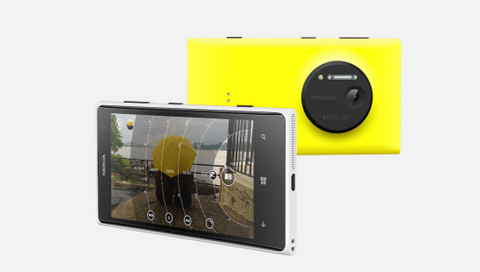 I was and am a long time BlackBerry user and still use my BB7 BlackBerry Bold, which in my view is one the best devices available albeit dated and with a limited application library. It certainly meets my needs and while I have purchased Samsung S3 and S4, and BlackBerry Q10 and Z10 phones to try out, and found them to be excellent I still find my old Bold more suited to my needs.
I also bought a Huawei Windows phone to give it a try. I was blown away by its ease of use, integration into Windows and the practicality and simplicity of the Windows phone interface. I simply logged on to the phone with my Windows account and immediately my files and photos in SkyDrive and my email and phone contacts in Outlook were loaded and available. No fuss, no muss. I tried opening and editing Word documents and Excel spreadsheets and found this task very simple and straightforward, and I found viewing Powerpoint presentations on the Windows phone an exceptionally good experience.
I am starting to see more Lumia's "in the wild" in Canada, and they are now appearing more often in carriers advertisements.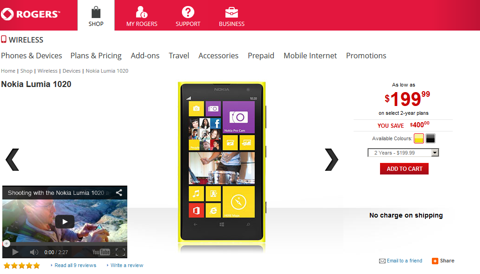 It is way too early to know whether Lumia's phones will ever pose a serious threat to Android or iOS but I am betting they will gain more share. The designs are gorgeous, the Windows phone OS is simple and functional, the applications library is rich and growing and the integration into the overall Windows environment just cannot be ignored.
In summary, I think Nokia's pain may turn out to be Microsoft's gain.
I am long Microsoft through call options.
Disclosure: I am long MSFT. I wrote this article myself, and it expresses my own opinions. I am not receiving compensation for it (other than from Seeking Alpha). I have no business relationship with any company whose stock is mentioned in this article.
Additional disclosure: I have option straddles on both MSFT and AAPL