Advanced Micro Devices (NYSE:AMD) is broadening its market base by supplying chips to Sony's (NYSE:SNE) PlayStation 4 and Microsoft's (NASDAQ:MSFT) Xbox One. Not only is AMD diversifying its business, but the chip maker is refreshing products in its core PC business. On January 14th, 2014, AMD will be making the Kaveri chipset available. This means that the future of AMD is looking brighter than ever, and its shares could start climbing higher than its recent price of $3.50.
Kaveri open, full-featured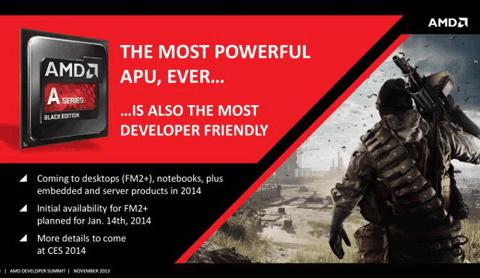 Source: AMD
AMD will call the chip the A10-7850K. It will have audio processing technology, called TrueSound, and will have four 3.7GHz cores. More importantly, the refresh will be on an open standard, or Heterogeneous Systems Architecture ("HSA"). This will allow different processors, such as the graphics, CPU, and sound processors, to work collectively to complete computational tasks. By allowing GPUs to compute in parallel, AMD promises its computer solution will deliver better performance and greater power efficiency.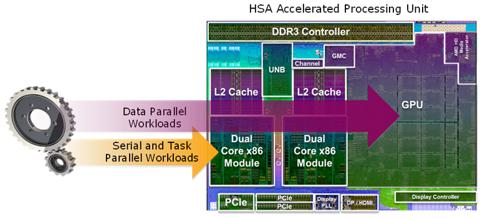 Source: AMD
AMD touts other advantages of HSA. In addition to reduced power consumption, HSA will provide easier development for programmers and give broader device support.
The desktop architecture should not be viewed as being independent from console game development. Since Kavari's GPU is based on the Graphics Core Next (or "GCN") architecture, developers will find it easier to port next-generation console games to PC systems. AMD is effectively addressing two computing markets with a common architecture. Thanks to compatibility with the Mantle API, AMD-based systems should, at least in theory, allow for gaming without a separate graphics card.
Too many promises in the past
HSA could be another leading edge technology approach that does not pay off for investors. The company was first to develop 64-bit chips, hexa-core processors for consumers, and on-die memory controllers. Yet its shares languish at $3.50. In the last five years, Intel out-performed AMD by two-fold. Shares of NVIDIA (NASDAQ:NVDA) is up nearly three-fold more than AMD.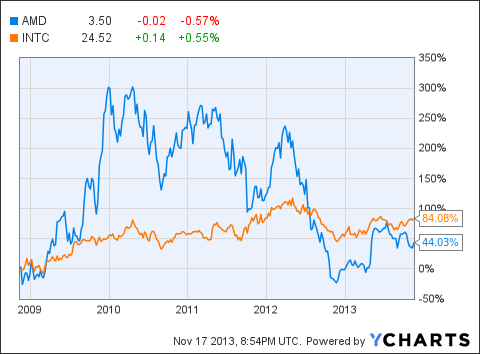 More recently, AMD released new graphics cards that had a far lower price than discrete cards offered by NVIDIA. It would not be unusual for investors to expect limited upside in AMD's future.
AMD cannot blame Intel (NASDAQ:INTC) for the underperformance of its initiatives, even though the latter has a much bigger market share, more resources for R&D, and a bigger marketing budget. Yet AMD is in a much better position today than it was over the last few years. The company has less debt and a lower cost structure. By improving its balance sheet, AMD is in a better position to grow R&D and marketing efforts. Including Q3, the company grew revenue for five consecutive quarters. That same quarter, it cut its expense-to-revenue ratio by 10%. So far, $450M in operating expenses was reduced and AMD continues to undergo changes to boost free cash flow and profits.
PC shipments still declining
Demand for PCs is still declining worldwide, due to competition from smartphones and tablets, and a lack of interest for Windows 8/8.1. In Q3/2013, overall PC shipments declined by 7.6%: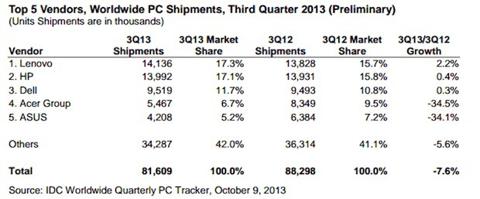 Despite the headwinds in the PC market, inexpensive laptops and desktops will be better positioned to compete with tablets. Sales in this segment could even grow as the overall sector declines. This gives AMD an edge over Intel. AMD is well-known for offering budget solutions. When details for Kaveri are announced in January, AMD is more than likely to offer high performance computing solutions as a reasonable price.
Conclusion
Shares of AMD are in a good position to move up from here. New chip releases in a vast range of the computing markets will support more upside. AMD has a system on a chip in next-generation consoles, a competitive set of high-end discrete graphics cards, and a timeline for its next-generation CPU. Investors are too cautious with AMD, but the company's multi-quarter turnaround is progressing well. It will only be a matter of time before its shares turn around, too.
Disclosure: I am long AMD. I wrote this article myself, and it expresses my own opinions. I am not receiving compensation for it (other than from Seeking Alpha). I have no business relationship with any company whose stock is mentioned in this article.