Crude oil prices are beginning to burn up in anticipation of winter demand. However, investors could consider a Brent oil exchange traded fund as the discount between West Texas Intermediate and Brent widens to the most in seven months.
The United States Brent Oil Fund (NYSEARCA:BNO), which tracks the Brent crude oil benchmark, was 0.3% higher over the past three months while the United States Oil Fund (NYSEARCA:USO), which tracks front-month West Texas Intermediate crude oil, declined 10.9%.
Brent crude has been outperforming on continued protests in Libya disrupted production from the country's 120,000 barrel-a-day Zawiya refinery and fresh attacks in Iraq, reports Lananh Nguyen for Bloomberg.
"The Middle East continues to add a premium to oil prices, emanating either from uncertainty and attacks in Iraq or reduced supplies from Libya," Abhishek Deshpande, an analyst at Natixis.
Market observers don't believe the Libya-induced premium will lift anytime soon.
"There are still concerns over Libya as protests get more violent and the government is losing its grip," Andrey Kryuchenkov, an analyst at VTB Capital, said in the article. "It does not look like they will resolve anything until next year."
Meanwhile, tension between Iran and the West has also fueled volatility in Brent prices.
"As long as there are protests in Libya and no resolution to the dispute between Iran and the West, Brent is going to have a bid while WTI lags," Addison Armstrong, director of market research at Tradition Energy, said in a separate Bloomberg article.
In contrast, WTI prices have plummeted as the U.S. experiences an oil boom on shale. The U.S. is expected to surpass Russia and Saudi Arabia as the world's top oil producer by 2015, reports Grant Smith for Bloomberg.
United States Brent Oil Fund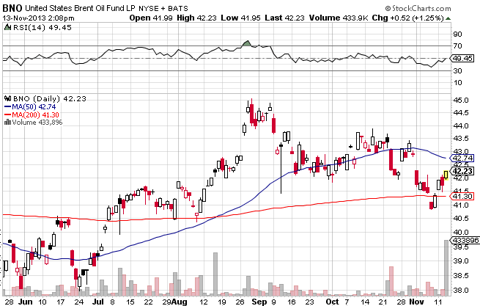 Max Chen contributed to this article.
Disclosure: I have no positions in any stocks mentioned, and no plans to initiate any positions within the next 72 hours. I wrote this article myself, and it expresses my own opinions. I am not receiving compensation for it. I have no business relationship with any company whose stock is mentioned in this article.