By Julian Murdoch
Back in September, Brad Zigler correctly identified the end of copper's 2009 run. What he failed to predict, however, was that shortly thereafter, copper would set a new base from which to launch an Everest-like rise: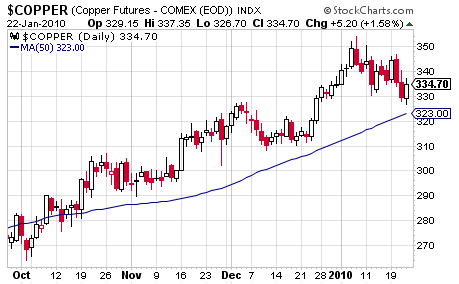 For investors who viewed last October not as a time to cash in on the 95 percent they'd already made in 2009, but as an opportunity to hold on even longer, the bet has paid off: Copper's assault on the $3.50/lb level has tacked on an additional 23.8 percent in returns.
But I'll admit, copper right now is a scary chart. I'm not usually one to draw lines on charts and invoke voodoo spirits, but when I look at copper's rise since February '09, I can't help but put a trend line on: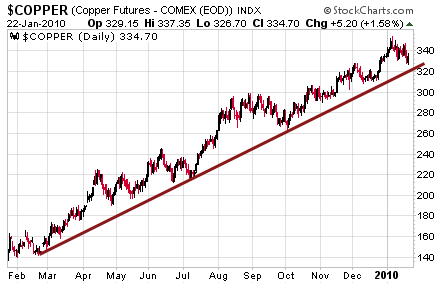 And that trend line looks pretty important.
When I last wrote about copper in December, I focused mostly on supply and demand, since, after all, that's what most commodities are really about. Back then, the bearish opinion was that copper inventories were actually pretty fat, and Chinese stockpiling had artificially fueled a run-up in prices. In fact, copper proceeded to rise almost 12 percent before falling back (it's now up a bit less than 8 percent since that article came out). The bull argument, on the other hand, noted that Australia faced major problems in its mining operations, which would in turn tighten up supply.
So where are we today, with the red metal apparently perched above a technical precipice? Is it headed for a breakdown, or a testing of the trend and more good times ahead?
Barclays Capital thinks copper should continue to shine, at least for the first half of 2010. According to Bloomberg on Saturday, Barclays Capital analyst Yu Yingxi said "Copper is the best pick of the base metals complex as China's demand is expected to 'remain robust' while demand in other regions like the OECD is improving."
The evidence is certainly on Yu's side. Last week, China Knowledge reported that the full-year imports of refined copper into China were up 118.7 percent over 2008 levels. What's more, that demand came not at the beginning of the year, but at the end—December imports were 25 percent higher than November imports. This puts to rest the idea that Chinese copper imports were somehow a "bubble" driving the copper market last year, and it suggests that demand is still quite strong.
But that inventory issue isn't going away: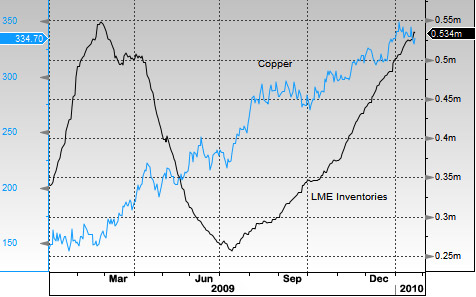 Inventories tracked by the London Metals Exchange were already high back in December. And although they're still nothing like the million-ton gluts we saw back in 2002, inventories have continued to climb nearer to 2008 peaks. Such high inventory levels are making many people nervous, and not just investors.
Freeport McMoRan Copper & Gold (NYSE:FCX) CEO Richard Adkerson addressed the copper market in his quarterly conference call last week:
"When you talk about inventories, exchange stocks have risen during the second half of 2009 as a consequence of weak demand in the U.S. and Europe and yet, when we talk with our customers in the U.S. and in Europe their inventories are very low.
And when you look at exchange stocks in relation to an expanded market because of China, the relative amount of stock on exchanges is as much lower today than it was for example in 2001 when we had the last recession."
How do we make sense of this? I think the answer is this: Actual copper users outside of China have simply started letting the market act as the stockpile. And it would be easier to stomach, if it weren't for the fact that the LME Asian Copper inventory is reported at 144,400 tonnes, the highest it's ever been, surpassing even the record inventory levels in 2006, right before copper collapsed from $4/lb to $2.41.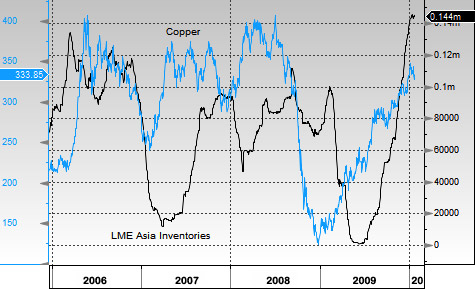 Which is perhaps why Adkerson balked at the idea that Freeport would take advantage of current high copper prices and kick into expansion mode:
"As soon as some of the current uncertainties related to the economy in the U.S. and the western world are resolved and we can see that the world globally requires that copper, then we are going to be prepared to go forward."
I don't know about you, but I haven't seen a timetable for resolving the current economic uncertainties of the Western world. Personally, this seems like a perfect situation to watch from the sidelines.