Introduction
In this article I'll have a closer look at Silver Wheaton's (NYSE:SLW) third quarter results, which were released last week. Silver Wheaton is by far the largest silver streaming company, and I'll provide my view on the company's financial results and its balance sheet. This will result in my investment thesis at the end of this article wherein I'll also explain a possible option strategy.
My view on the financial results
Silver Wheaton had an attributable production of 8.9 million silver-equivalent ounces (consisting of 6.8Moz of pure silver and 34,800 ounces of gold) and sold 7.8Moz AgEq. This resulted in a revenue of $161.3M, which is a 3% increase compared to the same quarter last year. This is a decent result as the gold and silver price is obviously much lower than in the same period in 2012. Silver Wheaton reported net earnings of $77.1M or $0.22/share. However, as I explained several times in previous articles, it makes more sense to look at the cash flow statements of mining companies instead of at the net profits, as the cash flows give a better impression of the underlying business.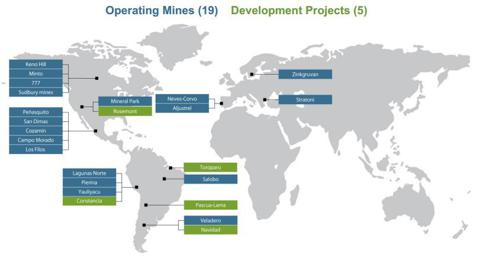 When looking at the cash flow statements, Silver Wheaton recorded an operational cash flow of $120.9M for the first three months of this year, and an even more impressive $413.7M for the first nine months of 2013. The majority of the cash flow was used to repay $103M of debt, which I think is a good move. The company reported a net cash increase of $25.7M, and this is caused by the exercise of warrants, which resulted in a $48.8M cash injection.
Silver Wheaton is trading at 14 times its annualized operational cash flow which seems to be quite expensive. However, the company plans to increase its production rate by 27% by 2017. Using the current silver price, Silver Wheaton is trading at 11 times its 2017 cash flow, which is a more acceptable ratio.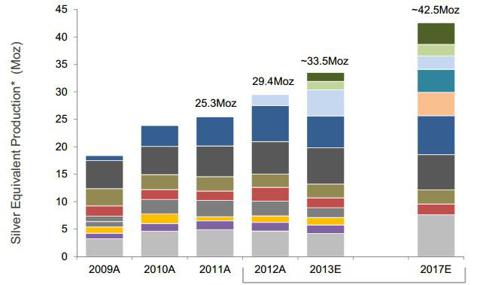 My view on the balance sheet
Moving over to the balance sheet, Silver Wheaton had a working capital position of $48.1M and a current ratio of 3.30, which is very good. Keep in mind a current ratio higher than one means the company has sufficient current assets to cover its current liabilities.
Even after paying down $103M of debt, Silver Wheaton still has $1.04B in outstanding bank debt, compared to just $50M at the same period last year. This might sound bad, but Silver Wheaton's leverage ratio is still quite low, as the company's debt and liabilities are quite small compared to the company's balance sheet. In excess of 75% of the balance sheet consists of equity, so the $1B+ in debt isn't a problem at all, and might be very accretive in the longer term, as this debt issue made it possible for Silver Wheaton to acquire several additional important precious metals streams, such as the stream on Hudbay Minerals' (NYSE:HBM) Constancia project in Peru.
Investment Thesis
Even though Silver Wheaton is currently quite expensive it might be interesting to take a position now the share price is relatively low, as investors should be prepared for a 27% production growth in just 4 years. On top of that, I've got the impression Silver Wheaton is trying to diversify itself and is now focused on adding more gold to its production mix, as it recently announced a deal with Sandspring Gold (OTCPK:SSPXF), whereby Silver Wheaton will cough up $148.5M in staged payments in exchange for a gold streaming deal. As per the terms of the agreement, SLW would be entitled to an average 24,600 oz per year at a fixed price of $400/oz (inflation adjusted). This will increase SLW's current gold production by approximately 1/6th, if the deal goes through.
Most of my readers know I prefer to write put options instead of just buying the stock. Fortunately the Silver Wheaton options have a lot of volume, and I'm particularly looking at the January 2014 P20's at $0.62 for an annualized gross yield of 18.6% and a more conservative P16 June 2014 at $0.64. The more aggressive bulls might prefer to write an in-the-money put option such as a P25 January 2014 at $3.50.
I currently have no position in Silver Wheaton, but might initiate one at the right price, and I might write put options as explained in this article.
Disclosure: I have no positions in any stocks mentioned, and no plans to initiate any positions within the next 72 hours. I wrote this article myself, and it expresses my own opinions. I am not receiving compensation for it (other than from Seeking Alpha). I have no business relationship with any company whose stock is mentioned in this article.
Additional disclosure: Currently no position, but I might write an out of the money put option as explained in this article.