In this article I present a real time quantitative analysis of IBM (NYSE:IBM) that demonstrates the power of free cash flow in the investment process and I give an opinion on how an investor should act based on my research.
International Business Machines management has had a tough time lately as it is struggling with how to deal with its slow growth hardware division. Its stock has taken it on the chin lately and is one of the worst performers in the Dow Jones Index this year.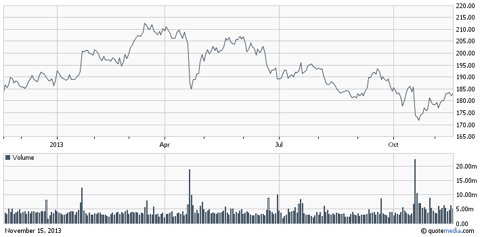 This hardware division issue has created a unique buying opportunity that investors may never see again. I will back up that statement by doing the free cash flow analysis on the company and show everyone why I believe this to be the case.
This analysis will use the following six free cash flow ratios:
CapFlow
FROIC
Price to Mycroft Free Cash Flow
Mycroft/Michaelis Growth Rate
Free Cash Flow Payout Ratio
Free Cash Flow Reinvestment Rate
Those new to this analysis can find an introduction by going here that will explain in detail how each of these ratios is calculated. When used together, these unique ratios will generate a quantitative picture of a company's underlying fundamentals, including strengths and weaknesses.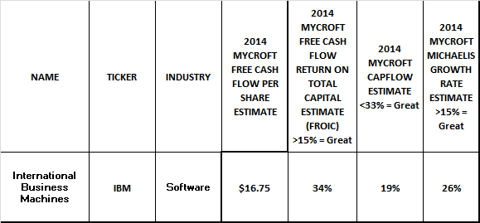 The "2014 Mycroft Free Cash Flow Per Share" estimate in the table above was generated by taking the trailing twelve months (NYSE:TTM) free cash flow result for IBM and then adding my Mycroft Michaelis Growth Rate into the equation in order to generate forward looking estimates for 2014. That growth rate is generated by using my FROIC ratio (Free Cash Flow Return on Invested Capital). Basically FROIC tells us how efficient operations are as it zeros in on how much free cash flow is generated for every $1 of total capital employed. IBM has a FROIC of 34%, which means that for every $100 of invested capital, they generate $34 in free cash flow. Now my Mycroft/Michaelis Ratio takes that 34% and multiplies it by the firm's free cash flow reinvestment rate. The reinvestment rate that I use is a free cash flow reinvestment rate instead of the standard one used by analysts that simply uses net income:
Free Cash Flow Reinvestment Rate = 100% - (Free Cash Flow Payout Ratio).
Or;
Free Cash Flow Reinvestment Rate = 100% - (Total Dividend/Total Free Cash Flow).
By replacing net income in the payout and reinvestment ratios with free cash flow, I am thus able to make my analysis more precise by incorporating capital spending (Cap Ex) into the equation.
Therefore from this we can determine that IBM has a reinvestment rate of 71% and went on to use 29% of its free cash flow to pay out its dividend. Thus by taking 34% (FROIC) x 71% = 24.14% (rounded off at 24%). From there we add the dividend yield of 2.1% (rounded off at 2%) and we have a Mycroft/Michaelis growth rate of 24% + 2% = 26%.
IBM's Mycroft Free Cash Flow per share of $16.75 was generated by taking its TTM free cash flow per share and multiplying it by (100% + 26% or 1.26). Once we have our result, we then take its current market price of $183.19 and divide it by $16.75 and get a Price to Mycroft Free Cash Flow result of 10.93. I consider a Price to Mycroft Free Cash Flow per share result of less than 15 to be good for purchase, and anything under 7.5 to be excellent.

The higher you go above 15, the more overvalued a company becomes. I use a Price to Mycroft Free Cash Flow per share result of 22.5 as my sell price, and 45 as my short price.
An appropriately priced stock should trade around a Price to Mycroft Free Cash Flow per share result of 15. This benchmark result was determined by backtesting.
Buy (opinion) = A Price to Mycroft Free Cash Flow per share result of less than 7.5 is considered excellent (50% below the initial Hold level), and anything under 15 is attractive.
The result I give as my Buy opinion in the table above uses a Price to Mycroft Free Cash Flow per share result of 7.5.
Hold (opinion) = 15 to 22.5 (I use 15 in the table).
Sell (opinion) = 22.5 or higher (50% above the initial Hold level). (I use 22.5 in the table).
Short (opinion) = 45 or greater. The Price to Mycroft Free Cash Flow per share result of 45 was determined by going back to the peak of the market (in the year 2000) and averaging the Price to Free Cash Flow per share results for the key players at that time. (I use 45 in the table).
Therefore in the table above you will see that IBM with a Price to Mycroft Free Cash Flow number of 10.93 is very attractive right now.
The CapFlow ratio result that you see in our first table above is an original ratio I created in order to tell me how much Capital Spending is used as a percentage of Cash Flow. A result of less than 33% is considered ideal and with IBM coming in at just 19%, means that 81% of the company's cash flow is actually free cash flow and can be used to buy back stock, which I am a big fan of.
In conclusion the analysis in this article is based on a system that was created by studying Warren Buffett's "owner earnings" ratio. Indeed IBM is one of the largest holdings of his company Berkshire Hathaway (NYSE:BRK.A). Berkshire Hathaway (NYSE:BRK.B) began accumulating a stake in Armonk, New York-based IBM in early 2011. Mr. Buffett's company had 68.1 million shares as of June 30, meaning it paid about $171 apiece to build its stake. I myself started accumulating shares in IBM around $175 and feel that I bought in at what may someday be seen as the bottom.
I am waiting for IBM's management to eventually sell its hardware division and in doing so complete a multi-decade process of converting the company from a hardware firm to a pure software and services firm. Hardware is very capital intensive and really eats into a company's cash flow while software and services are insanely profitable. Management was in talks to sell the division to Lenovo in China, but they could not agree on a price. I firmly believe that over the next year you will either see the division sold off or split off as it is the only thing keeping IBM stock price from erupting. Software and Services have amazing margins and will make IBM one of the most profitable companies around, once the hardware division is gone.
Finally IBM's board of directors also think that IBM's stock is cheap right now as they recently announced on October 29th that they would be adding another $15 billion to the company's repurchase program with plans to increase it further next October. With the addition, the company now has $20.6 billion in its repurchase program. When you consider that the company has a market capitalization of $199 billion, that simply tells me that IBM is going to buy back 10.35% of its shares sooner than later. That in itself is a good enough reason to own the stock, but if management is able to sell off /spin off its hardware operations then my 2014 hold opinion of $251.25 may just seem too conservative. With Warren Buffett as a fellow shareholder I sleep very well at night and so should you.
Disclosure: I am long IBM. I wrote this article myself, and it expresses my own opinions. I am not receiving compensation for it (other than from Seeking Alpha). I have no business relationship with any company whose stock is mentioned in this article.