ConocoPhillips (NYSE:COP) is the world's largest independent exploration and production company based on proved reserves and production of liquids and natural gas. Its substantial price appreciation in the last year and the fact that it offers double the dividend yield of its peers makes it a tempting investment opportunity.
The company's crude oil segment contributes almost 50% to the stock price. Its equity affiliates contribute around 42% while the rest is contributed by natural gas and liquefied natural gas.
Historic Performance
ConocoPhillips increased its proved reserve base in three ways: successful exploration and development of new and existing fields, application of new technologies and acquisition of existing fields.
The company's total proved reserves increased by 0.93% in fiscal year 2011 and by 3.04% in fiscal year 2012. The company experienced negative growth in its proved reserves in fiscal year 2010 mainly due to the sale of ConocoPhillips' interest in LUKOIL, Syncrude Canada Ltd and North American E&P assets.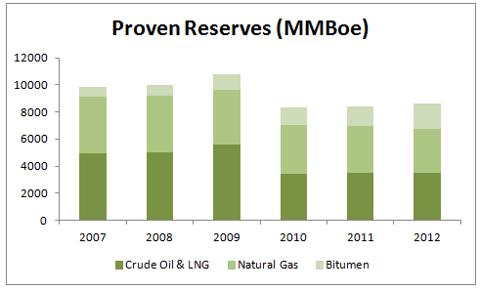 Click to enlarge
Source: Company Annual Filings
However, the company seems to be back on track and reported positive growth in its proven reserves due to the commencement of commercial operations in Golden Pass LNG Terminal and its affiliated Golden Pass Pipeline in May 2011 as well as its organic reserve replacement.
The company's production from continued operations in 2012 averaged 1,527 MBOED compared to 1,561 MBOED in 2011 and 1,695 MBOED in 2010. Average production decreased as a result of normal field decline, the impact from asset dispositions, and an increase in planned and unplanned downtime.
The lower production affected the company's sales and other operating revenues. Revenue in 2012 was lower than revenue in 2011. In 2012 revenues were $57,967 million as compared to $64,196 million in 2011. Besides the production level, revenues in 2012 were also affected by lower sales prices. The average worldwide annual sales price from continuing operations remained flat while the average worldwide annual prices for natural gas liquids, natural gas and bitumen decreased by 17%, 6% and 14% respectively.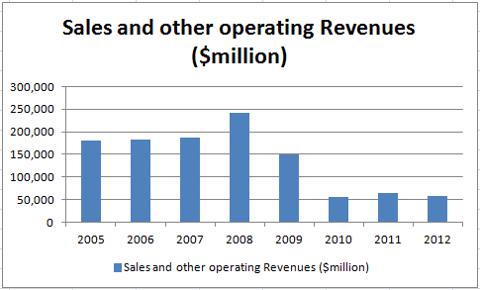 Click to enlarge
2013 Performance
Revenues in the third quarter of 2013 were better than those of the third quarter of 2012 and the first two quarters of 2013. The 5.15% growth in revenues and other income was mainly driven by a 4% increase in per barrel crude oil, 34% increase in per barrel bitumen, and an approximately 13.5% increase in per thousand cubic feet of natural gas.
In the second quarter of 2013, revenues were negatively affected by a decrease in crude oil and natural gas liquids prices whereas in the first quarter of 2013 revenues were affected by a decrease in production level.
The revenues and other income declined by 3% in the first nine months of 2013 primarily due to lower sales and other operating revenues and the company gained less from dispositions compared to the first nine months of 2012.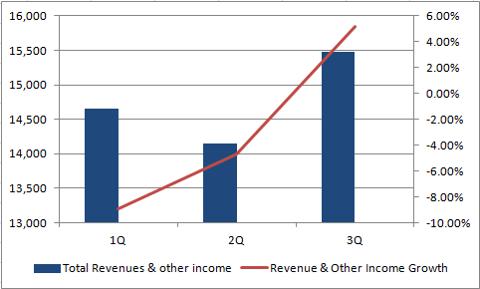 Click to enlarge
Source: Company Quarterly Filings
The earnings in the third quarter improved by 40% while earnings for the first nine months of 2013 improved by 16% primarily due to higher gains from asset sales, higher commodity prices, a higher proportion of production in higher margin areas, a continued portfolio shift toward liquids and the absence of additional income tax expenses.
The adjusted earnings in the third quarter increased by 7% on a year-on-year basis and by 4% on a quarter-on-quarter basis. The adjusted per share earnings in the last reported quarter were $1.47 per share as compared to $1.38 per share in 3Q12 and $1.41 per share in 2Q13.
Significant Liquidity Position
The company has been able to report an increase of approximately 206% in its cash balance during the second to fourth quarters of 2013 on the back of an impressive increase in its cash flow from operations and lack of stock repurchases. The cash margin in the third quarter of 2013 was 28.84%, 25.62% in 3Q12 and 27.09% in 2Q13.
Since the company operates in a capital intensive industry and must often invest significant amounts of money to explore new oil and gas fields, develop newly discovered fields or construct pipelines and LNG facilities, the high cash balance places the company in a better position to acquire any growth opportunity it discovers.
In the past nine months the company's retained earnings have improved by approximately 12% which will help it in investing in growth opportunities and paying its obligations.
Valuation
For ConocoPhillips' stock valuation I have employed the asset-based valuation approach. I have used two different multiples derived from its industry peers.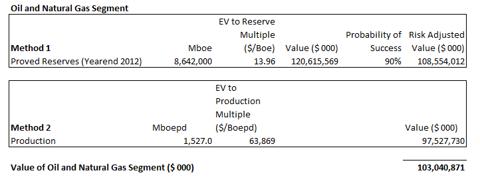 Click to enlarge
Based on the calculations shown above the company's consolidated enterprise value is equal to $103 billion. Using the most recent figures of its debt, cash and shares outstanding ConocoPhillips' fair value is equal to $84.09 which provides an upside potential of 16%.
Future Outlook
The production in the company's continuing operations in the fourth quarter 2013 is expected to increase by 1 to 4% while the production in discontinuing operations is expected to decline. Also, the continuing operations are expected to be affected by the Libya case.
The prices should remain steady due to the current stability in the oil market but in the long run ConocoPhillips' revenues could decline as the oil prices are forecasted to decline after 2014. The table below shows per barrel crude oil price till 2025 as projected by World Bank.

Click to enlarge
The future prices of natural gas are highly uncertain as they mainly depend upon the global macroeconomic conditions and the demand-supply scenario. However, if we were to make a rough estimate then the prices may rise in the future as energy provided by natural gas is far less expensive than energy provided by oil.
Final Takeaway
The earnings report of the last reported quarter reflects ConocoPhillips' strong financial position. The company's significant cash position, higher retained earnings and the current stability in the oil market will enable the company to attain growth opportunities in the future. Moreover, the company's stock has an upside potential and therefore offers investors an attractive opportunity to invest their money.
Disclosure: I have no positions in any stocks mentioned, and no plans to initiate any positions within the next 72 hours.
Business relationship disclosure: The article has been written by APEX Financial Consultants. This article was written by one of our research analysts. APEX Financial Consultants is not receiving compensation for this article (other than from Seeking Alpha). APEX Financial Consultants has no business relationship with any company whose stock is mentioned in this article.