By Devin Coldewey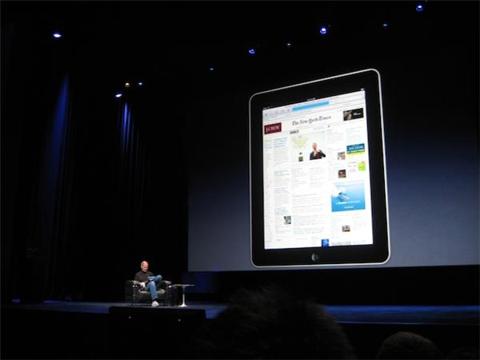 All the naysayers can feel free to eat their hats. Today Apple (NASDAQ:AAPL) finally revealed the device we've all been whispering about for a good year or more. The Sasquatch of gadgets is real. We'll update this with all the details as they happen; in the meantime, follow our live coverage.
Looks like a big iPhone to us.

1GHz Apple A4 processor (custom)
0.5″ thick
1.5 pounds
9.7″ Capacitive touchscreen
16-64GB of SSD storage
Accelerometer, Compass
802.11n and Bluetooth 2.1
Runs iPhone apps in window or pixel doubling
Hardware-accelerated OpenGL graphics
SDK out today
There's a very custom interface that I won't bother describing — we'll put video here as soon as Apple puts it up. Needless to say it's very good looking.
We're seeing lots of great-looking apps from the live coverage of the event, including 3D games, a really sweet-looking calendar, a nice email app, and a New York Times app that looks really stunning.