By Mike Yamamoto
As shares of Commercial Metals Company (NYSE:CMC) come down toward a key support level at the $13 area, it is worth reviewing the possible scenarios that could be indicated in its chart.
CMC touched and bounced from that key $13 level, marked by the green horizontal support line below, in early July and November last year. (Click to enlarge)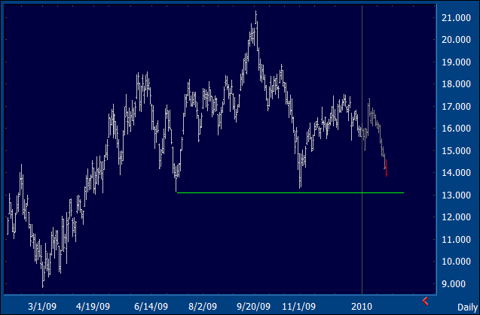 A third touch and bounce is certainly a possibility and, if that occurs, might actually be quite bullish. Areas that are tested successfully numerous times on a chart are sometimes not revisited again as a new trend begins.
There is, however, the bearish possibility that this is a triple-bottom break, not a triple-bottom that holds. Areas that are tested frequently, but then later break, have a very bearish interpretation.
In some respects, the price action since that first test would resemble an inverted bearish "cup and handle," which could have large downside implications. In this case we can view the bearish cup as a first bounce to a new high, the handle as a failure to meet even half the previous high on the second bounce, and a failure on the third attempt as the trigger for the pattern.
A low estimate of downside on a break would be to the $9 area. In afternoon trading, CMC is down about 4% to $13.64.
(Chart data provided by Thomson Reuters)