Tile Shop's (NASDAQ:TTS) shares have corrected significantly post a recent report by Gotham City which alleged the company of being a fraud. The primary allegation against the company is that its exceptionally high gross margins are too good to be true and Tile Shop artificially inflates them. Gotham has also come up with a weird explanation that the company pays its suppliers off the books to keep its COGS low and inflate its gross margin. I will discuss why I am calling Gotham explanation weird in a while, but let's take a look at the allegation first.
Below is Tile Shop's Gross Margin profile:
| | | | | | | | |
| --- | --- | --- | --- | --- | --- | --- | --- |
| USD millions | 2013 YTD | 2012 | 2011 | 2010 | 2009 | 2008 | 2007 |
| Sales | 171.8 | 182.7 | 152.7 | 135 | 116 | 119 | 112 |
| COGS (including D&A) | 50.71 | 53.52 | 40.32 | 36 | 32 | 34 | 34 |
| Gross Margins | 70.5% | 70.7% | 73.6% | 73.3% | 72.7% | 71.4% | 69.9% |
Gotham has argued that since these gross margins are significantly higher than Home Depot (NYSE:HD) or Lowe's (NYSE:LOW) and even pre bankruptcy Color Tiles - Tile Shop's only truly comparable peer - there must be something wrong with it. Color Tiles used to have gross margins between 41% and 49% when it was still in the business and Gotham suggests that the actual gross margins of Tile Shop should be in a similar range.
What Gotham forgets to take into consideration is that Color Tiles used to source majority of the products from domestic suppliers or from suppliers in Italy, Spain, Brazil and countries in the Far East, including Japan, Thailand and Korea. On the other hand, Tiles Shop sources over 58% of its products from Asia and majority of them coming from China. Post Gotham's articles we have started our channel checks contacting Tile exporters in Asia and our preliminary results suggest that Tile Shop's Asian sourcing should give a considerable cost advantage and its 70% plus margins seems sustainable, especially if it has on ground employees in these countries who are negotiating rates with suppliers there. And it is not like these margins are very high as per industry standards. Even U.K. based Topp's Tiles (LON: TPT) used to enjoy 60% plus margins before 2008 recession.
| | | | | | |
| --- | --- | --- | --- | --- | --- |
| GBP millions | 2008 | 2007 | 2006 | 2005 | 2004 |
| Sales | 208.1 | 207.9 | 180.2 | 173.3 | 157.6 |
| COGS (including D&A) | 79.54 | 77.34 | 73.38 | 67.15 | 62.28 |
| Gross Margins | 61.8% | 62.8% | 59.3% | 61.3% | 60.5% |
Also, while Gotham has tried to make a mountain out of a molehill questioning Tile Shop's relationship with one of its (now ex-) supplier -Beijing Pingxiu - saying that it doesn't pay its supplier enough; a simple glance at that Beijing Pingxiu's balance sheet shows that the only thing it is doing is facilitating the vendors who don't maintain their own export licensing authority to supply the goods to the company. In most of the Asian countries when you are exporting or importing goods, you need to be registered with appropriate authorities. In China you need to get appropriate license from customs, in India you need to get importer exporter code number from ministry of commerce. While it is not very tough to get registered and neither is costly, it is just one more hassle and sometime suppliers who just have only one major client outside the country choose to utilize export trading companies.
Beijing Pingxiu is not the manufacturer of goods and neither was it helping Tile Shop to source material from the suppliers - Tile Shop has its own employees on the ground for that. The only thing Beijing Pingxiu was doing was maintaining an export licensing authority. Even in the best of the cases commission for such agents rarely reaches 1% of the sales. In this case, Beijing Pingxiu was just acting as a flow through agent so there is no question of it posting any significant margins.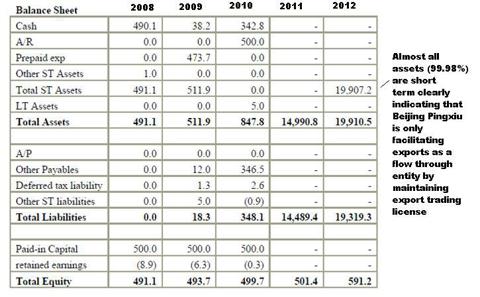 Click to enlarge
(Click to enlarge)
Again just to clarify - it is a routine practice for small vendors to utilize export trading companies in China and a perfectly legal thing to do as long as exported items are not in a prohibited list. I am a bit surprised that Gotham City's analyst was not able to figure this out. Even a simple Google search will give several links like this one which clearly explains the Chinese export framework.
Now why am I calling Gotham's allegation weird?
Gotham has suggested that the company's actual margins should be around ~50%, in line with its peers, if it was not paying its vendors off the books. Below, I have calculated the amount - which according to Gotham - was paid off the books.
USD millions

2013 YTD

2012

2011

2010

2009

2008

2007

Sales

171.8

182.7

152.7

135

116

119

112

COGS (including D&A)

50.71

53.52

40.32

36

32

34

34

Gross Margins

70.50%

70.70%

73.60%

73.30%

72.70%

71.40%

69.90%

COGS if margins were 50% as suggested by Gotham

85.9

91.35

76.35

67.5

58

59.5

56

Difference which according to Gotham was paid off books

35.19

37.83

36.03

31.5

26

25.5

22

Total money paid off books since 2007

$214.05 million

Total money paid off books from 2007- 2011

$141.03 million
According to the Gotham's theory, the company has paid ~$214.05 million off books from 2007 till date to keep its costs of goods sold low. Out of this more than $141.03 million was paid off the books even before the company went public. And all this happened while the company was busy doubling its store count and investing significantly in expansion. The numbers just don't add up.
For the starters $214.05 million is too big an amount to be spent for a "fraud" of this magnitude. And if Gotham is alleging capital gains was the main mechanism to pay off books amount, from where does $141.03 million came from before the company got listed. Gotham can argue that this was an investment at risk to make this fraud work - but sorry, I understand the kind of frauds where capital gains from stock is ploughed back to artificially increase profitability and I have uncovered one myself a few years back in an India listed logistics company. Tiles Shop looks nothing like that.
In fact, Gotham's work looks more like a fictional story in this case and some of Gotham's allegations are contradicting each other. Tile Shop's stock has corrected from $30 to $16 in the last one and half months as short sellers have tried their best to find some dirt on the company. There are significant errors and misrepresentations in their work (sorry can't call it analysis anymore) and I will continue to shed light on these errors over the next few weeks.
Disclosure: I am long TTS. The analyst who wrote this article has a long position in Tile Shop Holdings. GS Analytics Pvt. Ltd. or any other employee/shareholder have no position in the company. We are recommending TTS as a long candidate to our clients.
Business relationship disclosure: GS Analytics is a financial research firm providing customized research services to US hedge funds. This article was written by one of our Research Analyst. We did not receive compensation for this article (other than from Seeking Alpha), and we have no business relationship with any company whose stock is mentioned in this article.