By Bryan McCormick
The S&P 500's daily chart shows a bearish pattern that became active when price broke the lower bound of the formation at the 1094 area.
This "flag" pattern, shown in yellow below, would become inactive on a move back above this level. It would be voided completely on a move above the top of the pattern, last at 1106.
If it remains active and is completed, the downside potential is to the 1040 area, as shown by the light blue vertical line. The green horizontal line is at the 1085 level.
This has been a big support area, and was again this morning as the index bounced off this level. Below that, there is little support until 1060, and then 1040. (Click to enlarge)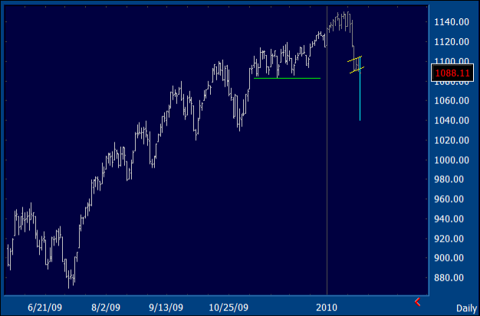 (Chart data provided by Thomson Reuters)