It has been a rocky ride for Lululemon Athletica (NASDAQ:LULU) shareholders this past year. It was only a year ago that I had written my first article on the company. And the fact is, operationally, the business has been challenged. Everything from supply shortage, difficulty in execution on the part of management, and the departure of a CEO contributed to the company's significant decline in share value.
If anything investors should stay cognizant of the next CEO. Sure, it's nice that Christine Day will stick around until they identify another worthy candidate. However, her resignation had a really awful impact on the price of the stock (17% drop in stock price followed by two analyst downgrades after her resignation announcement). Plus it doesn't help that the company founder/chairman, Chip Wilson made some awful comments about their customer base that was completely unnecessary.
Investors were shaken up with Lululemon Athletica this past year. High-growth stocks are usually priced to perfection. Because of the premium paid, investors tend to respond more adversely to rapid changes in management, execution, and trendiness. In other words, we don't want Lululemon Athletica to become a fad. You need an executive that can very effectively breathe life into the daily operations of a company, and respond quickly to change. This is something that Christine Day was known to be very effective at doing throughout her career as an executive for both Starbucks and Lululemon Athletica. Her resume is incredible, and quite frankly, I'm having a hard time coming up with names that may potentially replace her.
However, throughout the course of this article I want to offer insight on who may be the next successor to Lululemon Athletica. This will be a really tough call to make as there are only a handful of people in the world who have a track record of growing retail franchises. However, I am fairly certain that the CEO will not be recruited from within the organization as Lululemon Athletica has been able to demonstrate that outside executives are very effective.
Jeanne P. Jackson, the top contender
Jeanne P. Jackson (President of Product & Marketing at Nike) may have the credentials to take Lululemon Athletica to the next level. Nike (NYSE:NKE) grew net income from $1.4 billion to $2.485 billion between 2009 and 2013. So in other words, Nike grew earnings by 13.09% on a compound basis over the past five years. Nike generated $25.3 billion in sales for the trailing twelve-month period. In comparison Lululemon Athletica generated $1.37 billion in sales for the trailing twelve-month period. So bringing in an executive like Jeanne P. Jackson to the table could be very complimentary to Lululemon Athletica's long-term growth strategy.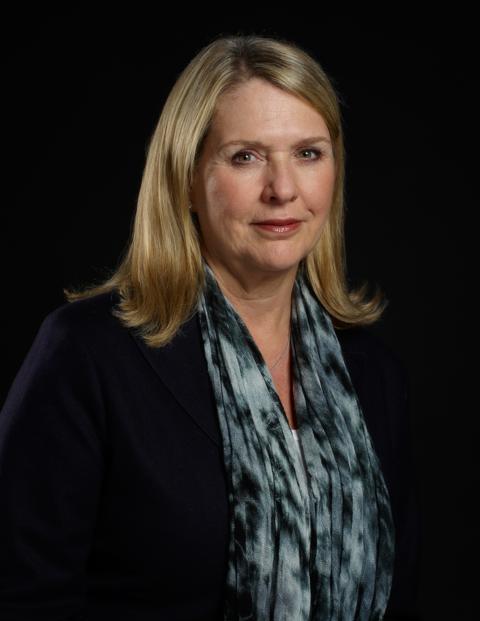 Source: Nike
Nike is known to have exceptional executional talent and ability to globally grow and market brands. Nike has won the cool kids in school. Sure, some brands try to win rich kids, and fun kids. But it's the sport stars that scream a sense of exclusivity that everyone wants to be part of. Sport stars are confident, have great muscular builds, and are surrounded by all the super beautiful cheerleaders. So, there's no denying that you can't go wrong wearing a Nike shirt and Nike shoes. After all, you'll get a passing grade no matter what according to a Piper Jaffray survey on teenagers.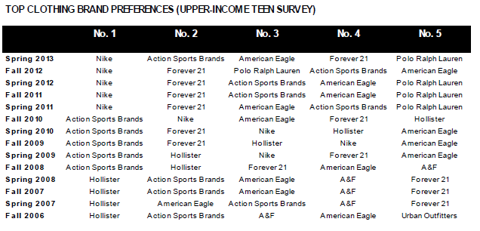 Source: PiperJaffray
Currently Nike remains the most preferred brand among upper-income teenagers based on spring 2013, survey data.
Jeanne P. Jackson is a woman, which gives her a natural advantage. This sounds extremely sexist but at the same time she can relate to Lululemon Athletica's primary target market of mid-to-older age women. Her previous work experience includes being the former CEO of Wal-Mart.com, CEO of Gap, plus President and CEO of Banana Republic. So, it would be a no-brainer to consider this woman to be the next CEO of Lululemon Athletica.
What I really liked was her former role as CEO of Wal-Mart.com. This experience could be extremely crucial to Lululemon Athletica as the company has done poorly when sourcing luon for its spandex pants. This type of shortcoming in execution may have been prevented if there was better planning on sourcing supply. Wal-Mart sources supply globally and there's probably no company on earth who does a better job of managing a supply chain. So if anything, Jeanne P. Jackson's experience in global supply chain management may give investors much needed confidence.
Nike only paid Jeanne Jackson $2,000,000 in stock options this past year. I'm sure Lululemon shareholders and the board could easily match what Nike is willing to pay her. So in summary, I'm going to call this a no-brainer for Lululemon Athletica. However, for Jeanne P. Jackson to really consider the role of CEO, she would have to be compensated substantially. But with a high growth name like Lululemon Athletica, a 100% move in market cap could push her into the hundred million dollar club if she plays her cards right.
Ron Johnson, the second contender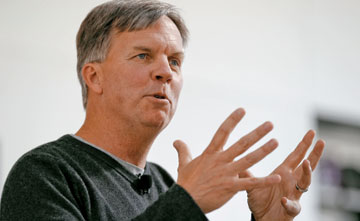 Source: Getty Images
My second contender has to be Ron Johnson. Now, hold on, I know this sound absolutely ridiculous. But there's hardly any other executive on earth who may be more qualified for the task. He made Target cool, and he managed to turn Apple's retail chain into a global phenomenon, of course with the help of Steve Jobs. The Stanford University and Harvard Business school grad may have the ability to recognize key-trends that can be better leveraged at Lululemon Athletica.
The problem that Ron Johnson faced over at J.C. Penney (NYSE:JCP) was the terrible overhead costs that were extremely excessive in comparison to specialty apparel chains. Plus, we have to consider the sheer amount of investment it would have taken to turn J.C. Penney from a low to high-end brand. This transformation should have been done over many more years, but the pressure on Ron Johnson's shoulder forced him to take on vastly more risk than he should have.
Ron Johnson's plan caused up-front investment to go up significantly leading to abnormally high operating costs. This was occurring during a period when revenues were dropping as the company was undergoing both a capital investment phase and upwards move in pricing at the same time. The net impact was both a decline in store volume paired with higher costs. This is a business lesson that almost every retail executive should learn: when turning around a retail franchise, upgrade the stores, or marginally increase the price, but don't do both at the same exact time.
Lululemon Athletica's strategy has been to adjust relentlessly to the customer. At least according to the Wall Street Journal:
When it comes to making decisions, Lulu has gone back to basics. It doesn't use focus groups, website visits or the industry staple-customer-relationship management software, which tracks purchases.

Instead, Ms. Day spends hours each week in Lulu stores observing how customers shop, listening to their complaints, and then using the feedback to tweak product and stores. "Big data gives you a false sense of security," says Ms. Day, who spent 20 years at Starbucks overseeing retail operations in North America and around the world.
If anything Lululemon Athletica' strategy looks to be very compatible with the way Ron Johnson tries to run retail organizations. However, the problem is trying to convince the board to hire an executive that pulled off the most high profile failure in recent corporate history. After all, announcing Ron Johnson as the next CEO of Lululemon Athletica would cause investors to exit the stock in droves.
And finally here is our third contender
Sharen Turney is the CEO of Victoria's Secret, while not the top brass over the whole conglomerate that oversees a vast number of fashion labels (Limited Brands) she is still given a respectable role in the company (LTD). There's no denying Sharen's tasteful excellence at creating stores that trump both the Apple store and Lululemon Athletica in lavishness. Plus, you can't help but want to look at the posters plastered to the walls of a Victoria's Secret store.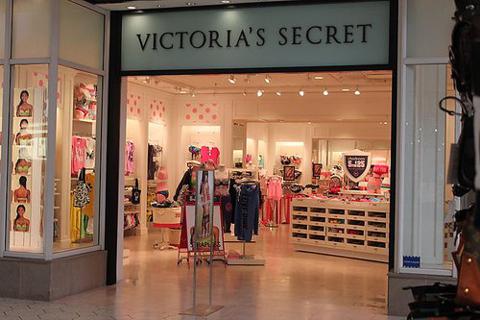 Source: GlassDoor
Sharen Turney's greatest strength is her sheer experience with women apparel. She just doesn't mess up. The consistency in her performance since her tenure at Victoria's Secret has given her a compelling compensation package that Lululemon Athletica would be hard pressed to compete with. Currently, Sharen Turney's annual compensation is $4.5 million per year, plus she's tied into $20.4 million in long-term compensation due to option contracts.
However, like I have said earlier if Sharen plays her cards right, she could push Lululemon Athletica in the right direction on an international basis. Especially, because managing specialty apparel is a really tough task and depends heavily on the executive's ability to manage the quality of the brand while making sure the store count scales internationally.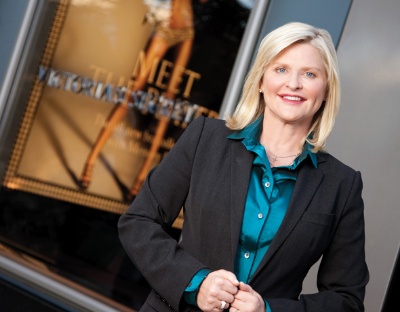 Source: Capital-Style
Currently, 99% of all Victoria's Secret stores are profitable. And while, Lululemon Athletica doesn't have any problems with generating profitability, it has had a difficult time with scaling its business so that it generates both profitability and growth in store count at the same time.
Lululemon Athletica's retail foot print is bottle necked, due to supply constraints of luon. Sourcing supply might not necessarily be Sharen's greatest strength, which makes her a little less compatible than Jeanne Jackson. However, Sharen could be the most qualified candidate of the three as she has built a fashion label that defines feminine beauty.
Currently, the average square footage of a Victoria's Secret store is 6,000 square feet, and there are 985 of these stores. In comparison, the average square foot of a Lululemon Athletica store is 2,834 square feet. At the end of 2012, Lululemon Athletica had 211 stores. What's nice is that Sharen's experiences most closely match what Lululemon Athletica needs. This is because both retail chains target the female demographic, operate a similar retail model, and are built upon long-term customer relationships.
The big downside to Sharen Turney is that she's expensive, and she has built her life around Victoria's Secret. Offering her a great compensation package may not be enough. This leads me to believe that there's a low probability of Lululemon Athletica bringing in such a talented leader. However, on the upside, if she were to be recruited, it would ease concerns over leadership transition at the small yet thriving retailer.
Implications for Lululemon Athletica shareholders
I believe that the departure of Christine Day has been fully priced into the value of the stock. However, what has not been priced into the value of the stock is the upside potential of the next CEO. The board has not been able to find its next candidate quite yet, because it is difficult to find a replacement for her on such short notice.
Of the three, I believe that Jeanne Jackson offers the best bang for the buck. She has operational excellence, plus she understands the business of selling spandex to athletes better than the other two executives. It also doesn't hurt that she's not as expensive as the other two! This is a no-brainer for Lululemon Athletica, and would help to ease the concerns of a healthy change in leadership.
With Jeanne Jackson as CEO, sourcing supply will drastically improve. It also helps that Jeanne Jackson was also the CEO of Banana Republic and GAP giving her the necessary retail apparel experience to sustain the longevity of the Lululemon Athletica brand.
Ron Johnson's management style is likely to be very compatible with Lululemon Athletica. The only downside is that his recent high profile failure may blacklist him from being an easy decision. However, given the limited number of vacancies at corporate C-suites in the country, I'm very confident that Ron Johnson already applied for the position of CEO. Plus there's always the potential that he can recreate some of Apple's success with retail. This is why I put him second on the list of likely candidates.
With Ron Johnson as CEO, shareholders may respond negatively at first. But given his retail experience as head of Target and Apple's retail division. He may increase same store sales, by improving the customer experience, by having a customer-centric approach.
Finally, Sharen Turney seems to be the most balanced of the candidates. Her experience in retail would translate extremely well from Victoria's Secret to Lululemon Athletica. The only downside is that Sharen would be extremely expensive to buy. Plus, she seems to be extremely comfortable as top brass of Victoria's Secret.
With Sharen Turney as the CEO of Lululemon Athletica, I can imagine her building larger stores that are aesthetically pleasing. To put this in perspective, the recently remodeled Victoria's Secret stores are like miniature palaces that the Sheikh of Abu Dhabi wouldn't mind walking into. Plus, Sharen Turney is very effective at managing a retail organization. To be more specific, she knows how to balance store remodeling, pricing, and store expansion.
Conclusion
CEO succession has been shown to be crucial to the value of a stock. This can be exemplified by Zynga's announcement of Don Mattrick's succession of CEO over Mark Pincus. This gave Zynga shareholders a recovery rally (11% rally over the next two trading sessions). The Zynga case study indicates that giving shareholders the reassurance of a capable executive will add market capitalization to a stock. So if the Lululemon Athletica board chooses wisely, the next boss of Lululemon Athletica will put a floor underneath the negativity surrounding the stock.
Sure, someone completely different could be hired for CEO of Lululemon Athletica than the three executives I have mentioned. But based on my understanding of top executives and how talent is poached, this is the best guess I could come up with. Sustaining the growth of this infant organization would require the genius of a really talented employee. However, I can only count the number of people on one hand for the job, hence my list of three highly qualified candidates.
Disclosure: I have no positions in any stocks mentioned, and no plans to initiate any positions within the next 72 hours. I wrote this article myself, and it expresses my own opinions. I am not receiving compensation for it (other than from Seeking Alpha). I have no business relationship with any company whose stock is mentioned in this article.