Apple's (NASDAQ:AAPL) last quarterly results show that the company's great growth run is getting over. Apple is showing a decline in both revenue and margins despite its new iPhone 5S being sold out in record time. The company's new iPads have also received good reviews, but its tablet market share is declining at an alarming pace. Though Apple is managing to sell millions of iPhones and iPads at premium prices, the growth has gone. The company has failed to create a new product category and is living off the old products. Competitors on the other hand, have dramatically improved their innovation pipelines. While competitor products still lack the polish and design finesse of Apple products, they are getting closer. The Nexus 5 is an amazing smartphone at less than half the price of the iPhone 5S. Google (NASDAQ:GOOG) Glass will be launched commercially soon, while smart watches by Sony (NYSE:SNE) and Samsung (OTC:SSNLF) are getting better. Microsoft (NASDAQ:MSFT) is also trying hard to come back into the mobile space and its smartphone market share improved to ~3.6% in Q313 from ~2% in Q312. Android has seen a sharp jump in its mobile market share to more than 80%. Most of the gains are coming at the expense of iOS. The gains are impressive considering the fact that Android already has a very large existing base. I see limited upside for Apple stock from this point of time, with a higher risk of downside from the technology disruption by competitors such as Samsung and Google. I would look to sell my Apple holdings and buy better stocks.
Tablet market share is Down to 30% from 40%
Apple created the tablet market with the launch of the iPad and is still the dominant player. However, its tablet market share is going down every month as Amazon (NASDAQ:AMZN), Google, and Samsung etc. come out with better tablets. Some players such as Google are not focusing on making money from hardware and this makes them a huge threat to Apple. Google's Nexus range of tablets is being sold at much lower margins than Apple. Same is the case with AMZN, which wants to make money through sale of services and products through Kindle. Apple on the other hand, is dependent on high margins from the sale of iPad hardware. Another big problem for Apple in the tablet market is the massive growth at the lower end (below $100). You can buy pretty good tablets for $100-200 these days, while the lowest priced iPad sells for $300. Intel (NASDAQ:INTC) has already released tablets with Baytrail processors. Windows powered tablets have also started entering the market at very competitive prices. Apple is continuously losing market share even though iPad remains the "gold standard" in the tablet market. The company will face a bigger problem if a competitor can replace the "gold standard."
Top Five Tablet Vendors, Shipments, and Market Share, Third Quarter 2013 (Shipments in millions)
| | | | | | |
| --- | --- | --- | --- | --- | --- |
| Vendor | 3Q13 Unit Shipments | 3Q13 Market Share | 3Q12 Unit Shipments | 3Q12 Market Share | Year-over-Year Growth |
| Apple | 14.1 | 29.6% | 14.0 | 40.2% | 0.6% |
| Samsung | 9.7 | 20.4% | 4.3 | 12.4% | 123.0% |
| Asus | 3.5 | 7.4% | 2.3 | 6.6% | 53.9% |
| Lenovo | 2.3 | 4.8% | 0.4 | 1.1% | 420.7% |
| Acer | 1.2 | 2.5% | 0.3 | 0.9% | 346.3% |
| Others | 16.8 | 35.3% | 13.5 | 38.8% | 25.0% |
| Total | 47.6 | 100.0% | 34.8 | 100.0% | 36.7% |
Source: IDC Worldwide Tablet Tracker, October 30, 2013.
Smartphones is also Going Down
Apple has got a huge fan following which has allowed the company to make fat margins on large volumes. The company's high pricing has also allowed it to be viewed as a status symbol in developing countries. But this premium positioning is also turning out to be an Achilles' heel for the company. The company is losing smartphone market share rapidly due to its absence in the lower and middle segments of the smartphone market. The iPhone 5C does not make sense to me, being priced just $100 lower than the iPhone 5S. This is proved by the fact that even though the iPhone 5S was sold out in India, iPhone 5C stocks remained unsold. Apple's market share has also declined precipitously in the smartphone market, as the company has refused to play in the fastest growing sub-segments of the smartphone market.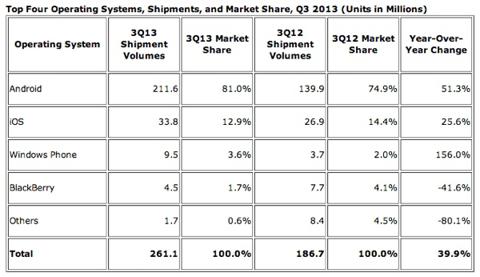 Both Margins and Revenues are going Down - Why should you Buy?
Apple bulls cite the company's massive cash pile, the popularity of its products, the higher quality of iOS compared to Android and the premium positioning of the product; but the bottom line is that both the revenues and margins are going down for the company and I don't see how the company will be able to reverse it. The lower priced smartphone would have been able to reverse this decline, but the company wanted to maintain its higher margin percentage rather than looking at the future. Unfortunately, Apple is not able to stop the declining margin, as the customers buy older versions of its products. I can see the company's margins falling further as competitors such as Google start to sell similar products at extremely lower margins. The Nexus 5 is an amazing smartphone at $349, compared to the $750 for an iPhone 5S. The Moto G is also a fantastic device at $179. The Moto G has almost everything that a normal smartphone user would want with a Qualcomm (NASDAQ:QCOM) Snapdragon processor, 1 GB of RAM and a great 4.5 inch display with 329 ppi. In terms of hardware and software this phone beats the prices of even the lower end brands like Micromax etc. Though iOS scores over Android, the price difference is massive and shows that Apple cannot maintain its large margins. In terms of revenues, Apple has not been able to stem the decline and without a category creator, it will unlikely grow its revenues. Tim Cook hinted at new products in 2014 but it remains to be seen. The iWatch, iTV etc. have failed to materialize and I remain doubtful whether Apple can create another multi-billion dollar product such as an iPad under Tim Cook.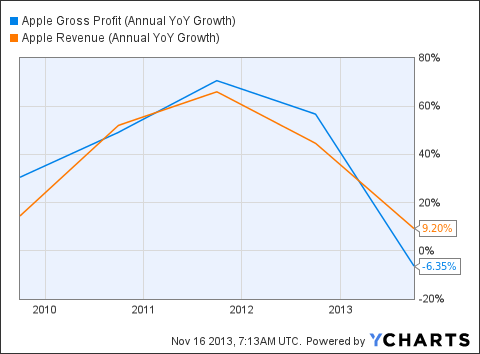 AAPL Gross Profit (Annual YoY Growth) data by YCharts
Black Swan Risks are High
Apple's upside is limited while the downside risks are quite high. The technology industry remains highly competitive and volatile. Apple is competing in two of the most competitive technology markets today. Every big hardware vendor is targeting smartphones and tablets. A lot of the innovations in these segments are coming from competitors such as Samsung. The company created a highly successful phablet category through experimentation. The Nexus 4 was a big hit and I expect Nexus 5 to be highly successful as well. PC vendors such as Dell (NASDAQ:DELL) and Lenovo (OTC:LNVGY) are also becoming much better at building tablets and smartphones. Apple will keep losing market share and margins in these segments in my view. In the image below, you can see Lenovo introducing an innovative design to hold tablets with one hand. The Yoga tablet is also competitively priced at ~$300.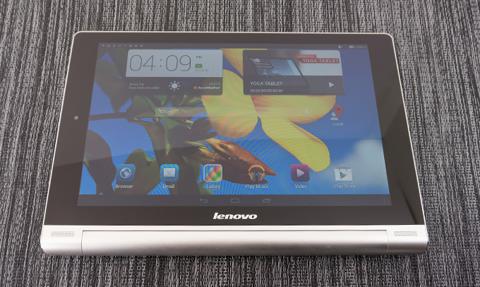 Source - PhoneArena
Summary
In my earlier article, I was criticized for saying that iPhone 5C was a dud. But current news flow is proving me right. The phone does not fit in any segment and most certainly not for emerging market consumers. Apple is losing the mobile OS war to Google, which is further strengthening its stranglehold on the mobile OS market. A large percentage of the profits from mobiles are being made through sale of software and services. Though Apple has bucked this trend by making profits through the sale of mobile hardware, I don't think it will be able to do so for too long. The company has to reorient itself to focus more on the software and that would require playing in the large fast growing middle and lower end of the mobile market. The company is currently not showing any inclination to do so. I would avoid buying Apple stock as I see limited upside and potential for a large downside.
Disclosure: I have no positions in any stocks mentioned, and no plans to initiate any positions within the next 72 hours. I wrote this article myself, and it expresses my own opinions. I am not receiving compensation for it (other than from Seeking Alpha). I have no business relationship with any company whose stock is mentioned in this article.