On Tuesday, McKesson Corp. (NYSE:MCK) reported fiscal third quarter results that were in-line with expectations, and issued upbeat guidance for the rest of the year. However, the stock has dropped nearly 5% as of midday Wednesday because of an analyst's downgrade at Leerink Swann & Co. to "market perform" from "outperform". Perhaps the downgrade was due to overall valuation concerns as the stock had nearly doubled since the lows last March. However, considering the company was able to match earnings expectations and achieved better revenue growth than the experts thought, this seems a strange time to downgrade. We think that the market's reaction to the downgrade offers an opportunity to buy a stock on weakness that has attractive value for long term investors.
In the quarter, McKesson's total revenue from pharmaceutical distribution grew by 2%, and growth was particularly strong in Canada. Company-wide revenue was 4% better than last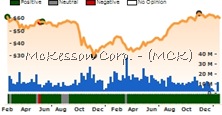 year, coming in at $28.3 billion versus estimates of $27.7 billion. In addition to the better than expected sales, profit margins improved impressively to 2.03% from 1.66%. The improvement was due to a more favorable business mix as well as being the solitary distributor of H1N1 vaccines. That profit margin will not "wow" many people but the 22% improvement in gross margins really helps for a company that for the last two years has an asset turnover ratio over 4. This translated to earnings per share of $1.19, which was in-line with expectations.
McKesson is optimistic about the current quarter and forecast earnings for the full year of $4.55 to $4.70, which compares favorably to current estimates of $4.55. The midpoint of that range gives a current P/E of 12.9x which is certainly not excessive. Furthermore, the new guidance implies earnings for the coming quarter will be between $1.23 and $1.38, and would be great sequential growth thanks largely to the peak of flu season.
At Ockham, we continue to have an Undervalued stance on MCK because the stock still has significant appreciation potential. For example, over the past ten years the market has paid 15.5x to 24.8x cash earnings per share, but the current price-to-cash earnings multiple is just 12.7x. Sales growth has been steady and certainly is seeing a boost thanks to the 115 million H1N1 vaccines and other flu supplies that McKesson distributes. Based on current fundamentals, we believe a price in the high $60 would be a more reasonable price for this stock. We cannot comment on the reasoning behind the analyst's downgrade today, but not a single analyst tracked by Yahoo finance has a negative rating on the stock. We think the market is overreacting to this analyst, which presents a decent buying opportunity.