The housing market still hasn't fully recovered from the 2008 fallout, but that hasn't stopped investors from giving serious consideration to what might lie ahead, and how to invest along the way.
From institutional buying to all-cash purchases, forward-looking investors are slowly starting to wade back into real estate.
Lately, housing market watchers have been focused on the potential of rising interest rates and how that could affect the housing revival.
For now, the continued bond-buying program of the Federal Reserve has relaxed concerns about mortgage rates. It's a commitment of $85 billion a month in an attempt to keep rates low and encourage spending activities. And it's good news for potential homeowners, since the Fed expressed concern over rates in September, a concern that's no longer held by the central bank.
While the news regarding home sales has been somewhat flat for some time, foreclosures are down 32% over the last 12 months. Despite the data, sales have risen 15% over the same time period.
So if a slowdown in housing occurs, it will likely be due to a lack of existing homes on the market for sale - less than 2.3 million. That could be parlayed into positive news for housing material manufacturers.
(Click to enlarge. Sourced from Zacks Investment Research.)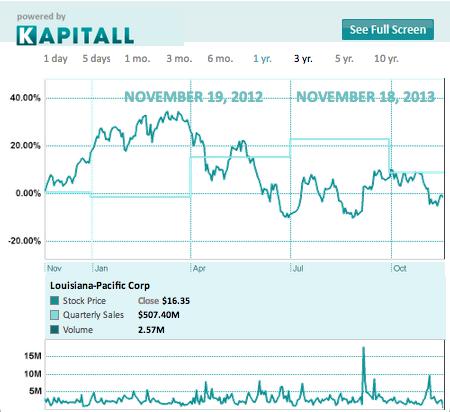 For value investors looking for a way to play housing's potential upside, Louisiana-Pacific Corp. (NYSE:LPX) could turn out be a compelling investment. The over $2 billion company manufactures building materials used in construction, remodeling, and repairs.
And Louisiana-Pacific made headlines recently after an announcement that the company would buy Canadian lumber firm Ainsworth Lumber in a deal of around $1 billion. The bold acquisition seems to signal to investors that the housing market is still a place of opportunity.
Looking at its recent numbers, Louisiana-Pacific has the makings of a value play.
The stock recently traded at just 9.75 times earnings, with a PEG ratio of 0.45. Louisiana-Pacific is on track to report $1.04 EPS this year, while estimates for next year average around $1.48. This represents a 42% increase in earnings growth -- something that is currently being overshadowed by the company's recent quarter miss.
And Louisiana-Pacific carries around $670 million in cash, a position that helps the company to finance purchases like Ainsworth Lumber.
With annual revenue of over $2 billion, the company has an attractive price-to-sales ratio of about 1.1. According to Louisiana-Pacific's third quarter earnings conference call, the company expects housing starts of 930,000 for 2013 and 1.15 million for 2014. Considering the current shortage of available homes on the market, this places Louisiana-Pacific in an enviable position.
D.A. Davidson upgraded the company's outlook twice since May to a Buy rating. And a look at competitor Weyerhaeuser Co. (NYSE:WY), a lumber company, could offer signs of things to come for Louisiana-Pacific, in terms of growth.
Weyerhaeuser recently beat third quarter estimates and announced a merger with TRI Pointe Homes (NYSE:TPH), which would make the new Weyerhaeuser-controlled TRI Pointe Homes one of the 10 largest homebuilders in the US - well positioned to benefit from an improving housing market.
Louisiana-Pacific's stock looks like it's in value territory. The share price hit a multiple bottom right above $14.50 and has been trending sideways at around $17 for the past month. Based on future expectations, the stock looks to be trading at around a 20% discount.
Risks to consider with Louisiana-Pacific include weaker than expected home sales numbers and a rise in mortgage rates, which could poke a hole or two in the company's growth story.
Disclosure: I have no positions in any stocks mentioned, and no plans to initiate any positions within the next 72 hours.
Business relationship disclosure: Kapitall is a team of analysts. This article was written by Daniel Cross, one of our writers. We did not receive compensation for this article (other than from Seeking Alpha), and we have no business relationship with any company whose stock is mentioned in this article.