By Robin Wauters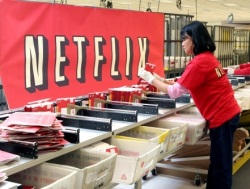 Netflix (NASDAQ:NFLX) has just reported its Q4 2009 results, and has performed pretty well as expected, although revenue was slightly below most forecasts.
Netflix ended the fourth quarter with approximately 12,268,000 total subscribers, up from 9,390,000 total subscribers at the end of the fourth quarter of 2008 and 10 percent growth at the end of the third quarter of 2009. Net subscriber change in the quarter was an increase of 510,000 for the third quarter of 2009.
Netflix' revenue for Q4 2009 was $444.5 million, a 5 percent sequential increase from $423.1 million for the third quarter of 2009. The DVD-rental company was estimated to report revenues of up to $446 million

. Netflix expects revenue to climb to $490 million to $496 million this quarter.
Also noteworthy: the percentage of subscribers who watched instantly more than 15 minutes of a TV episode or movie in Q4 2009 was 48 percent, compared to 28 percent for the same period of 2008.