Esprit Holdings Limited is a designer, retailer, and wholesaler of its high quality brand name (ESPRIT) all across the globe. In addition, the company also sells cosmetics, skin and body care products and operates Salon Esprit in Asia.
This company is primarily traded under the Hong Kong stock exchange with the ticker 330 HK. It is also traded in the US as an ADR with the ticker ESPGY.
The Glory, and Decline Story
The company was founded in 1968 in San Francisco by Susie and Dough Tompkins, who sold all their interest in the company in 1996. The company has been listed since 1993. Up until the end of 2007, the company registered an impressive 30% and 33% CAGR for revenue and EBIT, respectively. The share price in that same period has gone up 32 fold. As shown below, the company has been doing marvelously until late 2007.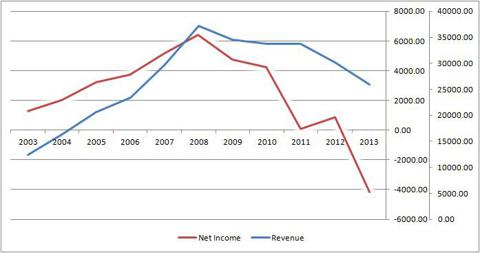 The change in fortunes began when multiple disasters crashed upon it since 2008. The revenue and EBIT CAGR since 2008 to 2012 was -5% and -49%, respectively. This is the result of the 1) products falling out of fashion; 2) global financial crisis; 3) euro debt crisis (Europe accounts for 80% revenue) hurting wholesale customers there.
This fallen angel announced a restructuring plan in September of 2011 to transform the company but multiple resignations occurred shortly after the initial execution phase of the plan. The Chairman, CEO and CFO all left the firm in a matter of months. While the management team has left, the restructuring plan remains.
The Turnaround Story
The restructuring plan aims to improve all operational aspects of the company and to revive the brand name, which suffered from underinvestment. The plan was estimated to cost 18.5bn HKD, which hurt the company's cash flow and cash position. Main summary of the plan was to:
Consolidate fabric use and suppliers to save sourcing costs
Introduction of new lines (Trend, China for China, Denim products and Wellness
Refurbishing all retail stores by FY2015
Further expansion in China; aiming to double sales by FY2015
After the resignation of the previous senior staff, a full team of experienced individuals was hired to take charge of the transformation plan. The new senior management comprise of managers with very strong experience including:
Jorgen Andersson and Jan Nord, who are commonly praised for their branding success of H&M. They also found success in combining mass market retailer with high fashion designers (Roberto Cavalli and Karl Lagerfeld).
Jose Manuel Martinez (new CEO) was previously a managing director at Inditex SA (parent company of Zara).
New Chairman of the Board, Raymond Or has been a non-executive director of the company since 1996. He is also an executive director, CEO and Chairman of Chain Strategic Holdings limited and non-executive director of Chow Tai Fook Jewelry Group and ICBC.
While an experienced team of senior management will aid recovery, customer demand will ultimately be the key driver in this turnaround story. Europe remains to be the key market as approximately 80% of total revenue is sourced from that region. The GDP growth QoQ is shown below. The declining trend since early 2010 has taken a pause and the growth rate is actually much in line with historical average.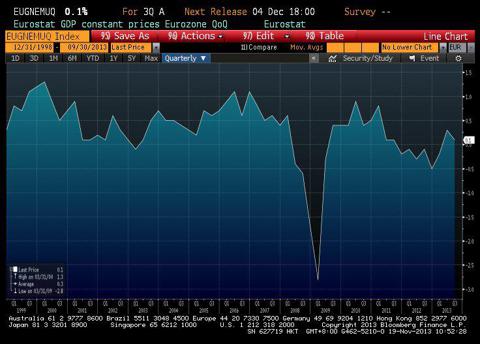 A further breakdown analysis of that 80% of revenue will reveal that about 45% of the 80% (36% of total) is coming from Germany. Among the Eurozone, Germany is actually holding up better than its Eurozone peers during the crisis. The German GDP growth and manufacturing PMI is shown in the below charts. The GDP growth looks to be around historical normal levels while the PMI survey index actually shows that the sentiment among purchasing managers is improving since mid 2012.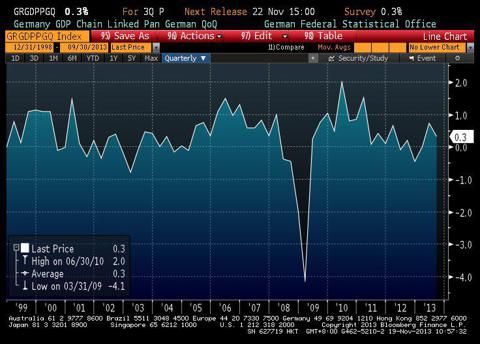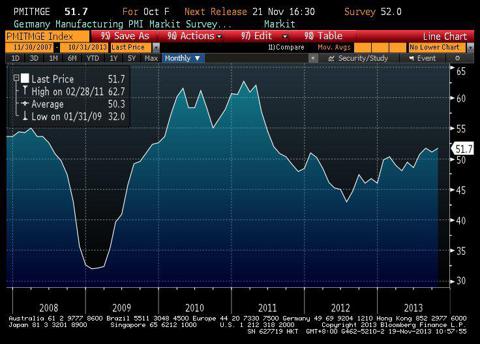 The refurbished stores are well received by the public. As part of the transformation plan, Esprit has been updating the physical appearance of its retail stores to boost customer traffic. Traffic in the FY12 quarter shows that customer visits to refurbished stores was 10% higher than non refurbished stores. The top picture shows the outlook of a pre-refurbished store and the bottom picture shows the appearance of a refurbished store. The better appearance is only the beginning, the segmentation of floor area is also catered to specific product lines, which allows for a better shopping experience.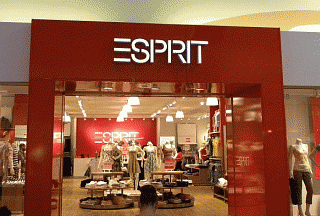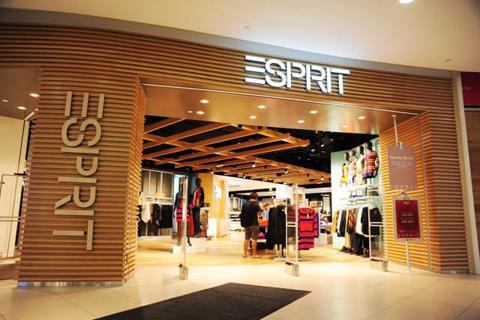 Aside from improving store outlook and cost cutting benefits, the product mix has been upgraded with attractive pricing and the transition into a vertical model will further support the turnaround story.
Most of the prices of their products have not been raised this year. This will make their products more competitive. They have also incorporated what managers call "Hero Products" promotion strategy. This strategy basically allows the mangers of local stores to select one or two products to be "Hero Products" which they believe to be "hot" and these products are sold at attractive prices. This strategy along with its price cuts are now more in line with their target customer segments. However, the reduced prices does not necessarily translate to margin erosion. The retail business segment of Esprit has historically been priced at product cost plus a 70% margin. Previously, when customers feel the prices are too expensive, they will generally wait until the brand offers discounts. Historically, when Esprit offers discounts, the price will be at about product cost plus a 50% margin. With the price reduction and new strategy, this will minimize the need to offer discounts to customers. Hence, I estimate the margins to be roughly equal in both scenarios.
The transition to a vertical business model is an important step in this turnaround process. Traditionally, Esprit has adopted a wholesale model. This traditional model will have a product lead time of approximately 9 months. Currently, the company has incorporated their "trend division" as a laboratory to test their fast to market product development process. The new model will have an estimated lead time of 3 to 4 months. In fashion, customers only care about the latest trends and hottest product lines. Having a longer lead time for their design products will make a world of difference as your inventory will likely become obsolete as they make it to the shelves. Their current business model looks similar to Zara's existing model.
Additional Swing Factors
According to the Hong Kong stock exchange website, the Chairman Raymond Or bought 1 million shares at 13.75 HKD per share. In addition, Deputy Chairman Paul Cheng has also purchased 725,000 shares at an average price of 13.98 on October 31. This is a positive signal for the company to change its fortunes when insiders are buying shares.
The balance sheet is strong with net cash. The net cash amass to 14% of the total market cap. In addition, looking back in history, the firm never incorporated long-term debt until 2009 when the operations first encountered trouble. More importantly, as of last balance sheet update, the long-term borrowing is fully paid off and back to zero again.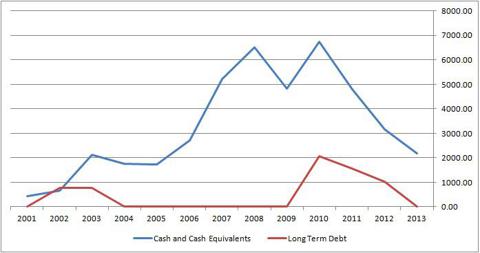 The valuation of the shares are cheap relative to its peers. The current price to sales is at 1.2x. This compares to the 3.5x for H&M and 4.3x for Inditex. The market is likely pricing Esprit at a discount due to the uncertainty of its earnings recovery. In the course of the next 2 years, as Esprit gathers market share and re-establishes its market position, this name should trade near sector averages. My valuation is based on a 4x price to sales, giving this name a stock price of roughly 13.7, giving a potential upside of 214% (at yesterday's closing price).
The Euro currency recovery is also an additional kicker for upcoming operational activities. The recent Euro appreciation makes the products more competitive given that Esprit sources most of its products from Asian countries compared to its peers. The strengthening Euro gives Esprit a good macro tailwind to ride on.
The 1Q14 sales result released at the end of October shows steady improvement in sales productivity (this progress has been ongoing for the past 5 quarters). There are no indications that this positive sales momentum will stop anytime soon. I reside in Hong Kong and despite this region does not account for significant sales for the whole group, I see the customers in the stores all the time with long line ups to the cashier. While this is not a significant part of the overall analysis, I just want to share the small edge/hint that I got, which ultimately led to this article.
Conclusion
I believe Esprit is well on its way to a turnaround recovery. The longer-term debt is fully paid off and the operations are well on its way to outperformance again. Costs reduction will also play a role in boosting higher earnings. The balance sheet is solid.
The stock is up about 60% year to date and I still see more room for it to rise. I see this stock as a multiple bagger given the strong transition and financial position.
Key risk in this name is that the vertical business model does not work out and competition from Zara and/or H&M wins out this war. Another risk of concern is if the Eurozone takes a recession double dip, which will hurt consumer sentiment. For scenario 1, I believe this is unlikely due to the consumer pattern and sales trend have been favoring Esprit. In the case of scenario 2, it would be a macro downturn, which may present an even better buying opportunity given the health of the balance sheet and the current already undervalued price (1.2x Price to Sales) will likely provide downside protection for this company.
I would evaluate this stock to be a low-medium risk, high reward investment.
Disclosure: I have no positions in any stocks mentioned, but may initiate a long position in OTCPK:ESPGY over the next 72 hours. I wrote this article myself, and it expresses my own opinions. I am not receiving compensation for it (other than from Seeking Alpha). I have no business relationship with any company whose stock is mentioned in this article.