We have Trefis price estimate of $35 for Disney's (NYSE:DIS) stock, representing a 16% upside to the current market price of $30. About 53% of Disney's value comes from its ownership of the pay TV channels like ESPN, A&E and ABC Family. Only 16% of the company's value comes from its parks and resorts business.
Below we discuss the two most significant businesses for Disney and what matters most for each.
ESPN & Other Channels
Disney has consistently made profits from its ESPN channel, which is the world leader in sports coverage and has close to 100% penetration in US households. Cable operators like Comcast (NASDAQ:CMCSA) and Time Warner (TWC) pay Disney a monthly subscriber fee of about $3.20 for each cable subscriber that receives ESPN.
ESPN has the highest subscriber fee in the cable TV industry, where the majority of cable channels have monthly fees that are less than $1 per subscriber. Sports programming helps cable and satellite companies sell more expensive plans to subscribers which makes them willing to spend more to ensure that they have access to ESPN's programming. ESPN's competitor Fox Sports also commands a high monthly subscriber fee of about $2.10 per subscriber. ESPN spends a significant amount of money to purchase exclusive broadcast rights to sports events that help it to remain the most popular sports channel and as result it continues to be able to extract high subscriber fees from cable companies.
ESPN's popularity, multi-year fee contracts and high subscriber fees allow it to perform well even in a weak economy. You can modify our forecast for ESPN's Fee per Subscriber to see how much Disney's stock is impacted by this crucial driver. (Click to enlarge)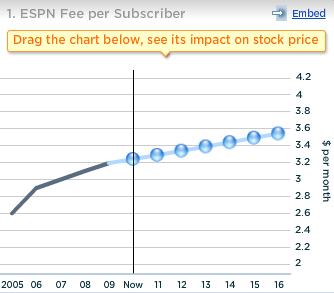 Disney's other cable channels such as the Disney Channel, ESPN Classic, Soapnet, A&E, ABC Family, History and Lifetime together constitute about 22% of Disney's stock price and boast of high household penetration. You can see here our forecasts for each of these channels and how much they contribute to Disney's overall value.
Parks & Resorts
Trefis estimates that about 16% of Disney's value is attributable to its theme parks and resorts. The economic slowdown has led consumers to cut down on certain types of entertainment expenses and the number of visitors to Disney's parks and resorts has temporarily suffered as result.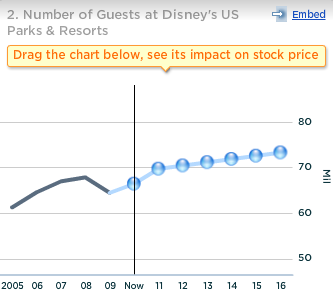 However, we believe the number of guests (visitors) at Disney parks and resorts will recover to historical levels over the next two years and increase over the Trefis forecast period. We also expect that the average spend per guest in theme parks will increase.
Guest spend includes money spent on admission to the parks / resorts, food, beverages and merchandise. Part of the increase is attributable to hikes in the price of admission, which have helped Disney offset some of the revenue lost from the dip in guest traffic. We forecast guest capita spend to increase from about $104 in 2009 to about $111 at the end of Trefis forecast period.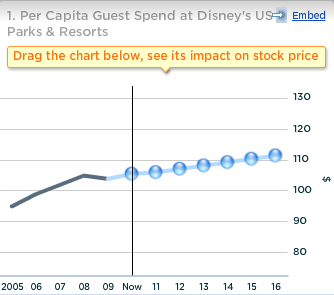 You can modify our forecasts for the number of guests at Disney parks / resorts and the average guest spend to see how Disney's stock would be impacted under different scenarios.
Disclosure: No positions