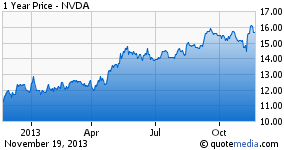 Shares of NVIDIA (NASDAQ:NVDA) started the trading week on a bad note after the company received a downgrade from analysts at Morgan Stanley. After shares have risen some 40% over the past year, while operating performance has deteriorated, the cautious stance is more than warranted. I agree with Morgan Stanley and would be very cautious at current levels.
Morgan Stanley Becomes Bearish
Analysts at Morgan Stanley lowered their target on NVIDIA from "Equalweight" to "Underweight", while placing a price target of $13 per share on the firm. The price target suggests that shares have nearly 20% downside potential from current levels.
According to analysts at the bank, the stock is pricing in a lot of earnings improvements which are still uncertain. The company holds $5.15 per share in cash, while Intel's (NASDAQ:INTC) royalties are valued around $0.78 per share, or $66 million per quarter at the moment. This implies that the remainder of the value of $10 per share is attributed to operations which are expected to earn a mere $0.42 per share in 2014. This values the enterprise at 24 times earnings and 2.2 times revenues according to the bank.
The bank sees no reason for a valuation premium versus the peer group, as the stock is headed for significant headwinds.
Third Quarter Results
Nearly two weeks ago, NIVIDA reported its third quarter results. Revenues came in at $1.05 billion, up 7.9% on the quarter before, but down 12.5% on the year before.
Reported GAAP earnings came in at $118.7 million, up 23.1% on a sequential basis, but down 43.2% compared to last year. GAAP earnings came in at $0.20 per share, up four cents compared to last year.
Valuation
NIVDIA ended its third quarter with $3.03 billion in cash, equivalents and marketable securities. The firm does not hold any debt, but has a modest $17 million in capital lease obligations on its balance sheet.
Revenues for the first nine months of the year came in at $2.99 billion, down 5.9% on the year before. Net earnings fell by nearly 25% to $293.1 million. Full year revenues are seen just above the $4 billion mark as earnings could come in around $400 million.
Factoring in losses of 2% on Monday, with shares trading just below $16 per share, the market values NVIDIA at $9.2 billion. This values operating assets of the firm at $6.2 billion, or roughly 1.5 times annual revenues and 15-16 times annual earnings.
NVIDIA currently pays a quarterly dividend of $0.085 per share, for an annual dividend yield of 2.1%.
Some Historical Perspective
Long term holders of NVIDIA's shares have seen modest returns over the past decade as shares have roughly doubled from the levels in 2004. Investors have seen quite some volatility in the meantime, with shares peaking in their high-thirties in 2007 to fall to just $6 a year later. Shares rose to $25 at the start of 2011, to give up a lot of lost ground again.
So far this year, shareholders have seen decent returns, with shares trading with year to date gains of around 30%. Between its fiscal year of 2010 and 2013, NVIDIA has increased its annual revenues by a cumulative 28% to nearly $4.3 billion. After reporting losses in 2010, NVIDIA posted net earnings of $562 million over the past year.
Investment Thesis
NVIDIA is aiming to reduce the dependence on personal computers by focusing on gaming devices and servers. The problem is that while NVIDIA aims to steer away from personal computer sales, competition in tablets and other markets, such as smartphones is tough.
The Tegra chip, which focuses on mobile, reported revenues which more than halved compared to last year, and is no major revenue driver yet for the company. The company focuses on integrating Tegra with Long Term Evolution features, to make them compatible with carrier networks. The fact that Tegra 4 processors are used in Microsoft's (NASDAQ:MSFT) Surface 2 tablet is not paying off yet, given the limited adoption of the Surface. As such there is little room to grow for NVIDIA is this area given that it won't likely become an Apple (NASDAQ:AAPL) or Samsung (OTC:SSNLF) supplier, when Chinese low-cost producer favor domestic suppliers.
Perhaps it is better to focus on graphic chips used by gamers which like NVIDIA's offerings. On top of that the company is also focusing on graphics offerings in cloud networks.
For now investors have to get used to lower growth, accompanied by shareholder payouts as the firm has a rock-solid balance sheet. The company recently hiked the quarterly dividend to $0.085 per share, while the board authorized a $1 billion share repurchase program, sufficient to retire some 11% of its shares outstanding.
Little over a year ago, I last took a look at NVIDIA's prospects after the company initiated its dividend. At the time shares were trading around $11-$12 per share, when I concluded that shareholder payouts limited the impact of a soft guidance at the time.
At the time, it was foreseeable that shares were vulnerable to the exposure of the ailing personal computer market, even though the company focuses on the strong segments in the industry. Yet the strong cash flows, even stronger balance sheet and appealing valuation made me optimistic at the time. Backing out cash balances, shares traded only at 7-8 times 2013's earnings at the time. For now, shares risen 40% over the past year, while earnings have fallen.
I can only agree in sympathy with Morgan Stanley and be very cautious. I stay on the sidelines, with a slightly bearish stance.
Disclosure: I have no positions in any stocks mentioned, and no plans to initiate any positions within the next 72 hours. I wrote this article myself, and it expresses my own opinions. I am not receiving compensation for it (other than from Seeking Alpha). I have no business relationship with any company whose stock is mentioned in this article.