By Carla Fried
For the past 18 months, Qualcomm (NASDAQ:QCOM) stock has failed to join in the rally, lagging the market by more than 20 percentage points. Normally you'd have to have some sort of systemic problem (see: Intel's (NASDAQ:INTC) continuing quest to adjust to the mobile computing platform) to explain that sort of underperformance. But that's clearly not the case with Qualcomm: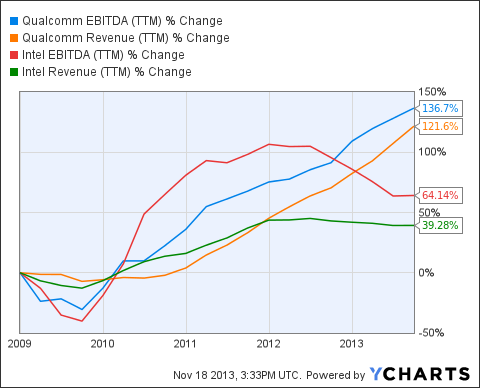 QCOM EBITDA (TTM) data by YCharts
What's worrying investors is that Qualcomm's gravy train of royalty income from every mobile device using its patented 3G technology could take a hit if the average sale price of smartphones drifts lower, as is expected. (Qualcomm's royalty is based on the average sale price of phones using its tech.) But what that notion seems to overlook is that if smartphone prices start to fall, then more folks will be buying smart phones. There's no guarantee volume would offset any decline in per-phone flat fee, but the volume argument is pretty compelling.
BI Intelligence estimates that globally one in five cell phone owners has a smartphone, up from less than one in 20 just a few years ago. That's a goldilocks situation: you've got evidence of the phenomenal growth rate, yet the penetration rate is still so low you've got plenty more room for more growth. Gartner estimates smartphone production will rise about 60% between 2013 and 2016.
The $1.2 billion RiverPark/Wedgewood fund had 6% of fund assets riding on Qualcomm at the end of the third quarter, the same size as its investment in Berkshire Hathaway (NYSE:BRK.B). Only its Apple (NASDAQ:AAPL) stake was larger at 9%. So some pretty high conviction. In a recent shareholder letter, manager David Rolfe made a case for higher smartphone penetration to trump any decline in per-phone royalty fees:
"As the value proposition of smartphones become more attractive due to lower prices (compared to smartphone prices just a few years ago), we expect low priced feature phone subscribers will ultimately trade up to low end smartphones with higher ASP's [average selling price; the basis of Qualcomm's royalty] relative to their feature phone predecessors. In addition, given the highly commoditized nature of low end smartphones, we expect volume will closely offset, if not outpace average selling price declines."
Rolfe has owned Qualcomm since late 2011. And it's worth noting he wasn't buying in the third quarter.
But another very impressive value fund did. The $11 billion Oakmark fund established a new position in Qualcomm in the third quarter. At 1.4% of fund assets it's not among the fund's top 10 holdings. Still, that Oakmark was buying at all is worth noting. First because the fund's 21% annualized gain over the past five years is more than four percentage points ahead of the S&P 500 (NYSEARCA:SPY). And secondly, because Oakmark only buys when it sees a stock it believes is trading at a deep discount to Oakmark's intrinsic value estimate. We're typically talking about a margin of safety of 40% or so. That Oakmark is suggesting it found such a large discount in a market leader whose royalty stream is the very definition of a wide moat competitive advantage in what is a fair-valued market is pretty interesting.
Lead manager Bill Nygren is also on board with the notion that rising smartphone penetration will keep the royalty side of Qualcomm's revenues humming. "Qualcomm's licensing business accounts for only a third of the company's revenue, and it is often underappreciated. However, its licensing business has unusually high profitability and represents close to two-thirds of Qualcomm's profits. The majority of the world's mobile handset users are still using older 2G technology, which is not a focus area for Qualcomm, so when these customers upgrade to 3G and 4G, Qualcomm should be well positioned to enjoy robust incremental revenue."
Oakmark is also bullish that Qualcomm's R&D focus should allow it to maintain its competitive advantage in wireless chip sales. The Oakmark team envisions $4.50 per share earnings "in a couple of years"-that's nearly 20% higher than EPS over the past 12 months. While Qualcomm's trailing P/E ratio is above 17, Nygren says after adjusting for the $20 per share of cash on the books, Oakmark puts Qualcomm's forward PE ratio at 11x.
And just to add one more value kicker. When the Market Vectors Wide Moat Focus Index ETF (NYSEARCA:MOAT) was rebalanced for the fourth quarter, the most "expensive" stock among the 20 stocks that made the cut, traded at an 11% discount to Morningstar's estimate of fair value. (The Market Vectors ETF runs off of Morningstar's Wide Moat index). At the time, Qualcomm was trading at a 7% discount to fair value. Recently it widened to 12% amid more price weakness. If you're looking for a quick payoff, Qualcomm probably falls off your radar. But if you're the more patient value type, this is a stock worth giving some financial research.
For all the purported risks, there's no getting around that Qualcomm is an impressive cash generator; free cash flow has grown more than 40% over the past five years and there's more than $11 billion sitting in cash and short-term investments.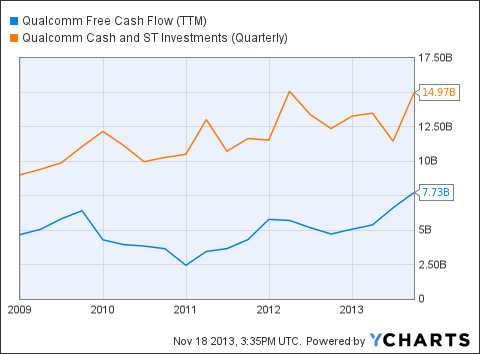 QCOM Free Cash Flow (TTM) data by YCharts
That's even after amping up R&D from around $2.5 billion in 2011 to more than $4.7 billion in the latest 12 months. Moreover, Qualcomm has also been busy returning some of its cash to shareholders. The dividend has more than doubled over the past five years, yet the cash dividend payout ratio remains below 30%.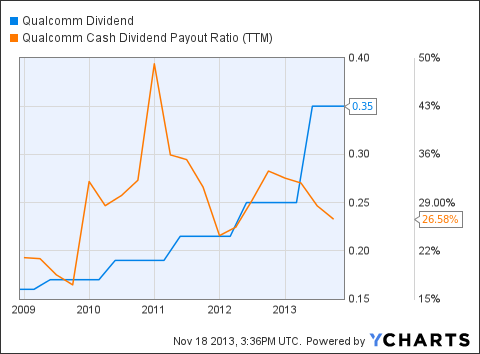 QCOM Dividend data by YCharts
Add in some share buybacks and nearly $2.7 billion has been spent on shareholder payouts over the past 12 months, giving the stock a near 2.8% shareholder yield.
Disclosure: I have no positions in any stocks mentioned, and no plans to initiate any positions within the next 72 hours. I wrote this article myself, and it expresses my own opinions. I am not receiving compensation for it. I have no business relationship with any company whose stock is mentioned in this article.