By Carla Fried
Given the steep ascent of the market the past year, values are ever harder to come by. The 20 stocks in the Market Vectors Wide Moat Index ETF (NYSEARCA:MOAT) sell at an average 14% discount to Morningstar's (NASDAQ:MORN) proprietary estimate of fair value. The ETF tracks the cheapest stocks in Morningstar's Wide Moat Focus Index.
For big discounts among companies with competitive moats, you typically have to venture into turnaround/trouble territory: Weight Watchers (NYSE:WTW) and Exelon (NYSE:EXC) currently trade at less than 70% of Morningstar's fair value estimate.
Weight Watchers revenue is down 4% over the trailing 12 months, and management says it expects more revenue erosion in 2014. Morningstar is currently maintaining its $50 per share fair value, but has said it will review its model once it gets a bit more guidance from Weight Watchers management. The new mightn't be so good. As YCharts' Dee Gill reported recently, weight loss apps hurt Weight Watchers.
Nuclear-utility powerhouse Exelon has been struggling amid weak energy prices. It's been such a hard slog, Exelon slashed its dividend 41% earlier this year. Exelon's deep discount is pegged to Morningstar's expectation that natural gas prices and power prices should rise 30% as the market segues from early cycle to mid cycle pricing norms in the next few years. Given the sharp pick-up in U.S. natural gas production amid weak demand over the past five years, a 30% price rise could be a tall order.
Express Scripts (NASDAQ:ESRX) is the next cheapest at a 30% discount. As recently explained at YCharts that's mostly due to Morningstar's steep increase in Express Scripts' fair value estimate.
The next two cheapest stocks in the Wide Moat ETF are Western Union (NYSE:WU) and - surprise, surprise -- Berkshire Hathaway (NYSE:BRK.B); both are trading at about a 20% discount to Morningstar's fair value estimate. But that's where the symmetry ends: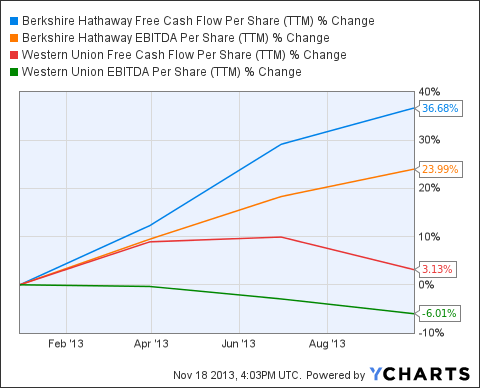 BRK.B Free Cash Flow Per Share (TTM) data by YCharts
Other equity research tools can detail the standout quality of Berkshire's finances and business.
In its just-released third quarter results, Berkshire Hathaway merely managed a 13% rise in revenue and 29% jump in operating earnings compared to the same quarter a year ago. That's so not a company in turnaround mode, yet even though Berkshire Hathaway is posting strong financial results, your entry point today is a pretty decent 20% discount to Morningstar's fair-value estimate. By comparison, all the rated stocks in Morningstar's database recently traded at a combined price that is 4% above fair value (104% of fair value) and all the wide moat stocks are at 102% of fair value.
Yes, Berkshire Hathaway is still sitting on a chunk of cash. Even after the Heinz investment earlier this year, the $42 billion in cash and short-term equivalents at the end of the third quarter (down $5 billion from the beginning of the year) is still more than $20 billion above where Warren Buffett has said he'd like it to be. So what? You really gonna get upset that the smartest capital allocator is essentially saying he can't find a great business (or two, or three) at a good price five years into a bull market that is on the verge of tripling from its March 2009 low?
Another point of comparison to file away in the FWIW category: The extra $20 billion Buffett is not rushing to allocate is a fraction of the $80 billion Microsoft (NASDAQ:MSFT) is sitting on and the $146 billion Apple (NASDAQ:AAPL) has in combined cash and long-term investments (long-term being bonds with maturities of >1 year.)
A 30%+ rise in Berkshire's stock price over the past year has pushed the price-to-book value well past the 1.1x that Buffett said would be a trigger point for the company to consider share repurchases. But as seen in this chart, the current price-to-book value is still on the cheap side: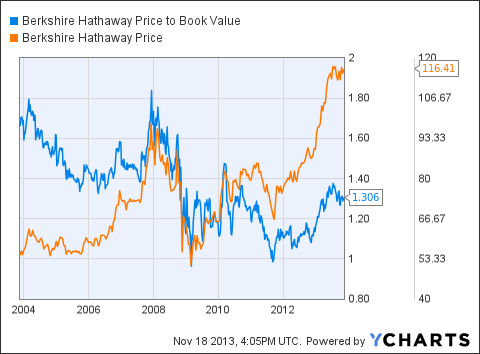 BRK.B Price to Book Value data by YCharts
The S&P 500 currently trades at 2.5x book value.

Disclosure: I have no positions in any stocks mentioned, and no plans to initiate any positions within the next 72 hours. I wrote this article myself, and it expresses my own opinions. I am not receiving compensation for it. I have no business relationship with any company whose stock is mentioned in this article.