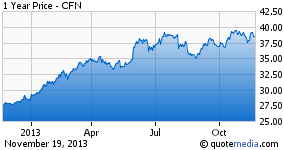 Shares of CareFusion (NYSE:CFN) started the week on a cautious note after the company is looking to acquire the Vital Signs business from GE Healthcare (NYSE:GE).
I remain on the sidelines. The deal does not look great to me, and investors are not too enthusiastic about the deal as well given Monday's trading action. Given the lack of earnings growth and the high earnings multiple, I remain cautious about initiating a position in CareFusion.
The Deal
CareFusion announced that it has entered into a definitive agreement to acquire the Vital Signs business from GE Healthcare for $500 million.
Vital Signs is a manufacturer of single-patient-use consumables used for respiratory care and anesthesiology. Besides this, Vital produced temperature management and patient monitoring consumables.
The deal adds to CareFusion's Specialty Disposables business, making the company a clear leader in the estimated $3 billion market. The company employs some 1,000 workers and generates a third of its sales internationally.
CEO and Chairman Kieran Gallaghue commented on the rationale behind the deal, "The acquisition of Vital Signs is well-aligned to our long-term growth strategy, helping us create scale in our Procedural Solutions call points and increase our presence outside of the United States. Together, CareFusion and Vital Signs have the R&D, manufacturing and go-to-market resources to drive innovation, invest for growth and better support customers in major geographic markets."
Vital Signs generates annual revenues of around $250 million, valuing the business at 2 times annual revenues.
On top of this, annual synergies are seen between $10 and $15 million on a pre-tax basis, to be achieved by the fiscal year of 2017. Both revenue and cost synergies should be attainable when Vital will be integrated with CareFusion's sales and operational infrastructure.
Accretion to adjusted earnings per share is estimated around $0.05-$0.08 per share by 2015. This excludes one-time charges related to the deal.
The acquisition is expected to close before the end of this calendar year.
Valuation
CareFusion ended its first quarter of its fiscal 2014 with $2.11 million in cash, equivalents and short term investments. Total debt stands at $1.45 billion, resulting in a net cash position of around $650 million.
Revenues for the fiscal year of 2013 came in at $3.55 billion, down 1.3% on the year before. Net earnings rose by more than 31% to $385 million.
Trading around $38.50 per share, the market values CareFusion around $8.2 billion. This values operating assets of the firm at approximately $7.6 billion, the equivalent of 2.1 times annual revenues and 20 times annual earnings.
CareFusion does not pay a dividend at the moment.
Some Historical Perspective
Shares of CareFusion went public in 2009 as a spin-off of Cardinal Health (NYSE:CAH). Ever since shares have seen steady gains, notably in 2013 with shares trading near all-time-highs. Shares have now effectively doubled over the past four years or so, after witnessing year to date returns of 35%.
Between 2010 and 2013, Cardinal has seen only very modest revenue growth. Yet earnings improved markedly, roughly doubling to $385 million last year.
Investment Thesis
The market is not too enthusiastic about the announced deal by CareFusion. Trading around $38.50 per share, the market values the stock some $130 million less compared to Friday, and that on the back of a mere $500 million deal.
The reason seems to be the modest accretion to next year's earnings. Earnings accretion of $0.05-$0.08 for 2015 adds up to $10-$16 million in additional earnings, which compares to eventual pre-tax synergies of $10-$15 million per annum.
This suggests that Vital on a stand-alone basis is generating low earnings, resulting in a steep valuation on a pre-synergy basis. The revenue multiple is in line with CareFusion's overall valuation.
While revenues have stagnated in recent years, earnings have roughly doubled as net profit margins after tax came in around 11% over the past year. With revenue trends still not showing much growth, further earnings growth has to result from even higher margins. After recent momentum, and trading around 20 times earnings, I understand why investors are cautious.
I remain on the sidelines.
Disclosure: I have no positions in any stocks mentioned, and no plans to initiate any positions within the next 72 hours. I wrote this article myself, and it expresses my own opinions. I am not receiving compensation for it (other than from Seeking Alpha). I have no business relationship with any company whose stock is mentioned in this article.