When I first thought to evaluate AMC Networks, Inc (NASDAQ:AMCX), I thought it would be an easy underperform call. After all, what I thought was its premier show, Breaking Bad, just aired its final episode, and Mad Men announced its seventh and final season. To add to my pessimism, cable TV subscriptions in the U.S. are down 1.8 million subscriptions for the TTM 2013Q2, including a huge 607,000 in 2013Q2. There are 114 million TV households in America, so the decline is very noticeable. Finally, with more Americans switching to Internet streaming and DVR instead of watching shows live, TV advertising revenues will inevitably decline.
With these thoughts in mind, it initially seemed to me that the stock that had nearly doubled in value over the past two years was doomed for an imminent decline in value. How could the company further grow in such a constrained environment? This article puts into perspective the loss of Breaking Bad and AMCX's potential to continue to grow.
Overview
AMC Networks, Inc. owns and operates several cable television channels in the United States and produces and distributes content. Its namesake channel, AMC, has recently spiked in popularity due to the stunning success of its 3 leading shows, Walking Dead, Breaking Bad, and Mad Men. AMCX also owns and operates WE tv, IFC, and Sundance channel.
AMCX has a market cap of $4.71 billion, revenue of $1.52 billion (TTM, 2013Q3), EBITDA of $520 million (34% of revenue), and net income of $271MM (18%). YOY revenue growth is 19.1% and the company has $510 million in cash on its balance sheet (likely in preparation of its Chellomedia acquisition - more on that later). The stock trades at a forward PE of 16.7.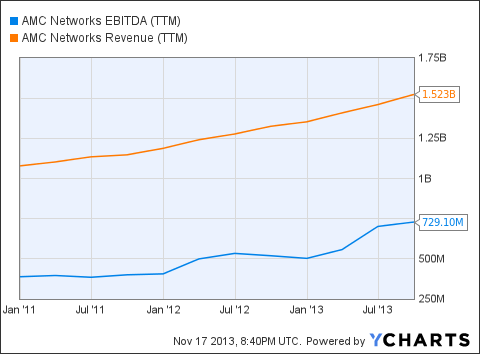 AMCX EBITDA (TTM) data by YCharts
AMCX generates revenue primarily from 2 sources: distribution (60%) and TV advertising (40%). Distribution revenue is made up primarily of fees paid by distributors to carry the network (like Dish Network (NASDAQ:DISH), DirecTV (DTV), and Comcast(NASDAQ:CMCSA)) and the licensing of its original programming (to companies like Netflix (NASDAQ:NFLX)).
TV Show Perspective
When evaluating AMCX, it helps immensely if we can gain some perspective on its TV Shows and their ratings. Unfortunately, AMCX does not provide these ratings for investors, so I had to do a lot of digging around to get them. Here are the ratings for the most recent season premiers of AMC's top shows (bold shows are not returning next season).
Walking Dead: 16MM (Oct. 2013)
Breaking Bad: 5.92MM (Aug. 2013)
Talking Dead: 5.1MM (Oct. 2013)
Mad Men: 3.4MM (Apr. 2013)
Low Winter Sun: 2.51MM (Aug. 2013)
Hell on Wheels: 2.49MM (Aug. 2013)
The Killing: 1.76MM (June 2013)
Talking Bad: 1.19MM (Aug. 2013)
Comic Book Men: 1.01 (Oct. 2013)
Freak Show: 0.64 (Feb. 2013)
Small Town Security: 0.13 (May 2013)
While these are just the season premier numbers, they give an indication of where the network is making their money. Walking Dead is clearly AMC's anchor, and even its discussion show (a show about a show), Talking Dead, was AMC's 3rd highest rated show. Walking Dead was renewed for its 5th season, and Mad Men's final season will be split into two parts, to be shown in 2014 and 2015.
To shed some light on how AMC performs relative to other networks, I've pulled up some comparisons (note: this is not meant to be a list of every show that competes with AMC's shows; it is intended only to give relativity to AMC's ratings). It is important to note that most of AMC's shows run a full-hour, which means more ad revenues per viewer. The following are averages of the most recent seasons. (Talking Dead has averaged 13.7 million viewers through the first 5 season 4 episodes).
The Big Bang Theory CBS 23.9MM (2013)
The Blacklist NBC 11.0MM (2013)
Duck Dynasty A&E 8.4MM (2013)
The Sopranos HBO 8.23MM (2007)
How I Met Your Mother CBS 8.2MM (2013)
Prospects for Growth
So now the big question, can AMCX sustain its growth? While its growth depends on the difficult-to-predict success of new show offerings, the network has several things going for it:
The Walking Dead continues to grow
The Walking Dead has grown its viewership in each of its seasons, and has been renewed for a fifth season. This means that The Talking Dead will also still be a big money-maker. Even more exciting for investors is the introduction of a The Walking Dead companion series, which was recently announced and is in development.
Breaking Bad spin off announced
The company stated in its recent earnings call that they are developing a Breaking Bad spin-off, called Better Call Saul, which features the character Saul from Breaking Bad. While the success of Better Call Saul is far from certain, it can draw from the over 10MM fans who watched the Breaking Bad season finale.
Mad Men for 2 more years
Mad Men will be around for 2 more years, as AMC is breaking the final season into two parts.
Growth of its other channels
AMCX has been doing a very good job of extending the viewership of its other channels (this deserves a bigger focus, but I've only got so much room to write). Its other channels (We tv, IFC, and Sundance) have even more room to grow, since total subscriptions are lower than for AMC. Sundance grew subscriptions 19% in 2012, and IFC and WE tv grew 7% each.
AMCX Channel Subscribers, millions (AMCX 2012 AR)
| Channel | 2010 | 2011 | 2012 |
| --- | --- | --- | --- |
| AMC | 96.4 | 96.3 | 98.9 |
| WE tv | 76.8 | 76.1 | 81.5 |
| IFC | 62.7 | 65.3 | 69.6 |
| Sundance | 39.9 | 42.1 | 50.2 |
Chellomedia acquisition
AMC recently announced that the company has entered into an agreement to purchase Chellomedia, "a portfolio of international cable networks", for about $1 billion. Chellomedia has network channels in 138 countries and reach 390 million households, according to AMCX's press release. This article does not intend to analyze this acquisition, but the thought behind the acquisition is to "secure a large, global platform on which to distribute our increasingly successful original programming through a collection of strong, well-established and well-managed assets worldwide," according to CEO Josh Sapan. The proposed transaction is expected to increase AMCX's international revenues to 25% of total revenues.
The above growth catalysts suggest that it is reasonable to conclude that AMCX will continue to grow revenues and income, both from advertising revenue (driven by AMC viewership strength), and subscriptions (driven by IFC, WE tv, and Sundance). Chellomedia, at this point, is a wildcard.
Risks
TV show launches are inherently risky, and there are no guarantees that AMC's new launches will see anywhere near the success of the shows that they are replacing. An example is the show Low Winter Sun, which debuted at 2.51MM viewers and declined to 630,000 by the end of season 1.
AMCX may have paid too much for Chellomedia. According to a WSJ article, the deal was valued at between 11-15x 2014 project EBITDA, depending on who you ask.
AMCX is a relatively small company by market value, and is highly dependent on the revenues generated from just 4 television channels. If anything adversely affects subscription or advertising revenue on these channels, the company will take a huge hit. AMCX is attempting to diversify with Chellomedia, but still remains relatively risky.
Conclusion
While AMCX's 5-year growth success story, Breaking Bad, has ended, the company's largest cash cow (The Walking Dead) continues and the network will continue to fulfill viewers with spin-offs and new shows. Furthermore, AMCX has seen strong subscription growth in its other channels. Chellomedia is a wildcard at this point, but will substantially increase AMCX's international presence and increase distribution of AMC's hit shows.
Ultimately, AMCX's continued growth will depend on the success of its continuing and new series, and I believe that the company is well-positioned with its content.
Considering the stock has dipped 10% since November 4, now may be the time to buy for interested investors. (Note: The stocks dip was due to investor dissatisfaction over increased expense - see below).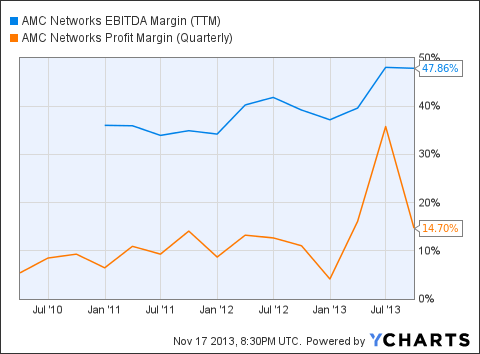 AMCX EBITDA Margin (TTM) data by YCharts
Note: Please invest at your own risk. There are many factors that go into selecting investments, most of which have not been addressed in this article.
Disclosure: I have no positions in any stocks mentioned, and no plans to initiate any positions within the next 72 hours. I wrote this article myself, and it expresses my own opinions. I am not receiving compensation for it (other than from Seeking Alpha). I have no business relationship with any company whose stock is mentioned in this article.