Terra Nitrogen (NYSE:TNH) has been dropping in price since last quarter's earnings release and news of a dividend decline. Terra Nitrogen markets and produces nitrogen, fertilizer and services. The current share price decline is extreme and has resulted in a YTD decline of 20.50%. What was once a high-flyer dividend payer is now under threat. There has been very little written about TNH recently that would point to or explain such a significant pricing decline. It is times like these that a review of exactly why the position was entered is key to making a solid decision. Since there has not been a clear indicator attributable to the decline I went back and reviewed both why we entered a position with TNH, and a historical view of past performance.
Key to any portfolio position is a clear understanding of ownership motivation. In the case of TNH, dividends are our key reason to own Terra Nitrogen. Another important factor is ownership timeline. TNH is a long-term hold for us with a time horizon of ten years or more. Since we are focused on the long-term and dividends, pricing is secondary. It's important if it is a signal of something fundamental changing in the business or competitive market, but there has been no indicator of company problems significant enough to warrant the decline. TNH pricing is behaving as if there were a SEC or accounting violation.
A look backward might add some clarity to the situation. We entered a position in TNH with the belief that over the next ten years the need for their products would increase. This has not changed. At the core of our holding thesis is population growth and a need for crop production to increase to meet future demand. Also key is input cost and competition, which represents problem spots now for TNH. Today TNH dropped to $156.50. The price decline has been abrupt and out of character historically with the exception of the July 2011 to October 2011 timeframe. In both situations price decline was the result of dividend reduction announcements. Volume for the July to October slide was significantly greater, nearly double current volume. But there are two major and concerning differences. Firstly, the RSI in the previous period did plummet but never into oversold territory. Today's RSI of 21.72 is the lowest since January of 2009 representing an extremely oversold metric. The other variable is dividend value. The previous dividend decrease was from $4.84 to $3.75. The current dividend adjustment was from $4.02 to $2.02. This drop in dividend is what we believe to be the catalyst for the share price decline.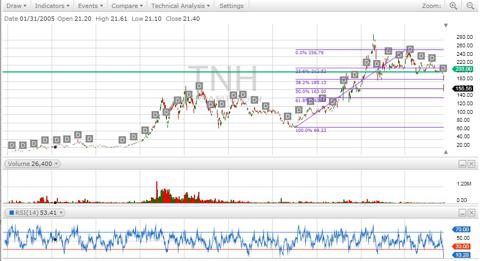 But unlike other owners we are not panicking. In fact although painful, this is a healthy response to the decreased dividend, although likely overdone. Since we have a long term view on TNH share price volatility is not as important as dividends. A 49.75% decrease in dividend is very concerning but TNH still pays a dividend. It's current yield is 4.7%. As the chart below represents the current pricing of $156.11 is not out of context with historical dividend values. The last time dividends were at these reduced values share prices ranged from $112 to $140.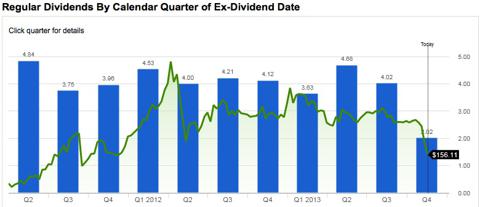 Another consideration is the RSI to revenue comparison. At no time in the last 36 quarters has the RSI been at this low a value relative to revenue.

So where does this leave the review of TNH? At his point we believe that the share price drop is due to large investors (not insiders) decreasing their exposure due to the dividend decrease. We do not discount competitive pressures, regulatory or weather influences but with the lack of hard news or company specific problems, our view is that this pricing makes sense and is not surprising. Since we are long-term investors with TNH we will hold our position, earn a greater number of shares with each dividend payout and as the market, pricing and weather improve wait for a dividend increase and share price gain. We look forward to comments and alternative opinions which we will factor into our thesis.
Disclosure: I am long TNH. I wrote this article myself, and it expresses my own opinions. I am not receiving compensation for it (other than from Seeking Alpha). I have no business relationship with any company whose stock is mentioned in this article.