By Neal Rau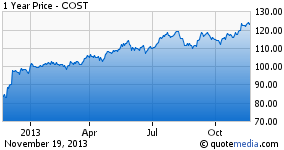 Costco Wholesale Corporation (COST) has aggressive expansion plans, which include plans to open 36 new warehouses, half in U.S. and half international. At the end of Q4, Costco operated 642 warehouses, including 454 in U.S. and Puerto Rico, 85 in Canada and 34 in Mexico. Despite missing earnings estimates in early October, the stock has continued to move higher. Shares of Costco are up 25% YTD, and up 5% in the last month. Should investors buy, sell or hold at current levels?
Expansion:
COST continues to expand aggressively overseas. The company's stores outside of the U.S. generate some of the best store level volumes and returns in its network. Costco plans to open 36 clubs this year, although some could be delayed until after the New Year. Eighteen openings are planned for the United States, seven in Asia and two will be in Spain, a new country for the company. Costco opened 26 clubs in fiscal 2013 and 16 in fiscal 2012.
Sales:
September sales at stores open at least a year, same-store sales, rose 3%, including the impact of fuel prices and foreign exchange. Costco reported better-than-expected October same-store sales, as stores open at least a year rose 3% in the four-week period ended Nov. 3. Costco's comparable-store sales for the period rose 6%. Comps increased 5% at the U.S. and 6% at international stores. The stock has continues its momentum higher, and according to the real-time trading report published by Stock Traders Daily, it is getting close to long-term resistance.
Memberships:
Costco Wholesale's membership fees are an important part of its income statement, as more than 70% of its operating income comes from membership fees. In the first half of 2013, about 1.6 million new members signed up and in its fourth quarter, new membership increased 4% quarter over quarter. Costco collected $716 million in membership fees in the quarter, which was a 3% improvement over last year. Membership dues are the key for Costco to earn enough money, so it can offer merchandise at prices much lower than its competitors.
Costco was able to increase its membership renewal rates over the last three months. Business customers renewed their membership at a rate of 94%, better than the 93.9% rate from last quarter. Regular Gold Star renewal rates were higher as well, to 89.1% from 88.9% three months ago.
Insiders:
Costco Executive Vice President and Chief Financial Officer sold 22,189 shares at $118.25-118.60 worth $2.7 million. Since the last earnings report on October 9, COST insiders have sold about 250,000 shares.
Technical view:
Shares of Costco are up about 7% from when the company reported earnings in early October. The stock pulled back and tested support right before earnings on October 9 and has been moving higher since. Now COST is near a test of long-term resistance, and trading near all-time highs. Without a near-term catalyst, the stock might struggle to break above resistance. According to rule, we are sellers at resistance, and as long as the stock remains below resistance, we expect lower levels and a test of support. Based on our report, COST is a sell/short at resistance, with risk controls in place if resistance breaks higher
Disclosure: I have no positions in any stocks mentioned, and no plans to initiate any positions within the next 72 hours.
Business relationship disclosure: By Neal Rau for Stock Traders Daily and neither receives compensation from the publicly traded companies listed herein for writing this article.