Note: This article covers micro-cap stocks. Please be aware of the risks associated with these stocks.

For some time now, the market for REEs has been in a lull to say the least. Companies like Molycorp (MCP) and Lynas (OTCPK:LYSCF) have supposedly dominated this race to market. A race to a market that is saturated with oversupply and capacities for Light Rare Earth Elements (LREEs). It seems that these companies have gone through the metaphorical swamp and realized that the swamp may not have been worth the wade. Furthermore, this poses an unprecedented opportunity in the junior mining industry throughout the world. For the speculative investor the upsides here can far outweigh the risks and I would like to discuss four key principles that the market is demanding. Lastly, I will briefly describe the players and the viable options for investing in this industry.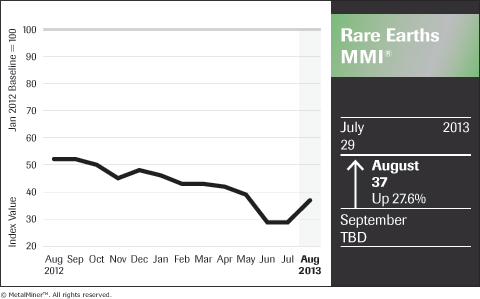 As stated above the performance of companies such as Molycorp and Lynas have weighed heavily on this investment community for some time. The so called bubble of 2011 and the lack thereafter of prices that can help sustain production and discovery have made this topic a sore spot in recent years. The Goldilocks principle is a concept that is taking hold in the mining industry. The concept, simply put, is based on the fact that the market only needs the "right amount" not one extreme to the next as we see in everyday economics. Oversupply and over concentration in LREEs has driven these companies to the brink. So what are the attributes that are so desired by this market?
1) Heavy Rare Earth Elements (HREEs)
HREEs as we've all heard are the answer. How is any company supposed to match China's production and process efficiencies? Without teaming up with them there is only one viable solution. Targeting HREEs, according to a report by Luisa Moreno on Supply and Demand Forecasts she derives the following:
REE demand is expected to increase 6-10% year-over-year to 2020.
China currently accounts for 85-90% of the world's REE supply but may fall to ~50% by 2020 if production quotas stay conservative.
REE Consumption: China 70%; Japan 20%; 10% ROW (rest of the world).
IMCOA estimates 110,000-125,000 tonnes of TREO consumption in 2013 and 250,000 tonnes of REO consumption by 2020.
In a table provided by Jack Lifton in his article, "Grade is not King for the production of Critical Rare Earths"

We can see the distribution of HREEs and the recurring theme of oversupply of LREEs. Based on this table we can get a better idea of who the players potentially are to meet demand in HREEs.
Last and maybe most important, it is becoming apparent that China is not in a position to supply the growing demand of HREEs in the coming years. HREEs are in demand from the world's most formidable and efficient producer of REEs. In an article posted by Wang Zhuoqiong in late September, "China is likely to purchase billions of yuan of rare-earth minerals starting next month to bolster its strategic reserves, industry sources said." These strategic reserves that China are procuring happen to be in medium and heavy rare earths. It is very apparent that this buying has had and should continue to have an effect on rare earth prices. In reference to the rare earths graph above there has been a seven point gain from its July low.
2) Consolidation/ Total Rare Earth Supply Chain (TRESC)
As a member of the supply chain community I respect the power of the supply chain in business. The TRESC has been the monumental barrier in the REE space for what seems like forever. China holds the key here once again. They hold the processing technologies to bring these metals to the end user. As we've seen from Molycorp and Lynas the metals that are mined have to funnel through end use processing facilities that are few and far between. This provides, as mentioned, a huge barrier to any junior mining operation. At the same time this creates an opportunity to enhance the supply chains by leaps and bounds. If a company or companies could facilitate the processing of these metals, efficiently, within the United States the cost to bring to market could be dropped significantly. The big question is who has this type of money and who would be interested in such a beaten up industry?
3) Speed to Market, Right Product, Right Price
Going back to the Goldilocks Principle, in the words of Jack Lifton, "As I mentioned some time ago, the Goldilocks Principle will gain new credibility in the REE space, as it's the right size project with the right products, Critical Rare Earths that will ultimately prevail. Ucore's Bokan is such a project."
Junior mining projects are starting to be graded and evaluated on speed rather than volume. It is imperative to understand where the projects are, what types of products they plan on marketing/recovering, and cost efficiencies that can put one company ahead of another in the total value chain.
4) Government Play
The government play makes things interesting, on one hand you need funding to support these junior mining companies into their next phases; on the other the U.S. should be hedging their risk on a Chinese controlled HREEs market.
I left you hanging with a question above that I'm sure you did not miss. Who has this type of money and who would be interested in such a beaten up industry? As much as I don't like this answer, the most obvious one is, the U.S. government or any government for that matter. During my research I found some interesting information on Alaska funding, "Alaska has a $39B permanent fund, largely the outcome of a robust long term petroleum sector which is now falling into abeyance. So, they're the rare sovereignty in the western world that has not only significant capital but also the wherewithal to invest in its own future."
It seems that, Ucore (OTCQX:UURAF) is in a position to benefit from this on their Bokan Dotson-Ridge rare earth element project in Southeast Alaska.
In Summary
In the past speed has been committed but rarely executed on. Products have been chosen on volume and capacity rather than end user needs, and by happenstance we've been at the mercy of the Chinese on pricing. It is time for us to realize that these capacities and volumes are great in an economy that is willing to pay for them. The time is ripe for the REE space to utilize this moment of weakness in Chinese supply, and by using the proclaimed Goldilocks Principle approach we should see some epic winners start to take root in the race to supply HREEs. New energy has come to the industry, and with new energy I am hoping as an investor this will follow with new funding. With the new approach of bringing the right product to market I see the REE space as an exciting speculative play.
All in all maybe this is common knowledge to some, but I hope I have inspired you to take a look at the REE industry. Although I didn't dig into the specifics on different mine exploration stages as I think this is a puzzle even the experts argue over, I feel we need to take a step back to understand the fundamentals in the industry. I feel that all the complexity in the market can be broken down into the high levels mentioned above. Who are the players that will execute and prevail in this market? By using the 4 principles listed above Ucore is appealing due to its funding aspects and ease of shipping as their mine has direct access to the western seaboard. I also like Rare Element Resources (NYSEMKT:REE) due to their recovery capabilities and lastly Texas Rare Earth Resources Corp. (TRER) due to their concentration of HREEs. The punishment in this industry has crushed stock prices. I feel a hedged bet between these players could pay out a nice premium to those who are patient enough to see this through.
Disclosure: I am long OTCQX:UURAF, REE, TRER. I wrote this article myself, and it expresses my own opinions. I am not receiving compensation for it (other than from Seeking Alpha). I have no business relationship with any company whose stock is mentioned in this article.
Additional disclosure: I've recently started building positions in some of the stocks mentioned.