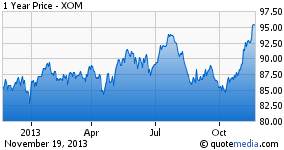 At the Reuters Global Summit, famed short seller Jim Chanos said he was bearish on the integrated oil companies, pointing to Exxon Mobil (NYSE:XOM) in particular (comments available here). This bearish call comes right on the heels of Berkshire Hathaway's (NYSE:BRK.A) (BRK.B) disclosure that it had a $3.7 billion position in the energy giant. With Warren Buffett bullish and Chanos bearish, we have a real battle of titans in the oil sector. Who is right?
Chanos' pessimism is rooted in declining returns of invested capital, something he considers "ominous." Oil companies have virtually no control over the end price of their product as it is mainly determined by futures markets. Oil companies instead control their production, which is the best way to consider their return on investment. Exxon has not grown production for five years, yet its capital expenditures continue to mount. Consider the cap-ex spend of the past five years:
2009: $22.5 billion
2010: $26.9 billion
2011: $31.0 billion
2012: $34.3 billion
2013 (9 months): $25.2 billion
2013 (projected fully year): $34-$34.4 billion
Exxon is spending more money every year, but it continues to produce the same amount of oil and natural gas with several quarters of production decline (though in its most recent quarter production did grow 1.5% year over year). This would suggest that each new dollar of invested capital is bringing with it less new oil production, barely mitigating the natural decline of existing wells. Exxon is spending more and generating less, which is a sign of a company that faces serious structural challenges.
With production at Exxon stagnant, its future growth is solely dependent on movements in energy prices. With the fracking boom in the United States that is helping other producers like Pioneer (NYSE:PXD) and a relatively slow growing economy, we could see continued downward pressure on energy prices. It is also worth noting that Chanos has been a long time bear on the Chinese economy believing there are major structural imbalances that could lead to a recession. If the Chinese economy experienced a significant shock, there would be a major impact on global oil prices that would seriously impact profits at oil companies like Exxon.
Many of the major oil firms are spending more on cap-ex like Exxon has, for instance Chevron (NYSE:CVX) has increased its spend over the past 5 years from $19 to $30 billion, but it has been slowly growing production. While ROIs may be declining, the pace of decline is faster at Exxon than its competitors, yet as I explained in an earlier article, XOM trades at a premium valuation.
Exxon bulls point out that the firm still generates over $20 billion in free cash flow that it returns to shareholders through dividends and buybacks. However, flattening production threatens future cash flows. With production staying the same while cap-ex increases, cap-ex growth will outpace operating cash flow growth, which will pinch free cash flow and the potential return of capital to shareholders.
I believe Chanos is right to be negative on Exxon as the firm is spending more and getting less out of the ground. With an inability to grow production, profits will simply be a function of energy prices. Conversely, firms like Chevron and Conoco (NYSE:COP) are showing some production growth, which will help to somewhat insulate profits from lower energy profits while rapidly expand profits when prices rise. Until Exxon can consistently grow production, the effectiveness of its expansion program has to be questioned. Trading at 12x earnings and a 10% premium to faster growing peers, I believe Exxon is fully valued here and poised to be an underperformer. In this battle of the titans over Exxon, I tend to side with Chanos.
Disclosure: I have no positions in any stocks mentioned, and no plans to initiate any positions within the next 72 hours. I wrote this article myself, and it expresses my own opinions. I am not receiving compensation for it (other than from Seeking Alpha). I have no business relationship with any company whose stock is mentioned in this article.