Investopedia's definition of divergence: "When the price of an asset and an indicator move in opposite directions. Positive divergence occurs when the price of a security makes a new low while the indicator starts to climb upward." I believe that we witnessed a positive divergence in the shares of MoSys (NASDAQ:MOSY) in the 3rd quarter as the shares fell from $4.75 to $3.50 while all ten of the top 10 holders increased their stakes. What this tells me is that while the price was falling, those funds that know the company and management best were stepping in and upping their stakes. To me this is an outright buy signal.
MoSys is small-capitalization fabless semiconductor company that is focused on accelerating network performance by optimizing bandwidth efficiency, increasing memory access speed and integrating chip-level intelligence. It currently has two products on the market: the revolutionary Bandwidth Engine IC chips and its recently introduced LineSpeed product line. It has been able to make such a revolutionary mark in network improvement as it has over 100 patents surrounding its GigaChip Interface, its 1T-SRAM memory core, its Bandwidth Engine architecture and its SerDes I/O technology.
The company is run by an engineering CEO, Len Perham, who has the experience to navigate this highly efficient chip company into the hands of Tier One customers such as Cisco Systems (NASDAQ:CSCO), Alcatel-Lucent (ALU), Ciena (NASDAQ:CIEN), Ericsson (NASDAQ:ERIC) and Fujitsu (OTC:FJTSY). More importantly, he brings the potential to enter into partnerships with Tier One companies such as Broadcom (BRCM), Cavium (NASDAQ:CAVM), Xilinx (NASDAQ:XLNX) and LSI Corp. (NYSE:LSI) that could lead to several licensing deals for MoSys shareholders in the months to come. In fact, he did it all before as Chairman of NetLogic.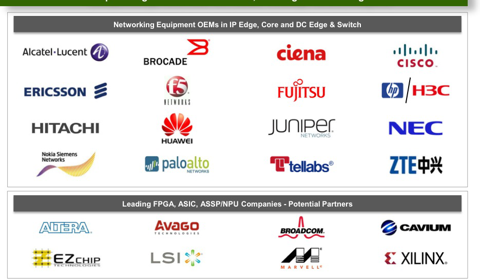 CEO's Legacy Is Attracting Investors:
Perham took Integrated Device Technology (NASDAQ:IDTI) from a sub-$100 million company in 1993 to a $6 billion company by June 2000 (he retired from IDTI in January 2000). He then led NetLogic from ground zero to $3.7 billion in about 12 years, eventually selling it to Broadcom in 2011. Those successes along with numerous others have attracted many investors to follow and watch Len's new endeavors over the years. If you have ever met him you know you're dealing with a gentleman, a dedicated engineer and a man who takes his mission very seriously. One thing you walk away with from your time with Len is that you know he takes his fiduciary responsibility very seriously and he cares about his shareholders no matter how big or small. He's a CEO that gets it. That's why I'm accumulating shares alongside these funds that I believe invested with Len previously because it's very clear, "its game on" as production has started on its disruptive revolutionary Bandwidth Engine chip.
Institutional Holdings:
Looking at the updated institutional filings for MoSys on November 15th, I discovered that even though the shares went from $4.75 to $3.50 during the 3rd quarter the shares were under direct accumulation by all 10 of its top 10 holders. This tells me that the funds that I have identified as solid long-term believers in Perham and in MoSys are out there making the float thinner prior to its expected revenue ramp in the 2nd half of 2014.
Ingalls & Snyder accumulated 712,000 shares in Q3, 2013 bringing its total share count to 5,864,385. Remember this is the fund where the Portfolio Manager (PM) personally stepped in and bought an additional 2 million shares or 4% of the company. These folks know the CEO and have followed him at IDTI and NetLogic. They know his skill set and they know his team's abilities to find new markets. They know the long-term upside is tremendously exciting if it comes together.
Morgan Stanley added another 27,000 shares during the same period bringing its total to 2,157,112 shares. The PM(s) at Morgan Stanley seem to be locked into Len's vision as they have stayed consistently long and loyal during the 3 year process to get Bandwidth Engine from design, sampling and now to production ramp this quarter. I believe they also participated with Len in NetLogic and maybe IDTI.
Goldman Capital Management added shares this quarter, the first time its added shares in over a year from my observation deck. This fund now owns 1,137,000 shares. This fund was a 2-3 million shareholder when MoSys was providing chips to Nintendo and probably scaled back as the company changed course in 2009. The fact that it added shares tells me that this fund could reverse course and purchase an additional 1 - 2 million shares, or more since MoSys is now run and guided by Len. This is the most bullish signal to me out of the 10 funds.
Marxe Austin W & Greenhouse David added 5,000 shares bringing its total to 1,504,123 shares. I was long with these investors in Authentec which was acquired by Apple (NASDAQ:AAPL). From my due diligence, these folks are long-term investors with a keen eye for revolutionary technology with high barriers to entry. I know they had better pricing than me on AUTH where my average was about $3 per share. I think I know MoSys just as well as these guys and I believe that MoSys has much stronger prospects than AUTH did.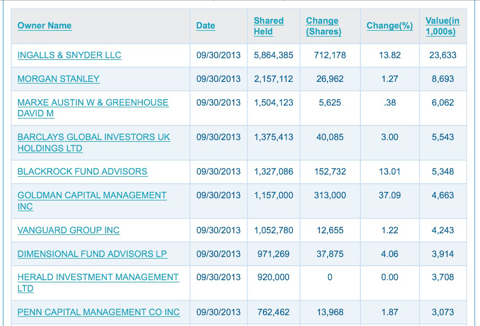 Short Position: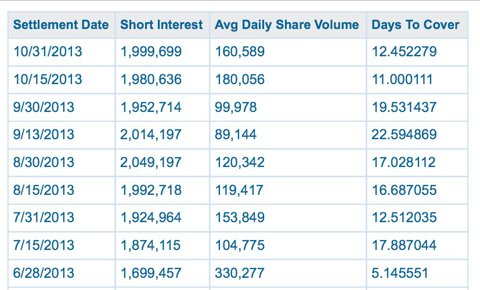 From June 28th through October 31st, we have seen the short interest rise from 1.7 million shares to 2 million shares. The shorts need to realize that with the top institutional holders adding to their positions this past quarter, the float has essentially dropped by 1.25 million shares as the shares have gone into the hands of long-term holders. I believe that this will create a problem for the shorts when Bandwidth Engine II production goes online, a second source is announced, when hedge funds uncover further Tier One production wins, or when management announce further Tier One design wins by name. Today, with the average daily volume decreasing from 330,277 shares to 160,589 shares and the days to cover doubling from 5.14 days to 12.45 days, I truly believe that the short position will be a friend of ours tomorrow.
Chart: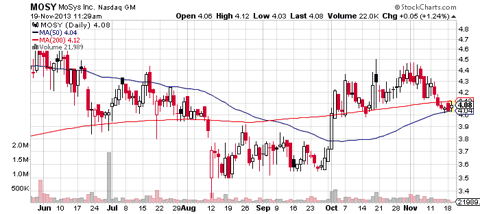 Looking at the daily chart we can see that it is trading between its 200 day and 50 day moving averages (MA). The 50-day offers support with the 200-day being resistance. With further support at $4.00 and with the 50 day MA rising (as opposed to the flat lining 200 day MA), I believe that over the next few days we will see the shares break above the 200 day MA and challenge recent highs at $4.50. When the 50 day MA follows through and crosses above the 200 day MA we will witness a Golden Cross and this move could take the shares as high as $6.00 over the next few months.
Valuations & Investment Thesis:
At the end of the day, your investment is worth what someone is willing to pay for it. I believe if you look at MoSys from a 30,000, 20,000 or even 5,000 foot perch you would come to the conclusion that perception supersedes reality and you would sell the shares. MoSys trades at a $192 million market capitalization and collects approximately $4 million in licensing fees per year. However, the company has spent $28 - $32 million in R&D for the past 4 years in order to revolutionize the bandwidth architecture as the networking world knows it today. That's $120 million dollars of R&D and it has probably spent another $50 million on sales and marketing during that period to evangelize its new B/E chips and its GigaChip Interface with the world's leading networking companies. When you get that right, it's no small feat and it's worth a lot more than the $192 million we reside at today. In that $192 million you're getting a design team that has a history of finding new markets and executing on those new markets.
I can tell you it's very rare to get a royal flush in poker, but when you do, you usually go all in. In MoSys, you're not at that point yet, but today with the company taking its Tier One design wins into production, new design wins outpacing its previous design win cycle, Bandwidth Engine II slated to begin production by year end and the CEO stating "it's a different world here" on the last conference call, it only leads people who see reality to accumulate more shares of MoSys when others sell at these levels. These 10 funds must have some good hands prior to the flop because I sense the ante is about to start getting raised sooner than later.
Conclusion:
Investing in small capitalization stocks can be a tricky and risky business. The forces at work are always magnified by a factor of 10 or more. They call that beta in the investment world, but I always multiply the beta by 5 to get the true number. That said, whenever I invest I look at the management team, the product and the markets it serves, along with the valuation of the company. At MoSys, we have a stellar management team at the front end and it probably has a much stronger team behind the scenes designing chips and bringing new markets to the company. You don't usually have this seasoned a team at this market capitalization addressing this revolutionary type of problem. The product is protected by over 100 patents and counting and the serviceable market is with the top echelon of technology companies around the globe. I sense one day in 2014 my Seeking Alpha followers and others on SA are going to come back to this note and say I'm glad you picked out the positive divergence buy signal of smart money accumulation.
Disclosure: I am long MOSY. I wrote this article myself, and it expresses my own opinions. I am not receiving compensation for it. I have no business relationship with any company whose stock is mentioned in this article.