QQQQ (up 0.79% yesterday), XLF (2.43%), KRE (3.15%) and IWM (1.06%) all led a tepid market rally after the FOMC announcement a little after 2.15 pm EST yesterday, saving SPX once again from breaking critical support around 1080. SPX closed at 1097.50, up 0.49%, after hitting an intraday low of 1083.11.
The ongong ability the past four trading days of QQQQ, the Nasdaq 100 ETF, to hold above 44 and of XLF, the financial sector ETF, to hold above 14 (their respective critical support levels) has been propping up the U.S. market from a potentially sharper correction.
Below I show charts of QQQQ and KRE continuing to gain relative strength against global equities, for which as a real-time proxy I use ACWI, a lightly traded ETF that mirrors the MSCI All Country World Index. The clearest way of seeing the current market dynamic is a relative strength chart, shown below, of QQQQ gaining strength against EEM.
Markets are very oversold and due for a sharp snapback rally, perhaps especially from hot money favorites like SLX and KOL. Failure of a snapback rally to materialize soon would be another significant market negative. The quality of a possible snapback rally, in terms of volume and breadth, will give us a much better feel for whether a major market correction is close.
The increased possibility of a sharper correction, mentioned in my January 26 article, is being driven globally by ongoing weakness in emerging markets; lackluster market response to fourth quarter reports; and significantly increased political concerns since last Tuesday's elections impacting money center banks, Bernanke's reappointment, and the Fed's exit strategy.
I highlighted the key market dynamic of QQQQ and XLF. vs EEM that continues to play out on a daily basis in my January 23 article, "Emerging Markets Leading Global Markets Down":
As I see it, a key issue for the market right now is what will prevail: the loss of relative strength of the emerging markets, which has driven global markets since Nov 2008, or the attempt so far of U.S. stocks, especially tech, small caps and more recently regional banks, to resist a sharp correction.
For yesterday at least, QQQQ, IWM, and KRE prevailed into the close, with OIH of course joining in the fun, though it closed slightly down -0.13%
What follows summarizes some key points about the January 27 trading day from 11 posts on my Instablog yesterday. I am posting frequently in real-time as market dynamics have become more fluid recently.
Market commentators yesterday were focused on D.C., with Geithner and Paulson testifying to Congress, the FOMC meeting, and Obama's State of the Union.
They have not been emphasizing enough the critical role that the tightening cycle in emerging markets is currently playing in global markets. Because of this tightening cycle, which is an ongoing cylical issue, not a political one, that is impacting U.S. markets since last Tuesday's election, emerging markets charts are now in their weakest technical position since the post-March 2009 lows.
E.g., EEM has made a lower low, and its 50-day EMA turned down, both for the first time since last March, see chart below. EEM's global relative strength to ACWI is now further below its 100-day EMA than at any time since January 2009, and the latter slightly turned down yesterday (see chart below).
The weakness in emerging markets is dragging down global markets, with ACWI, the MSCI All Country World Index that I use as a real-time proxy for global equities, going slightly below its 100-day EMA today for the first time since April 2009 (see chart below).
Because of China's currency peg to the U.S., China is importing Bernanke's easy money. Almost all market commentators in the U.S. keep saying that the Fed does not have to tighten anytime soon because inflation is weak.
The Fed's inflation threat has been shifted to China, which these commentators don't seem to get, but the leaders of China, India, S. Korea, etc. very much do.
There is more from yesterday on my Instablog, including a chart of the percent of stocks above their 50-day moving average. Please go there if interested.
click to enlarge charts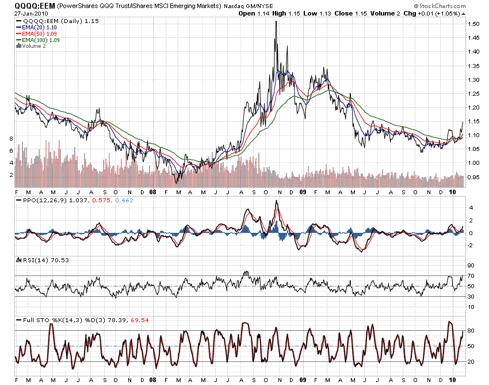 Click to enlarge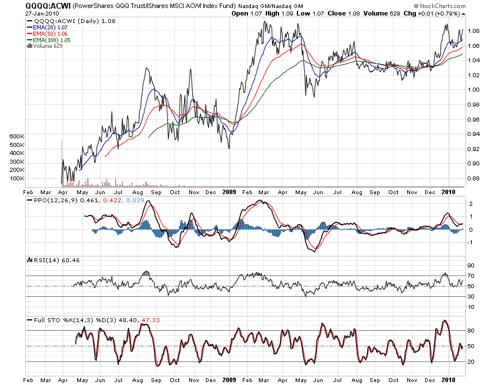 Click to enlarge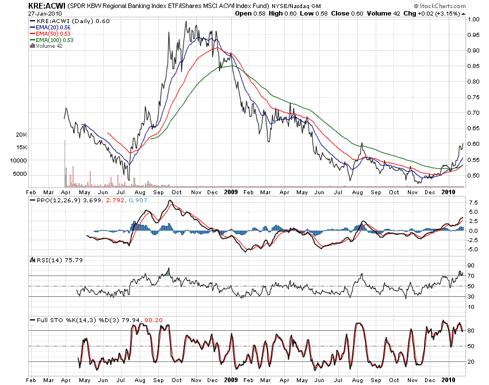 Click to enlarge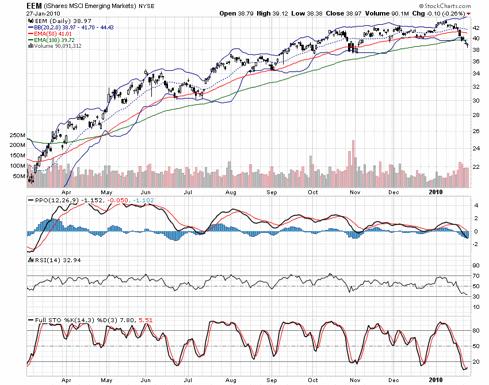 Click to enlarge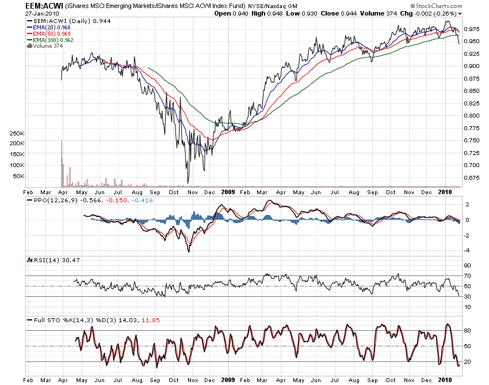 Click to enlarge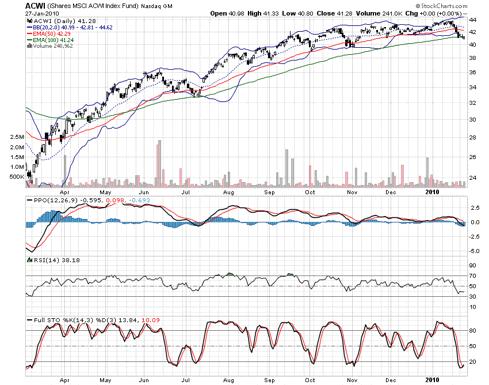 Click to enlarge
Disclosure: No positions in stocks or ETFs mentioned