Industry boundaries are imaginary lines arbitrarily drawn along technologies, markets and target customer lines to aid analysis needs of planners and strategists operating within the defined industry segment.
Historically, the aneurysm treatment market has been segmented along the lines of aneurysm location; aortic, cerebral and peripheral. This arbitrary segmentation was necessary due to the fact that aneurysms used to be repaired using open surgical procedures. Surgery is a strict order with very specialized anatomical tribes.
Recent advances in diagnostic imaging and microcatheter technologies allowed interventionalists to use arteries as highways to reach the diseased arterial anatomical location from the inside, or endovascularly, and deliver a protective device that could delay aneurysm rupture.
Corporate Pike Syndrome
Unfortunately, the medical technology corporate stewards in the space, Medtronic (NYSE:MDT), Stryker (NYSE:SYK), Covidien (COV), Johnson & Johnson (NYSE:JNJ) and Terumo (OTCPK:TRUMY), all fell victims to the all too familiar Pike Syndrome.
They confined themselves within self-imposed, claustrophobically narrow, imaginary divides. All content with tiny shares of a potentially vast and fast growing market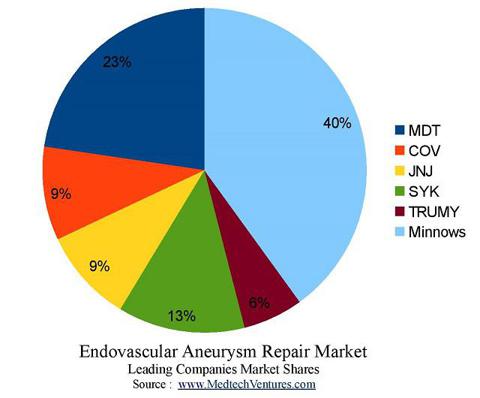 Click to enlarge
Medtronic dominated the endovascular aortic aneurysm repair market and the other four are slugging it out in the endovascular cerebral aneurysm repair space. Like all victims of the pike syndrome, they contented themselves with crumbs within their own imaginary glass boundaries.
Since I have already appointed myself as the de facto corporate psychologist in the endovascular aneurysm repair space, I tried to tackle the obvious question "What do these corporate pikes need to do to start swimming freely?"
One of the first answers that came to my mind was that maybe if I can offer them a ballpark idea on the energy cost required to catch one of the many minnows swimming in their midst they might come to the realization that what is holding them back is not a gravity tractor beam with supernatural force beyond their control.
In corporate pike speak the energy cost to attacking and devouring a minnow equates to acquisition cost. So, I've decided to take a stab at valuation metrics in the space.
Historical Valuation In The Space

Click to enlarge
Valuing medtech companies and their technologies is a complex process. Several different valuation models and approaches are often used in combination to determine a transaction value.
For the purpose of this exercise I decided to use Enterprise Value (EV) to estimated Forward Sales. It is easy to calculate and is widely accepted among investors and industry executives alike.
Enterprise Value is a measure of the value of the target company total capitalization in terms of both equity and debt, which must be assumed or repaid in the event of a takeover. Cash and equivalents are subtracted from the valuation because they go directly to the acquirer cash balance. In practice, the equation looks like this:
" Equity Valuation + Debt - Cash & Equivalents "
During 2010, three major acquisitions took place in the space; Covidien acquired ev3, Johnson & Johnson acquired Micrus Endovascular and Stryker acquired Boston Scientific's (NYSE:BSX) neurovascular unit.
ev3 received the highest valuation with a multiple of 5.1 over enterprise value; probably because it was the fastest growing and had access to next generation technology that it had acquired earlier from Chestnut Medical for $150 million. Chestnut had no relevant sales at the time of its acquisition.
Boston Scientific received the lowest EV/Sales valuation, despite the fact that it was the market leader, due to slow growth and lack of access to novel aneurysm flow diversion technology, which Stryker had to shop for separately by acquiring Surpass Medical for $135 million. Surpass had no relevant sales at the time of its acquisition.
Despite relatively high growth rates at Micrus and unique specialization in the field, the company received an EV/Sales multiple slightly higher than that of Boston Scientific but less than that of ev3. Micrus did not have access to flow diversion technology neither.
With a quick back of the napkin calculation we can safely assume that, during 2010, an EV/Sales multiple of 4.8 is reasonable for an endovascular aneurysm repair going concern with a positive growth rate.
Current Valuation In The Space
| | | | | | | |
| --- | --- | --- | --- | --- | --- | --- |
| Company | Ticker | P/E | P/S | EV/S | Growth | Mkt Cap |
| Endologix | ELGX | NA | 8.4 | 7.6 | 25% | $1.1 Billion |
The market is currently valuing Endologix, the only listed pure play endovascular aneurysm repair company in the space at approximately $1.1 billion. It had available cash, at the end of Q3-2013, of $50 million and is expected to end the year with $132 million in sales.
This translates to a price / sales ratio of 8.4 and an enterprise value / sales ratio of 7.6. Since Endologix is expected to post a net loss of $0.16 per share, no P/E ratio could be calculated.
Opportunities For Money Managers
Recent research points to the fact that inflammation may play a key role in aneurysm formation, progression and rupture. This realization ushers the possibility of new treatment paradigms for disease modifying therapies that modulates the inflammatory process in the aneurysm wall and a gold rush for the next $10 billion targeted biologic molecule.
There are also many innovative medical device minnows in the space, many of them are in need of private equity funding. Since current corporate interests are either bound within their own imaginary glass prison or have little understanding of the value of these new technologies, current valuations of innovative privately owned companies are rather reasonable.
One interesting bond to look into when you go fishing is Belgium Wallonia region BioWin medical technology cluster. The cluster has received both local and EU funding to focus on the study of the interaction between stent, blood flow, the arterial wall and their relations to atherosclerosis and aneurysm formation.
Dutch Philips (NYSE:PHG) is chaperoning the whole research initiative since it understands that growth in the space translates to solid growth in its medical imaging business.
Further Reading:
For more granularity on the space and details regarding the deals mentioned in this article, feel free to consult my previous Seeking Alpha article "Endologix: Is Covidien Itching To Buy."
Disclosure: I have no positions in any stocks mentioned, and no plans to initiate any positions within the next 72 hours. I wrote this article myself, and it expresses my own opinions. I am not receiving compensation for it (other than from Seeking Alpha). I have no business relationship with any company whose stock is mentioned in this article.